---
Rewards & Drops:
1 Dragon Stone will be awarded for clearing each difficulty on the stages Creme Caramel Fury, Fusion Counter Attack, Battle of Gods, and Stronger than Ever! for a total of 12 Dragon Stones.
Goku – Train Anywhere who can dokkan awaken into Super Saiyan Goku – New Challenges
You also get the Support Items, Training Items and Awaken Medals listed below.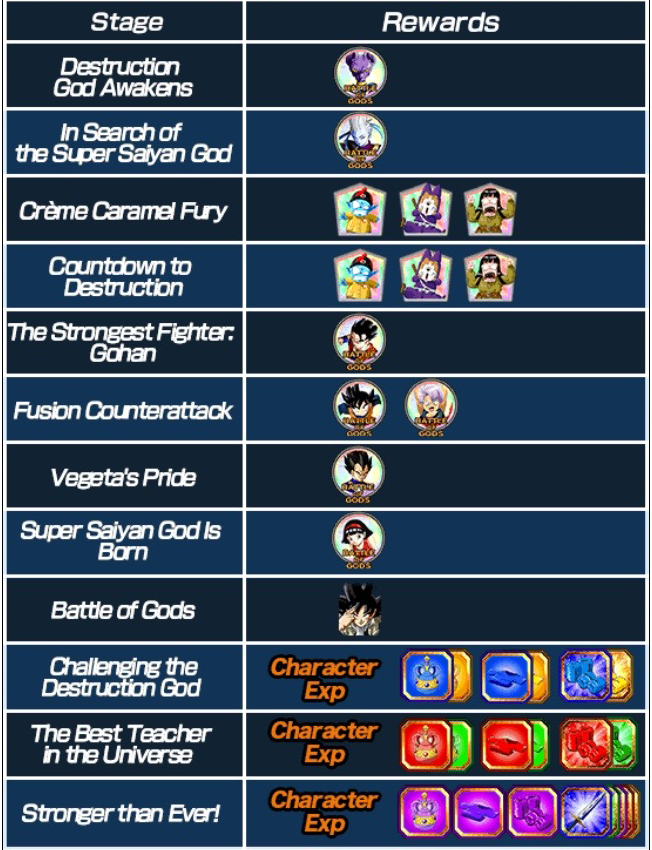 | Character | Rarity | HP | ATK | DEF | Leader Skill | Passive Skill |
| --- | --- | --- | --- | --- | --- | --- |
| | R > SR | 5,058 | 3,085 | 2,951 | TEQ and INT Type ATK increased by 15% | HP +3% at start of turn |
| V | V | V | V | V | V | V |
| | SR > SSR | 6,828 | 5,431 | 3,664 | TEQ and INT Type ATK increased by 25% | HP +5% at start of turn |
Stages:
Normal
| Stage | Boss | Stam | Character XP | Rank XP | Zeni |
| --- | --- | --- | --- | --- | --- |
| Destruction God Awakens | | 8 | 1,200 | 120 | 4,241 |
| In Search of the Super Saiyan God | | 8 | 1,200 | 120 | 4,241 |
| Creme Caramel Fury | | 9 | 700 | 150 | 4,400 |
| Countdown to Destruction | Then | 9 | 1,100 | 170 | 5,220 |
| The Strongest Fighter: Gohan | Then | 9 | 1,100 | 170 | 5,220 |
| Fusion Counterattack | Then | 9 | 1,100 | 170 | 5,220 |
| Vegeta's Pride | Then | 9 | 1,100 | 150 | 5,020 |
| Super Saiyan God is Born | | 9 | 700 | 150 | 4,400 |
| Battle of Gods | | 9 | 2,000 | 170 | 6,700 |
| Challenging the Destruction God | | 9 | 4,000 | 170 | 5,700 |
| The Best Teacher in the Universe | | 9 | 4,500 | 170 | 7,650 |
| Stronger than Ever! | | 9 | 9,600 | 170 | 6,500 |
Hard
| Stage | Boss | Stam | Character XP | Rank XP | Zeni |
| --- | --- | --- | --- | --- | --- |
| Destruction God Awakens | | 12 | 2,000 | 525 | 7,208 |
| In Search of the Super Saiyan God | | 12 | 2,000 | 525 | 7,208 |
| Creme Caramel Fury | | 13 | 1,300 | 550 | 7,300 |
| Countdown to Destruction | Then | 13 | 1,680 | 570 | 9,400 |
| The Strongest Fighter: Gohan | Then | 13 | 2,520 | 570 | 9,400 |
| Fusion Counterattack | Then | 13 | 2,520 | 570 | 9,400 |
| Vegeta's Pride | Then | 13 | 2,520 | 550 | 9,200 |
| Super Saiyan God is Born | | 13 | 1,300 | 550 | 7,300 |
| Battle of Gods | | 13 | 6,000 | 570 | 10,900 |
| Challenging the Destruction God | | 13 | 9,000 | 570 | 9,900 |
| The Best Teacher in the Universe | | 13 | 9,500 | 570 | 9,900 |
| Stronger than Ever! | | 13 | 19,600 | 570 | 10,100 |
Z-Hard
| Stage | Boss | Stam | Character XP | Rank XP | Zeni |
| --- | --- | --- | --- | --- | --- |
| Destruction God Awakens | | 15 | 8,000 | 2,949 | 18,204 |
| In Search of the Super Saiyan God | | 15 | 8,000 | 2,949 | 18,204 |
| Creme Caramel Fury | | 16 | 4,000 | 3,000 | 18,650 |
| Countdown to Destruction | Then | 16 | 4,850 | 3,200 | 17,020 |
| The Strongest Fighter: Gohan | Then | 16 | 4,850 | 3,200 | 17,020 |
| Fusion Counterattack | Then | 16 | 4,850 | 3,200 | 17,020 |
| Vegeta's Pride | Then | 16 | 4,850 | 3,000 | 16,820 |
| Super Saiyan God is Born | | 16 | 5,942 | 3,000 | 18,650 |
| Battle of Gods | | 16 | 9,000 | 3,200 | 18,850 |
| Challenging the Destruction God | | 16 | 12,000 | 3,200 | 21,700 |
| The Best Teacher in the Universe | | 16 | 13,000 | 3,200 | 21,700 |
| Stronger than Ever! | | 16 | 28,000 | 3,200 | 29,700 |
Extra information:
This event doesn't come around very often