Microsoft Exchange and Office 365 are two enterprise-level applications that have transformed business communication and collaboration. They provide a variety of features for large organizations as well as high security features, making them an excellent choice for business users who prefer them as a communication tool. Furthermore, users who are tied to on-premise environments are migrating to Office 365 to take advantage of the cloud services. In general, on-premise environments are vulnerable to data theft, are expensive to maintain and undergo routine operations causing downtime. With so many benefits to Office 365 and Exchange, migrating emails and data becomes a major undertaking. Data loss and frequent downtimes are a taboo that cannot be considered acceptable, especially in large organizations. As a result, it is absolutely essential to be aware of the most common migration issues ahead of time and prepare for the migration.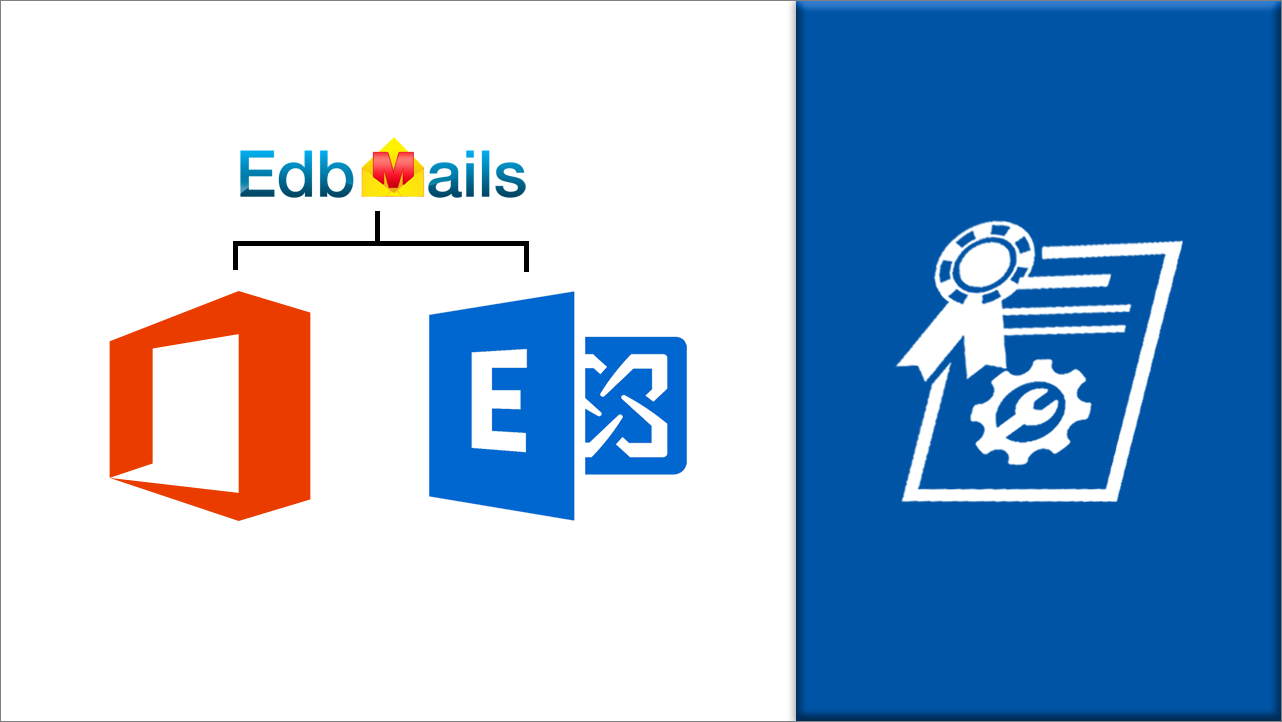 EdbMails is one of the most effective Exchange and Office 365 migration tools available. It can easily perform Office 365 tenant to tenant migration, Exchange migration, Exchange to Office 365, Office 365 to Exchange, legacy Exchange migration, cross-forest, cross-domain, public folder, archive mailboxes and shared mailbox migration. Before we get into the specifics and features of EdbMails, let's first go over some of the most common issues encountered during Office 365 and Exchange migration.
Common issues and challenges of Office 365 and Exchange migration. 
Office 365 and Exchange migration can be done natively or manually with PowerShell scripts. All of the native methods, however, are either time-consuming or do not guarantee data consistency, which is a major drawback when migrating critical and sensitive data.
Migrating Office 365 mailboxes using PowerShell cmdlets requires technical expertise.

The cutover, staged and hybrid migration using the native solution have mailbox size and Exchange version limitations.

Legacy Exchange migrations necessitate double hop or intermediate migrations.

Native methods are frequently plagued by throttling issues and bandwidth constraints.

Cross forest and cross-domain migrations are complicated to perform.

There is no support available to assist in case the migration is interrupted or does not function as expected.

Difficulties in migrating public folders, archive mailboxes and permissions.

There is no option to automatically set Office 365 impersonation rights on the target server.

Manual migration ties down the server, rendering it inaccessible for the duration of the migration.

No option to selectively filter the data or folders for migration.
Some use case scenarios where EdbMails Exchange and Office 365 migration tool can come quite handy
It is clear from the preceding discussion that manual methods are not only unreliable, but also lack features to support various use case migration scenarios. Let's look at some migration scenarios where EdbMails can overcome the limitations of native migration methods.
EdbMails does not require any technical expertise
Unlike the native methods, EdbMails does not require any technical expertise to perform Exchange or Office 365 migrations. The user-interface is simple and  straight-forward and anyone can make use of the tool. EdbMails eliminates the need for complex Exchange Management shell cmdlets for migration

Perform cutover, staged or hybrid Exchange migration without mailbox size limitations
EdbMails does not impose any size restrictions on mailboxes. Starting with Exchange 2007, you can easily perform cut-over, staged, hybrid Exchange migrations, Exchange to Office 365 or even Hosted and On-premise Exchange migrations.
Direct migration between source and target without any intermediate migration hops
Legacy Exchange versions cannot coexist with the latest Exchange versions. To migrate them to the most recent ones, a double hop migration is usually required, which first involves migrating the legacy version to an intermediate Exchange version. EdbMails eliminates all such complexities and allows for a direct migration from a legacy Exchange version to the latest version.
No throttling, bandwidth or server limitations
Yes, you heard that right. Unlike the native Office 365 migration method from Microsoft, EdbMails guarantees no downtime or throttling limitations. End users can continue with their workflow even during the migration operation. This essentially means that your current deployments will remain operational and usable throughout the migration process. Furthermore, EdbMails maintains and guarantees absolute data consistency during the migration, where the target items are a replica of the source items.
Easily perform cross-forest and cross-domain migrations
Exchange 2003 and 2013/2016/2019, 2007 and 2016/2019, or 2010 and 2019 cannot coexist in the same user environment, and as such EdbMails can be used for cross-forest and cross-domain mailbox migrations without the use of complicated migration procedures. 
EdbMails has excellent 24/7 customer support for all your queries
Native methods lack the support during Exchange migration should something go wrong. EdbMails features an extensive user guide and generates a detailed log report after every operation for your analysis. It provides excellent free technical support 24/7 for all your Exchange and Office 365 migration queries.
Migrate Exchange and Office 365 public folders, Archive and Shared mailboxes with ease
Large public folder trees exist in many organizations, and migrating them using traditional methods can be a real pain in the neck due to size limitations and use of complex public folder migration scripts. EdbMails' user-friendly GUI makes it simple to migrate Office 365 and Exchange public folders, archives, and shared mailboxes, eliminating the need to use cumbersome scripts.
Office 365 migration automatically sets impersonation rights with EdbMails
Setting impersonation rights is important if a user needs to be given access to migrate on behalf of other accounts. In cases where large number of mailboxes have to be migrated, setting impersonation rights manually can be a tedious affair. EdbMails Office 365 migration tool can automatically set the impersonation rights for you. One of the cool features of EdbMails is also its ability to create mailboxes on the target server and assign licenses to them during Office 365 migration. 
Selectively migrate mail data using the include/exclude option 
Consider the following scenario. While migrating large mailboxes it is unnecessary to migrate the mails present in junk and spam folders since they take up valuable bandwidth, time and resources during the migration. EdbMails has a feature that allows you to avoid migrating unwanted folders. By selecting the include/exclude option, you can selectively migrate mail data and folders of your choice rather than migrating everything.
 Incremental migration with EdbMails
Incremental migration avoids data duplication by migrating only the items that have not been previously migrated. This improves the overall efficiency and speeds up the migration process by saving precious bandwidth. Using EdbMails, the first migration to the target is always a full migration. Any subsequent migrations to the same target are considered incremental.
EdbMails software is a reliable, highly recommended, low-cost Exchange and Office 365 migration solution
EdbMails is a one stop shop for Exchange and Office 365 migrations since it includes all the features required to ensure a successful and effortless migration. It is a secure and user-friendly tool with no downtime or throttling issues. It supports legacy, cross forest, cross domain as well as Office 365 tenant-to-tenant, hosted and on-premises Exchange migration scenarios. Its unique feature is its low-cost pricing plans with lifetime licenses and discount offers of up to 75% off making it one of the highly affordable migration tools currently available in the market. You can request a live on-demand and free personalized demo or contact 24/7 customer support to know more about the product's features.
Conclusion
When migrating Office 365 and Exchange mailboxes using traditional or manual methods, there are various issues and a lack of features. These methods, in addition, do not guarantee data consistency and are not recommended for large-scale migration operations. EdbMails is the ideal Office 365 and Exchange migration tool, and it has been meticulously designed with various use-case requirements and scenarios in mind. You can ensure that your migration is quick, reliable, and secure by using EdbMails.