Microsoft Exchange Server is a mission-critical email and calendaring server application used by professionals, SMBs, and large enterprises across the globe. Any downtime caused by events, such as power failure, software or hardware issues, and network errors, can cause havoc as it may render the server unusable or damage the database that can lead to productivity loss and incur financial losses. Thus, it is important to keep the Exchange Server alive and databases mounted at all times. 
To ensure Exchange Server is up and running, you need to run regular checks and maintenance tasks, including backup. Microsoft provides Exchange Administrative Center (EAC) and Exchange Management Shell (EMS) to manage Exchange Server and its components. Microsoft also provides utilities, such as EseUtil and PowerShell cmdlets, to troubleshoot and recover an inconsistent database.
However, when the database gets severely damaged or corrupt, you are left with the hard recovery option that may recover the database by purging irrecoverable mailboxes and email items from the database—at the cost of significant data loss. Moreover, it is not guaranteed that the database will be fixed after hard recovery. 
That's where an Exchange recovery software comes in handy. 
Who Require Exchange Recovery Software?
Exchange recovery software is a must-have tool in any Exchange Server or IT administrator's arsenal. As an Exchange administrator, you may come across issues, such as dirty shutdown, dismounted database, jet engine errors while mounting the database, unknown database status, server crash, and many more. Malicious attacks on Exchange Servers are also prevalent that can render the server or the mailbox database unusable. 
Backups come handy in such situations. What if they aren't unavailable, obsolete, or do not work when needed, and if EseUtil fails to repair or recover the damaged database? You don't have any options left.
In such a case, when the server is compromised by ransomware, you can use an Exchange recovery software, such as Stellar Repair for Exchange, to recover mailboxes from the inaccessible databases. The software can rescue you from such disasters in a few clicks.
You can use the software to extract mailboxes from corrupt databases that fail to mount and export them to a new or existing healthy database on your Exchange Server or Office 365 tenant.
You may also save recovered mailboxes as PST files for backup or import them manually into Exchange or Office 365 mailboxes and Outlook accounts.
Stellar Repair for Exchange Features
Stellar Repair for Exchange is an advanced mailbox recovery software to recover mailboxes and email items from inaccessible Exchange EDB files. You can also use the software to backup mailboxes to PST format.
Recommended by MVPs and administrators worldwide, Stellar Repair for Exchange recovers all mailbox items, such as emails, attachments, contacts, calendars, notes, tasks, journals, and public folders with complete integrity and precision—without any risk of data loss.
It can recover mailboxes from inconsistent, inaccessible, or corrupt Exchange databases (.edb) and save them as PST files. It also provides options to export the recovered mailboxes directly to Office 365 or live Exchange Server. That too, at up to 4x speed.
The newer software version comes with Parallel Processing technology that helps administrators recover and export up to four mailboxes simultaneously to PST, Office 365, or live Exchange Server. It automates the entire mailbox recovery process, which helps save significant time and resources.
It maintains the folder hierarchy and properties while saving the mailboxes as PST or exporting them to Office 365 or live Exchange Server.
Following are some prominent features of Stellar Repair for Exchange:
Repairs corrupt mailbox database (EDB) files without file size limit

Provides dual scan modes—Quick Scan & Extensive Scan

4x faster mailbox recovery from inaccessible databases with Parallel Processing

Prioritize mailbox recovery based on preference

Recovers mailboxes and email items with 100% integrity

Saves recovered mailboxes and email items as PST, EML, MSG, RTF, HTML, and PDF files

Directly exports the recovered mailboxes, email items, and public folders to live Exchange Server or Office 365.
Technical Specifications
Stellar Repair for Exchange is available for the Windows Desktop and Windows Server platforms. Although the software is optimized for modern hardware, the following are some minimum system specifications required to use this Exchange recovery software. 
Processor

: Intel-compatible (x86, x64)

Supported Operating System:

Windows 10, 8.1, 8, 7 and Windows Server 2016, 2012, 2008

Memory Requirement:

4 GB minimum (8 GB recommended)  

Hard Disk:

250 MB

Supported Exchange versions:

MS Exchange 2019, 2016, 2013, and earlier versions
Installation
Installation is quite straightforward, just like any other Windows program. After downloading the setup file from the official site, double-click on the file and choose the language. You can choose between 5 languages — Dutch, English, Spanish, French, and Italian.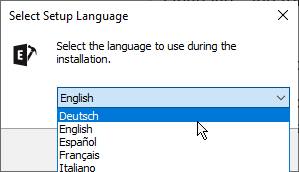 Then follow the installation wizard.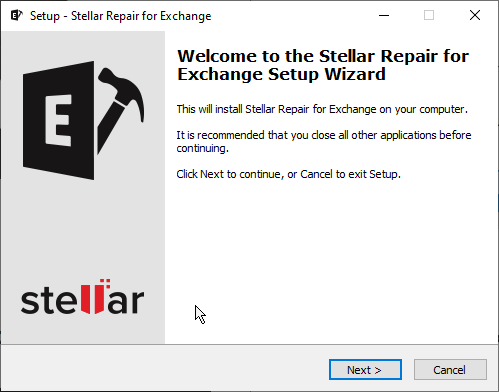 You can keep the installation location default, i.e., C:\Program Files or choose another drive volume or directory.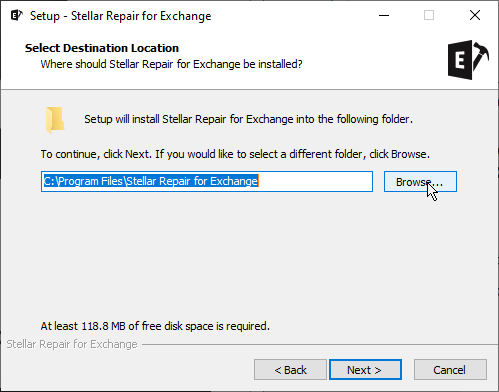 Once installed, you can launch the software and use it to recover mailboxes from corrupt or inaccessible Exchange database files.
User Interface and Design
The User Interface (UI) design is inspired by modern Outlook. It features an intuitive design with two theme options — Office 2016 Colorful Theme and Office 2016 White Theme. 
If you didn't change the language during installation, you can do so through the software interface at any time. The UI is clutter-free and remains the same in both demo and activated versions.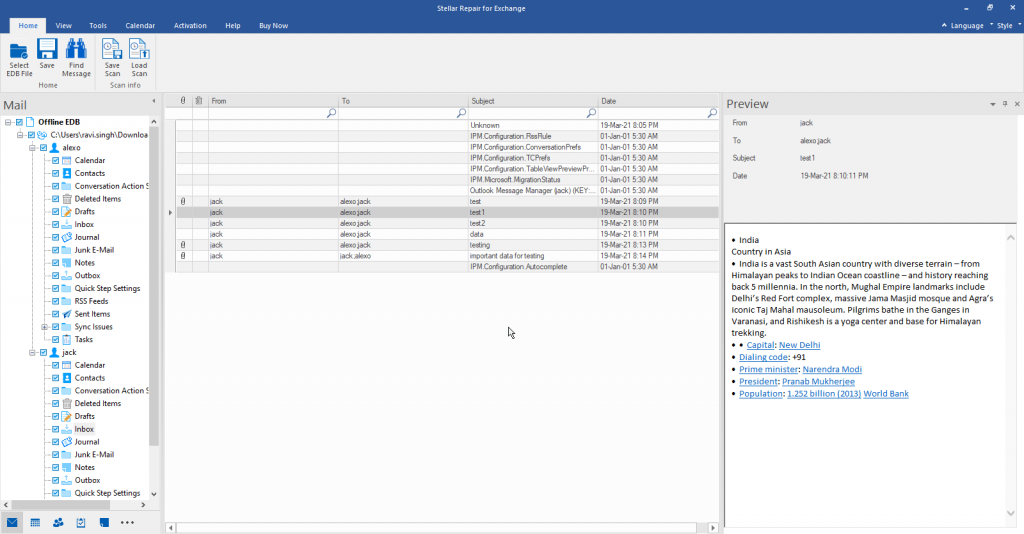 The Demo version does not display any ads and allows you to scan and preview unlimited EDB files. However, it restricts you from saving the recovered mailboxes to PST or other formats. 
Performance
We have an Exchange 2019 Server updated to CU11 and patched with October 2021 Security Updates running on Windows Server 2016 machine. One of the databases on this machine dismounted due to a Dirty Shutdown error after an abrupt shutdown.
We tried Soft Recovery via EseUtil, but it didn't work as the log files were missing. We could have run Hard Recovery using EseUtil to recover the database—we chose not to as it purges irrecoverable mailboxes and email items during the recovery that may lead to significant and irrecoverable data loss. We didn't want that. 
On the other hand, the Stellar Repair for Exchange software has no dependencies. It can recover mailboxes from the Exchange database, including deleted mailboxes, independent of log files. Most importantly, the software runs in read-only mode when it scans the Exchange database file and does not change the original database file. 
You can checkout this article by MVP (Edward van Biljon) where he has compared EseUtil & Stellar Repair for Exchange in detail.
We copied the mailbox database to one of our Windows machines connected to our Exchange Server domain. The machine we used is powered by a Hexa-Core Intel i5 (8400) processor with 8 GB RAM and Windows 10 Enterprise operating system installed with Microsoft Office 2019. 
We ran an Extensive Scan on the database copy using Stellar Repair for Exchange to ensure granular recovery. Though it took time, the results were accurate. You may also run Quick Scan, which is much faster but may take a little longer while saving the data.
We were able to preview all email items and save individual email items to PST, HTML, PDF, RTF, EML, and MSG formats right from the preview window.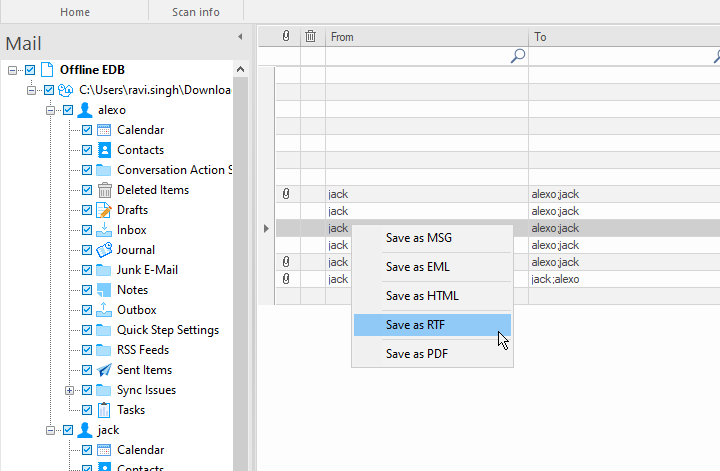 You may also right-click on any mailbox or email folder in the left-pane to export it to PST, HTML, PDF, RTF, MSG, EML, Office 365, or live Exchange Server and Public Folder on destination server.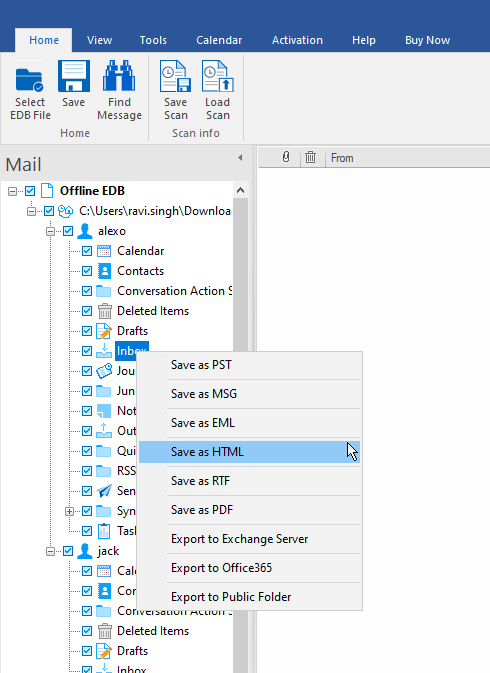 At the bottom left-pane, you can click on the Contact option to preview all the contacts. You may save the contacts to PST or CSV format using the right-click.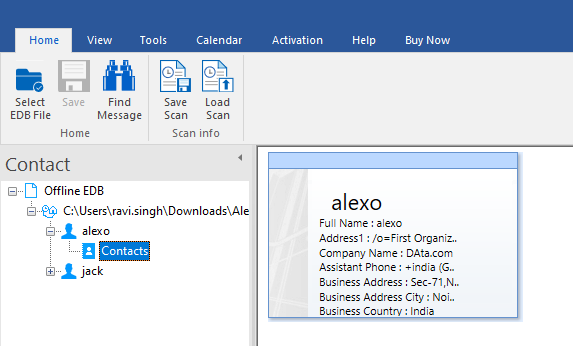 Similarly, clicking on the Calendar previews the calendar items.
The preview feature helps you verify the mailboxes and their contents before saving. Use the 'Find Message' option under the 'Home' tab after the scan to locate or find specific emails.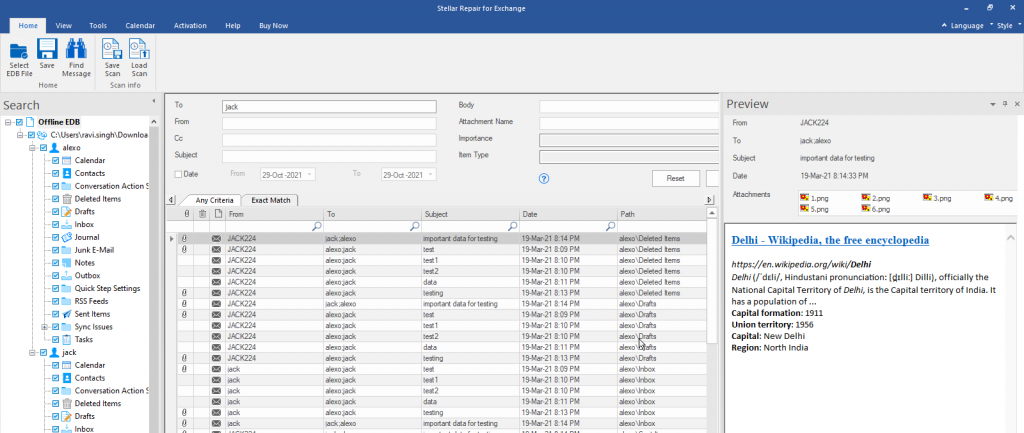 You may also save the scanned information in a DAT file, which you can load later to resume the recovery process.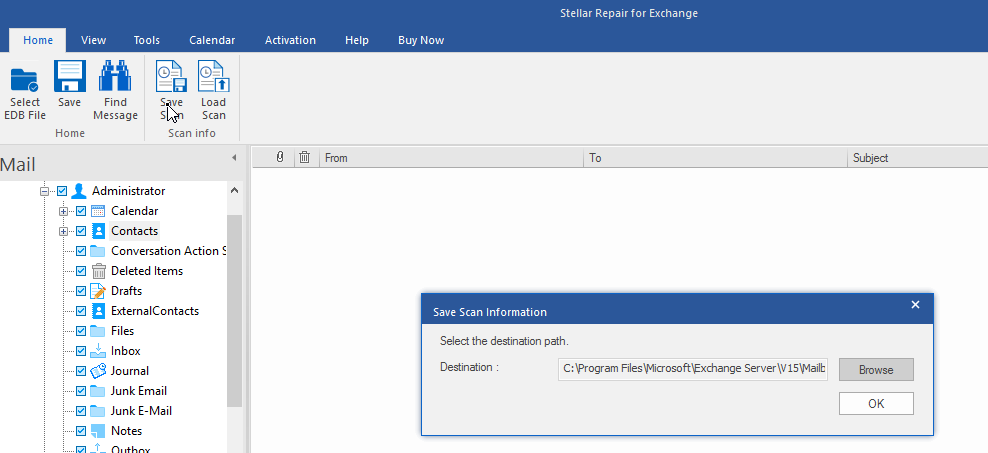 After the preview, select all the mailboxes you want to recover and save as PST or export to Exchange Server or Office 365 and click 'Save.'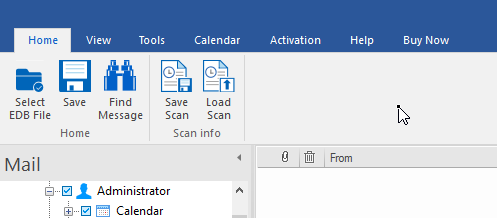 Note: If the software is not activated, it will open a web page where you can purchase the key to activate the software. Once activated, clicking the 'Save' button will display multiple saving options.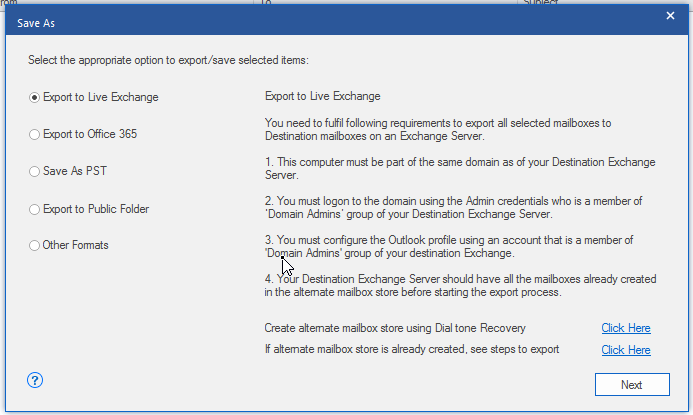 Choose the save option. Since we wanted to restore the user mailboxes to the same Exchange Server, we chose Export to Exchange Server. You may also select Office 365 if you want to move your on-premises infrastructure or certain mailboxes to Office 365.
Select the Profile Name and then enter the admin account and server details. The Profile Name is visible only when you add your administrator or user profile with admin access in Outlook.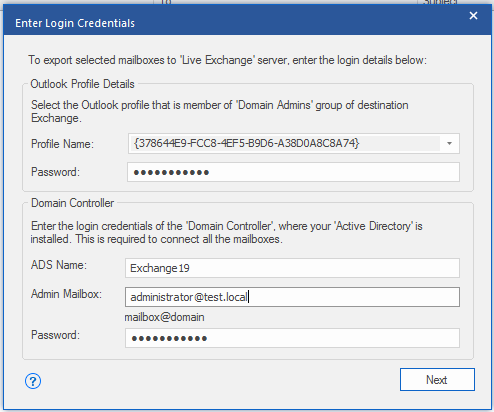 If you don't see any profile in the Profile Name dropdown, open Outlook, add your Exchange Server or Office 365 global administrator profile, and then resume saving recovered mailboxes.
However, if you choose PST or other formats, you can save the recovered mailboxes on your local storage without any additional step.
You can set or change the priority queue to prioritize mailboxes in the 'Map Mailboxes' window. This allows you to recover specific mailboxes first than the others in the queue. 
The software automatically maps the source and destination mailboxes, and provides an option to edit or create a new mailbox on the destination server directly from the software interface. This allows you to add and map missing mailboxes on the destination server.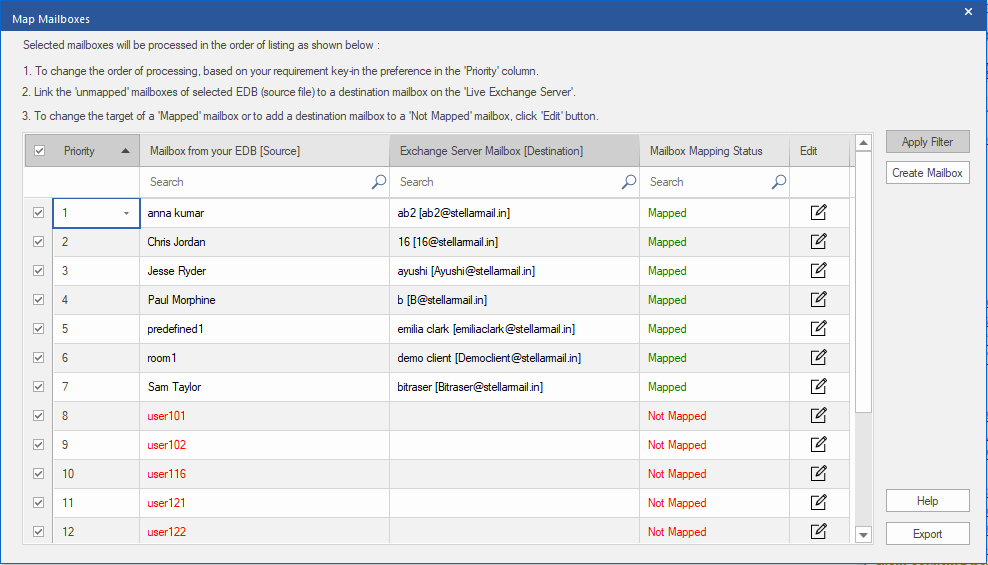 'Apply Filter' is a nice feature that you may use to filter mailboxes based on date range or specific email address. You may also exclude or include Junk and Deleted emails based on your needs.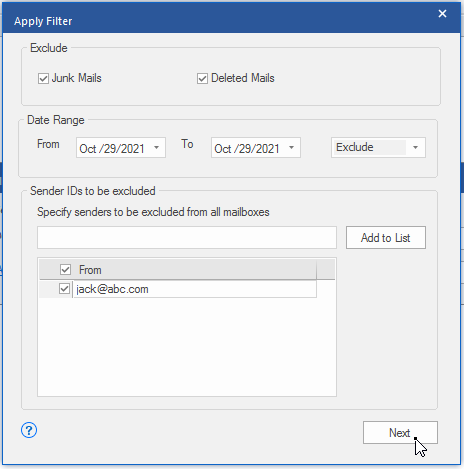 After mapping, prioritizing, and applying the filter, click 'Export' to save the recovered mailboxes in your desired format or destination, such as Office 365 or Exchange.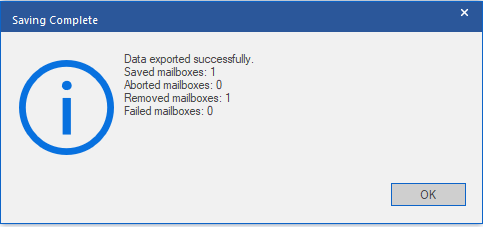 In our case, the software exported all mailboxes to the destination mailbox database on our live Exchange Server. 
Overall, we liked the software performance as it quickly processed multiple mailboxes simultaneously to the destination server. Software's user interface and detailed documentation make it one of the most convenient ways to recover and restore mailboxes from corrupt Exchange databases.
Support
Stellar Repair for Exchange comes with 24*5 dedicated technical support. In the software, go to the help tab and click 'Support' to open the Self Help and Support page. It contains a plethora of help guides, knowledge bases, articles, and blogs to help you find answers and resolve your queries.
However, if you don't find the answer to your queries through the knowledge base, you can raise a ticket from the same page or reach out to the team via chat or email at [email protected]. You may also call the team directly—the number is provided on the support page.
Software Editions and Pricing
Stellar® offers its Exchange recovery software in three different editions.
The Corporate edition comes with a single-user license. It can repair and export up to 100 mailboxes from corrupt or inaccessible database files to PSTs, live Exchange server, or Office 365 tenant. 
The Technician edition comes with multiple user license support that allows you to install and use Stellar Repair for Exchange on Windows Desktop or Windows Server machine. Most importantly, it can repair and export unlimited mailboxes from inaccessible Exchange databases. 
Stellar Toolkit for Exchange is a 5-in-1 software suite that repairs corrupt EDB files, extracts mailboxes from online or offline EDB files to PST, convert OST to PST, recovers mailboxes from Exchange Backup, and recovers lost or forgotten Windows Server passwords. The Toolkit supports unlimited mailboxes' recovery and offers many advanced features that you can use to repair and extract mail items from Exchange database and Outlook OST files.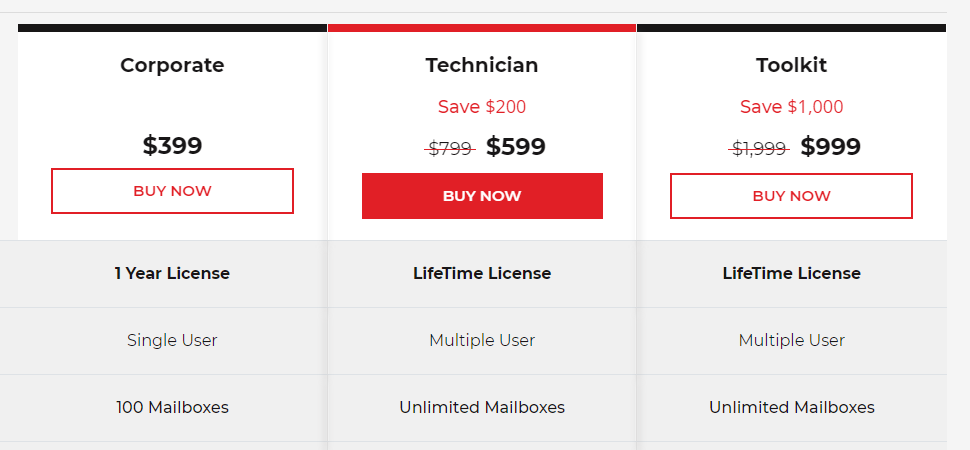 All Stellar Repair for Exchange editions are available for free download. You can get started by downloading the free demo version on your system to evaluate the software. As mentioned earlier, the free version allows you to repair unlimited corrupt or inaccessible Exchange databases and preview recovered mailboxes and email items. However, you need to activate the software before saving the recovered mailboxes to a PST or export to live Exchange and Office 365 tenant.
Conclusion
Although Exchange is a robust email server, it is vulnerable to failure or crash due to several factors that can lead to a dismounted or inaccessible Exchange mailbox database—preventing users from accessing their email account and sending or receiving emails. In most cases, the Exchange database gets damaged or corrupt. Sometimes, malicious attacks may also render the database inaccessible. In such cases, you may require to set up a new Exchange Server to restore the email services. If you have a backup, use it to create a new server and restore the databases. If not, use Stellar Repair for Exchange to recover mailboxes from the crashed or failed Exchange Server database to a new database on an existing or new Exchange Server or Office 365 tenant.