The arrival of the internet has revolutionized the way we communicate with each other. Following the outbreak of the global pandemic, cloud-based services have taken centre stage, and many businesses and enterprises have virtually shifted to the cloud. There are also instances of employees going on vacation, working from home, mothers taking maternity leaves and so on. Because critical business operations must continue 24 hours a day, 7 days a week, a cloud-based solution appears to be an ideal choice because it can be accessed from anywhere without being tied down to a specific PC or device. One of the elements for brand marketing is the email signature, which conveys professionalism while also bringing potential customers on board via social media channels, website links, banners for example. It is one of the powerful and cost-effective tools for organizations looking to grow and expand their operations.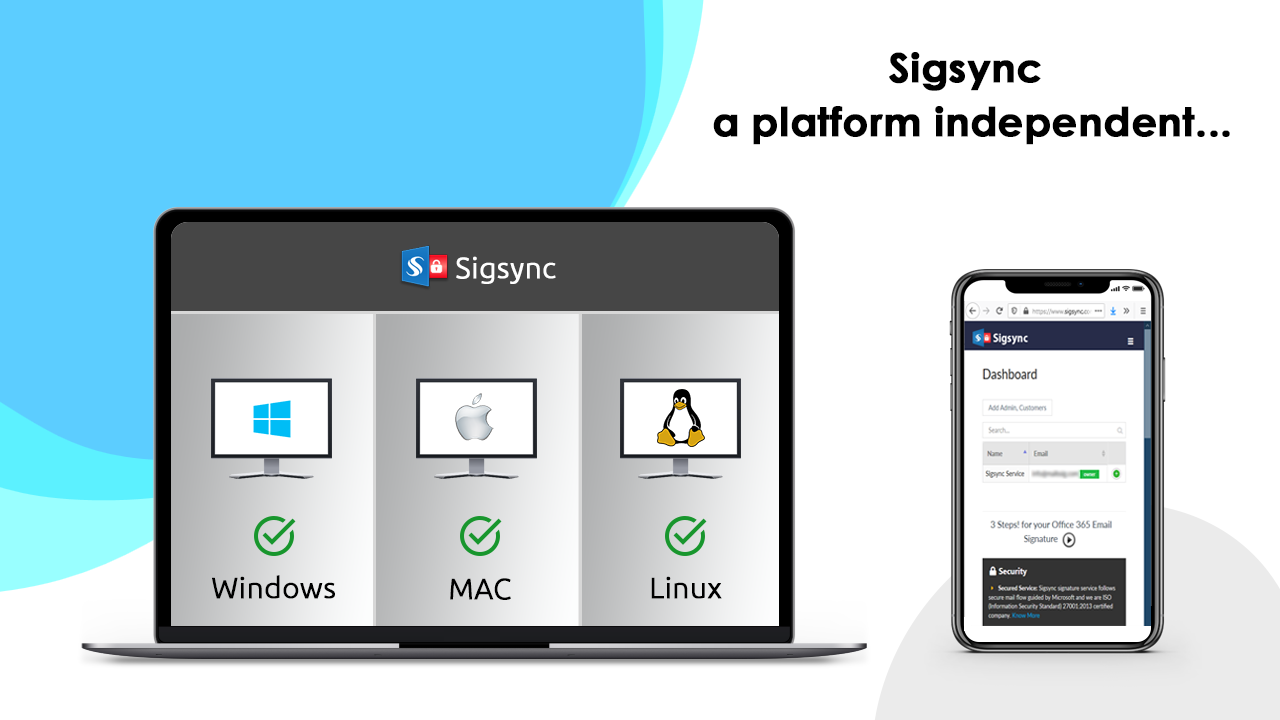 IT and Marketing can deploy a reliable, consistent and cloud based Office 365 email signature solution across the entire organization by utilizing Sigsync, an email signature service which works with Office 365 and Outlook. Sigsync email signature software is the leading email signature provider for businesses looking for a centralized email signature that can be used by various organizations. Before delving into the detailed features of Sigsync, let us first look at the limitations of non-cloud based email signatures, the need for a cloud based signature solution, and how Sigsync, a web-based and company wide email signature manager for Office 365 is one of the best email signature solutions for your organization.
What are the limitations of a non-cloud based email signature solution? 
Certain issues arise when using an email signature solution that is not cloud-based. 
Users are required to follow complicated installation procedures or they are restricted to a single device.

It is difficult to roll out signatures for the entire team by a different administrator working remotely.

Non-cloud solutions that necessitate installation on the user's PC require administrative privileges or permissions, making the entire process time-consuming. 

Uninstalling the software leaves behind traces and files that may be difficult to remove.

Furthermore, with a non-cloud based solution all of the settings and templates are stored on a single device, making it extremely vulnerable to theft, system crashes, malware infections, and so on. 
With this in mind, let's take a look at some of the advantages of cloud-based signature solutions. 
What is the need for a cloud based email signature solution such as Sigsync?
Cloud-based services do not require complicated setup, installation or uninstallation procedures.

They can be accessed from any device, including PCs and smartphones, making them highly portable.

Cloud based email signatures are simple to implement across the entire organisation.

Two or more admins from the same organization working remotely can take charge of or manage the signatures without requiring additional permissions.

Protects your settings and configuration from malware attacks, system crashes, and so on.

Eliminates the need for complex and manual updates, which render the system inoperable during that time.

A compatible browser is all that is required to access cloud-based services.

Logging in is straightforward and secure, requiring only a username and password.
Benefits and highlighted features of Sigsync centralized email signature
 Secured, Centralized and Company-wide Office 365 email signature
With Sigsync's secure cloud service, a company-wide email signature can be managed from a single location. It allows you to add global administrators or tenant-specific administrators who can centrally manage email signatures for the entire organization or a specific team.
Easy to use graphical user interface (GUI)
Its user-friendly interface makes managing email signatures easier than ever. As a result, you no longer need to rely on IT administrators and can transform your business into a powerful marketing channel.
No need to install any software/tools
The online signature management feature of Sigsync allows you to manage all of your signatures from a web-based interface, eliminating the need to download or install anything. Because everything is hosted in the cloud, there is no need for additional IT administration or ongoing maintenance. Furthermore, it eliminates the need for complex setup procedures that require privileges or permissions from the management.
With Sigsync, you can automatically add email signatures to all emails sent from any device, including Windows, Mac, Linux, and mobile phones. To access the website, all you need is a compatible browser.
Professional email signature templates are available
It offers a wide range of professional email signature templates that are fully customizable, allowing you to easily and quickly create a tailor-made email signature for your organization.
Secure and reliable service
Sigsync uses Microsoft Office 365 APIs for authorization and limited access authentication tokens issued by Microsoft Office 365 APIs for authentication. For email processing, Sigsync adheres to Microsoft guidelines and uses secure cloud storage for email data. All the settings, rules and configuration is safely stored in the cloud.
ISO/IEC 27001:2013 Certified
Furthermore, the system is implemented with the highest level of security and control, earning it ISO/IEC 27001:2013 Information Security Management Certification.
Possible to add social media icons, banners, logos and other graphics.
Create unique signatures with ease by adding images, promotional banners, logos, QR codes etc. to the email signature. The Signature generator allows you to create professional email signatures effortlessly.
Instant Signature preview available
Sigsync's service utilizes Microsoft's Outlook web add-in technology in Outlook, Outlook for Mac, and Office Web App so that users can preview server-side email signatures while composing an email from the aforementioned services. 
Sigsync email signature templates use Azure AD place-holders in Office 365 email signatures. Email signatures are generated dynamically for each user based on AD attribute values added to that user.
Updates email signatures in Sent Items
When you add a signature to an email, the signature in the Sent items folder is automatically updated. This enables you to view it alongside your emails while also ensuring legal compliance.
OneClick survey and Analytics available
OneClick surveys can be added to email signatures to collect customer feedback with a single click.
Cost-effective solution with free trial and on demand live demo
Yes! You've heard it right. Sigsync is one of the most affordable email signature solutions on the market, with discounts of up to 90% off! It provides 24/7 customer service and a free on-demand live demo to help you learn about the product's features.
Conclusion
In terms of accessibility, portability, and ease of use, cloud-based email signature services outperform their non-cloud counterparts. Sigsync email signature manager for Office 365 is an easy-to-use cloud based email signature platform for managing your organization's professional signatures. A web-based email signature, such as Sigsync, is very convenient because it requires no installation and can be accessed from any location or device. Start your free trial now or learn more at https://www.sigsync.com