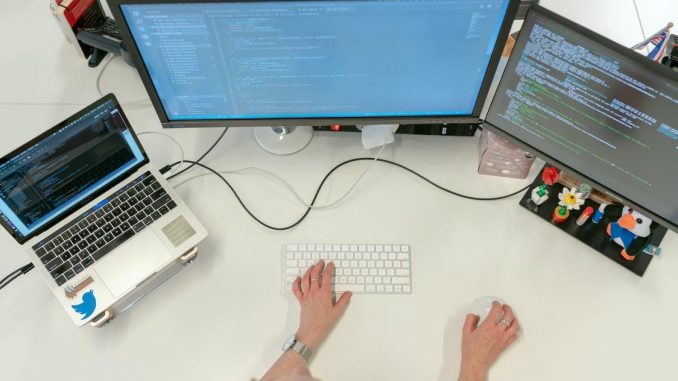 Experts call the cloud technology market the most promising segment in IT. During the pandemic, its development has become even more dynamic. Cloud services allow to create places for remote work and study, ensure information security, and improve the quality of products and services.
What is the cloud? How is it organized?
Cloud computing is a way to provide information and technical services in which the target resource is not on the user's device but the provider's facilities. The development of cloud computing was made possible by the emergence and rapid spread of broadband Internet access technologies. It allowed users of remote servers to receive a resource anywhere in the world with virtually the same response time as the resource on the local server or disk. Secondly, cloud computing appeared due to the development of virtualization technologies, which provided opportunities to develop scalable services.
The heart of any cloud is the data center. It is a scalable IT infrastructure, a set of servers, and network devices (switches, routers), combined into a logical managed system to provide services to many users in different parts of the world. The cloud service data center needs to be connected to high-speed Internet channels.

The data center must also meet specific requirements according to the following criteria:
Scalability – the ability to meet increasing resource demands in the event of an increase in the number of users;
Fault tolerance – ability to maintain service operability in case of failure of some infrastructure elements of the center;
Availability – the ability to provide services in 24/7 mode. Here it is important to ensure infrastructure redundancy for preventive repair and recovery, as well as for the development and use of software updates;
Security – ensuring the safety, integrity, and confidentiality of the information stored and processed in the cloud. In the future, this criterion will be fundamental to using cloud technology.
What cloud services exist?
Cloud computing is not only a way of providing IT services but also a business model. Currently, we can distinguish several types of services:
Infrastructure as a Service (IaaS)

Platform as a Service (PaaS)

Data as a Service (DaaS)

Software as a Service (SaaS)

Workplace as a Service (WaaS)

All as a Service (AaaS)
All cloud service models are based on three key technologies:
IaaS

– IT infrastructure as a service. It includes hardware, operating systems, system software, and special software. IaaS eliminates the need for businesses and organizations to maintain their own complex data center infrastructure and reduces associated capital expenditures and operating costs for personnel and equipment maintenance.

PaaS

is an application development platform as a service. It provides an integrated platform for creating, testing, deploying, and maintaining web programs as a service. For example, Google's AppEngine offers web application hosting with the ability to buy additional computing resources and the center of Microsoft's entire cloud infrastructure, the Windows Azure operating system.

SaaS

– software as a service. This model implies providing the application to the end-user as a service on demand. The main advantage of the SaaS model for the client is the absence of costs for installing, upgrading, and supporting the functionality of the hardware and software.
How popular are cloud data storages? Who uses them?
The scope of cloud technology is extensive because the cloud contains data storage and many different services. The most popular are SaaS applications such as mail, communications (VoIP), office software, project management, CRM, distance learning, data storage, and backup. Cloud storage is used by individuals ranging -from bloggers and essay writers to large enterprises focused on cloud computing applications. After all, storage service is offered as part of a suite of cloud services.
What is the reliability of cloud platforms?
The current Tier classification of data centers has four tiers. 
Tier I implies downtime of no more than 28.8 hours per year, ensuring 99.7% availability. At the same time, such data centers are already equipped with power redundancy systems. 
Tier II data centers (up to 22 hours of downtime per year) have redundancy for all critical active equipment. 
Tier III data centers do not even stop for preventive maintenance or repair work. Accordingly, the downtime of such a center will not exceed 1.6 hours per year. 
The most reliable data centers (Tier IV) provide an availability of 99.995%. All primary and auxiliary engineering systems are duplicated and backed up, and the allowable downtime for data processing is only 26 minutes per year. 
Currently, most data centers providing cloud services are Tier III compliant. Thus, cloud storage platforms are pretty reliable.
What is the future of cloud technology?
Cloud technology was born out of the evolutionary development of information systems. First, there were large computers with terminals connected to them. Then computers became personal computers, and then there was a return to centralized client-server architectures. Now the centers are moving to the Internet and becoming distributed clouds. There may be some new technology that will give impetus to the further development of digital services in the future.
Virtualization technologies offer great opportunities for scaling computing power, and accordingly, they provide a high level of elasticity and multitenancy. The share of cloud services will continue to grow, and cloud computing will be increasingly integrated into our lives, digitizing all areas of human activity and creating new services. In my opinion, the most promising areas are quantum computers, broadband wireless networks, the Internet of Things, artificial intelligence, and neural networks. Perhaps, humans themselves will become part of one big cloud in the future.