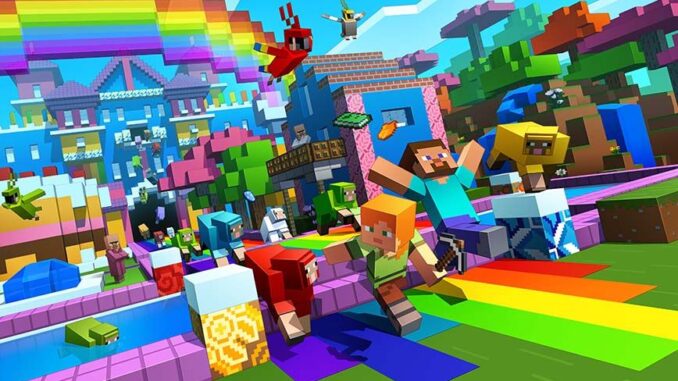 In this article, we'll go over the Best Seeds In Minecraft 1.19 that land you in the perfect spots to explore everything fantastic about the brand new 1.19 update.
Best Minecraft 1.19 Seeds
Gaspoweredpick Desert Monolith Seed: 416469024
Mangrove swamp and Outpost Seed: 3546842701776989958
Flat Building Area Seed: 4504535438041489910
Two-Tree Desert Island Seed: 7740300553320684095
Instant Lush Caves Seed: -6002410844389446864
Ocean Of Ice Spikes Seed: -6909477426377259322
Shipwreck Island Seed: -9142863513851137753
Villages & Pyramids Seed: 6630997395534342573
Deep Dark and Ancient Cities Seed: -2909343002793827664
Incredible Hollow Mountain Seed: 8486672581758651406
Giant Cavern Spawn Seed: 7445395903252703439
Giant Tree-less Desert Seed: -8631174543717435159
Immediate Ancient City Seed: -4651105460712845864
Snowcapped Mountains Seed: -7649949940957896961
Mountain Range And Deep Dark Biome Seed: 7644964991330705060
Gaspoweredpick Desert Monolith Seed
Seed: 416469024
Aside from the Mangrove Swamp in which you spawn, this Minecraft seed from Gaspoweredpick appears unassuming at first glance. Climbing up a tree, however, will reveal a stunning spire. This is an excellent focal point, with plenty to discover in the nearby desert, including a desert village and the badlands biome.
Mangrove swamp and Outpost
Seed: 3546842701776989958
Entering this seed found by Minecraft & Chill on the Bedrock version will take you very close to an Illager outpost near a beach. There's a desert pyramid, shipwreck, and village nearby, but if you're looking for Minecraft frogs, there's also a large Mangrove swamp to explore.
Flat Building Area
Seed: 4504535438041489910
Flat Building Area is an ideal place for building a massive Minecraft structure. The way the rivers weave their way through the landscape, creating beautiful panoramas, is my favorite aspect of this region.
Two-Tree Desert Island
Seed: -7740300553320684095
Why not give this desert island spawn a try if you want a starting seed that is more challenging ? The fact that there are only a few trees on the entire landmass may make you wonder mo  re about your chances of survival, even though the starting island is actually quite large.
Instant Lush Caves
Seed: -6002410844389446864
This seed is popular because it's simple to go underground and discover the expansive, enormous Lush Caves biome, which is covered in dripleaf, lichen, and a variety of other strange and wonderful subterranean peculiarities.
Ocean Of Ice Spikes
Seed: -6909477426377259322
You are placed on a tiny snowy beach with a single tree and an ocean of ice spikes by this fascinating seed. Polar bears are the only local wildlife, so you'll have to make your way out of this icy region.
Shipwreck Island
Seed: -9142863513851137753
This is one of the smallest islands I've ever spawned on, measuring only a few sand blocks wide. Exploration of this seed will also reveal another small island, an iceberg, and a collection of tiny ice spikes nearby. The shipwreck island could be an ideal location for a remote base or even a stranded, themed island adventure in Minecraft.
Villages & Pyramids
Seed: 6630997395534342573
This desert seed is absolutely littered with structures. You'll begin with two villages on either side of you, but if you look around, you'll find plenty more, as well as desert pyramids and even a temple or two in the jungles across the water.
Deep Dark and Ancient Cities Seed
Seed: -2909343002793827664
The first seed we want to introduce is Deep Dark and Ancient Cities. This seed parks you right on the edge of a large Deep Dark biome which you can easily access from the idyllic Roofed Forest on the surface above.
Incredible Hollow Mountain
Seed: 8486672581758651406
You will spawn in a Roofed Forest near a mountain here. As you approach the mountain, you'll see a fracture in the side that leads to a wonderfully stunning location. The entire mountain is hollow and filled with Lush Caves, stalactites, abandoned mineshafts, and all sorts of other strange and fascinating features that reach all the way down to deepslate and beyond.
Giant Cavern Spawn
Seed: 7445395903252703439
Getting out of the massive cavern where you've spawned could be a fascinating challenge. This seed will spawn you in Y-Level 24, far underground, surrounded by winding cave systems and dripstone.
Giant Tree-less Desert
Seed: -8631174543717435159
If you want a challenging start, try this coastal desert seed. You won't find many trees for your early wooden tools here. Thankfully, there is a desert settlement in the distance, but can it provide you with enough food to survive? There's just one way to find out.
Immediate Ancient City
Seed: -4651105460712845864
This world completes our Deep Dark seed trilogy by providing a terrific starting point in the form of a nearby forest village from which you may dive down into the deep ravine below. Continue on, and you'll soon come across pockets of Deep Dark biome, followed by another majestic and foreboding Ancient City littered with lavafalls, chests full of goodies, and mineshafts.
Snowcapped Mountains
Seed: -7649949940957896961
Snowcapped Mountains is a starting point for both lows and highs: the entrance to a massive cave system that descends far below, all the way down to bedrock, is right next to where you spawn. There will be a lot of early Minecraft diamond mining and enchanting opportunities here!
Mountain Range And Deep Dark Biome
Seed: 7644964991330705060
Another seed that grants early access to the new Deep Dark biome, this one presents you with a stunning view of a snowcapped mountain range surrounded by forest. If you go deep enough, you'll find yourself in the heart of a truly massive Deep Dark biome teeming with Ancient Cities.
That's 15 Best Seeds Minecraft 1.19 we have right now. This article will be updated whenever new seeds are added into the game.