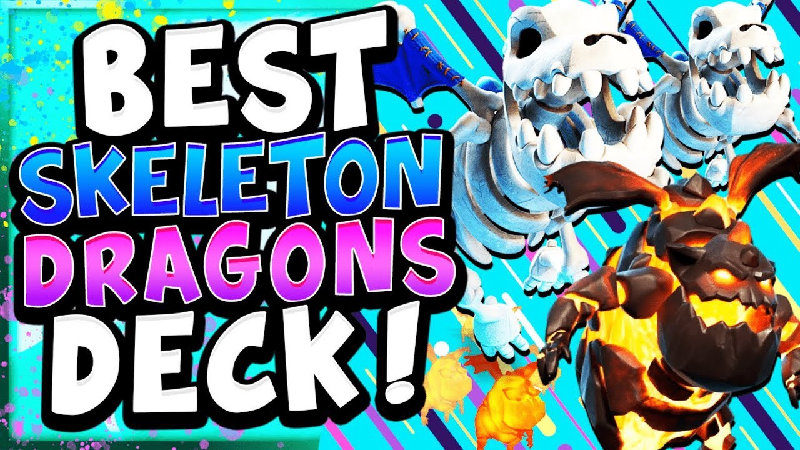 Looking for the perfect deck to use the Skeleton Dragon Fire Challenge in Clash Royale? Here are some ideas from the game's most prominent content creators and players.
Skeleton Dragon's Reign Of Fire Event In Clash Royale
Best Skeleton Dragon Decks in Clash Royale
There is one thing that is particularly important in this Skeleton's Reign of Fire challenge. It's a refusal of air. Initially only spawned 2 skeleton dragons for each player, but later in the game this number will increase to 4 and 5 skeleton dragons on each side. Therefore, the closer you are to the end of the regulation time, the more important it is to end your opponent's dragon as soon as possible. For this reason, we recommend adding at least one type of Dragon card to your deck.
1. Skeleton Dragons + Barb Huts + Barbarians
Average elixir cost: 3.9
We can use the common defense combo of Battle Healer + Elixir Golem. Furthermore, Electro Dragon should seal the deal. We may also place Barb Huts in the center to operate as a defensive unit and allow Barbarians to chip away at the enemy crown tower. Players can, however, rotate for another push with the support of minor elixir soldiers like the Heal Spirit and Skeleton Dragons.
2. Skeleton Dragons + Lavahound + Air Troops
Average elixir cost: 4.1
Another good combination is Skeleton Dragons + Air Troops. The high HP of Lavahound can be used to distract the opponent's crown tower. So, we can dispatch these warriors first, followed by a balloon and the Skeleton Dragons to protect the balloon. Players can use the Skeleton Hut and Barbarians to defend. Zap is used to destroy the minions who are threatening the balloon. To defeat log bait decks, players can always employ a Log.
3. Barbarian Barrel + Elixir Collector + Lumberjack + Dark Prince
Average elixir cost: 4.5
This may be the best deck on the list, with an exceptionally strong offensive and a strong defensive department. The barbarian barrel plays a role as a log and a counter to any light troops in the front lines. Because this is a heavy deck, the Elixir Collector fills the meter faster, allowing players to always have an Elixir edge over their opponent.
Lumberjack and Dark Prince are good at both defense and offense, so they can play a variety of roles. However, adding a lumberjack will bring great benefits to your deck. You can use the Rage spell to hold the golem and its support units and rush towards the tower.
These are all the best Skeleton Dragon Decks in Clash Royale. If you want a more visual explanation, check out the video below.
Clash Royal Wiki
Clash Royale
Developer(s)
Supercell
Publisher(s)
Supercell
Platform(s)
iOS, Android
Release
Genre(s)
Real-time strategy
Mode(s)
Multiplayer