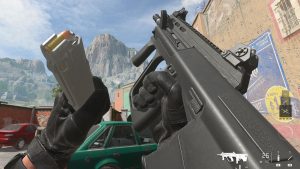 If you're tired of the meta weapons in Modern Warfare 2 and want to try something new, MX9 with its best loadout is worth a shot.
Modern Warfare 2 Guide – Best MX9 Loadout in Ranked Play
On this class, we will only use four of the five attachment slots available. Otherwise, the weapon will become too slow, making combat with the Vaznev-9k even more difficult. We simply want to strike a balance between control, range, and speed.
All of the attachments are listed below:
Barrel: 508mm Rear Guard
Muzzle: Bruen Pendulum
Comb: FTAC C11 Riser
Rear Grip: Bruen Q900 Grip
We'll divide this loadout into two parts to achieve the desired balance for the weapon. We start with the 508mm Rear Guard barrel and the Bruen Pendulum muzzle. Both of these will give us a lot more control, and the barrel will even give us more bullet velocity and damage range. However, make sure to tune your barrel for recoil and ADS speed.
The Bruen Q900 Grip and the FTAC C11 Riser comb are next on the list. Both of these provide a lot of ADS and sprint to fire speed, which is essential for any SMG build in Ranked Play. Tune these as well if you want to increase the weapon's mobility.
This concludes our best MX9 loadout build for Ranked Play in Modern Warfare 2.
About Call of Duty: Modern Warfare II
Call of Duty: Modern Warfare II is a first-person shooter video game released in 2022 by Activision and developed by Infinity Ward. It is a sequel to the 2019 reboot and the nineteenth overall installment in the Call of Duty franchise. It was released for the PlayStation 4, PlayStation 5, Windows, Xbox One, and Xbox Series X/S on October 28, 2022.
Related: