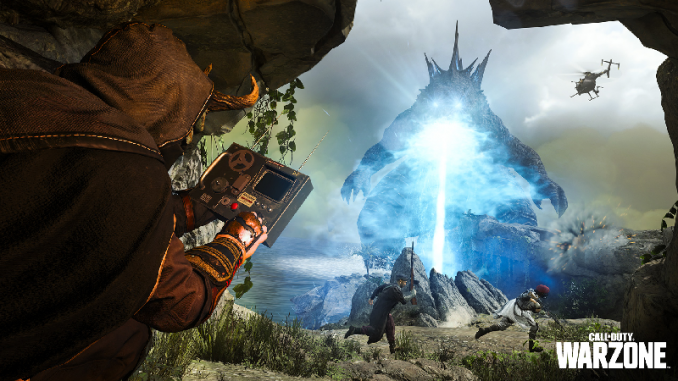 Operation Monarch will bring Legendary Pictures' Monsterverse to Caldera with Godzilla and King Kong appearing in a limited time mode of the same name.
📁 In order to survive #OperationMonarch, you're going to need all the intel you can get.

This mission brief is critical to your success while we've got visitors on Caldera, so don't skip it! pic.twitter.com/Haibtb4TiK

— Raven Software (@RavenSoftware) May 11, 2022
Call of Duty Warzone : Godzilla vs. Kong – How to get ?
"Buy any two packs to receive the exclusive 'Godzilla vs Kong' and the player title 'Superspecies,'" Activision said. Bonus rewards will be available in game after restart. All three packs can be found in the CoD Store for 2,400 CoD Points each.
Tracer Pack: Kong Limited Time Bundle
Kong Operator skin
Three Legendary Weapon Blueprints

Temple of Kong sniper rifle
Skull Island Shaker SMG
Kong's Scepter axe melee weapon

Primal Power spray
Gravity Inversion finishing move
Kong Road animated emblem
Jia's Doll weapon charm
Watch Your Back highlight intro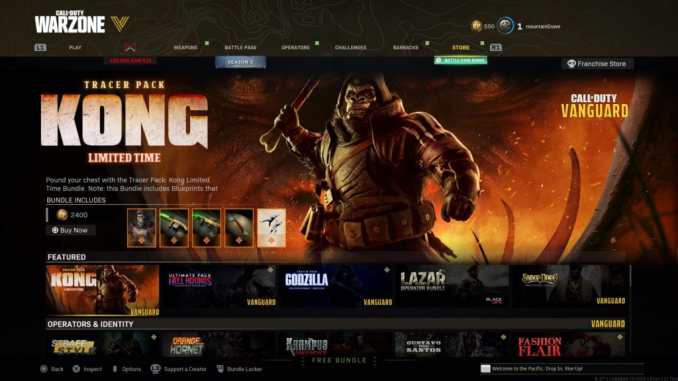 Tracer Pack: Godzilla Limited Time Bundle
Breath of Godzilla mastercraft blueprint
Godzilla Operator skin
Gojira Stomp finishing move
Awakened Alpha legendary LMG
Two Sprays
Protector of Earth calling card
Big Mistake MVP highlight
Godzilla Heat Ray animated emblem
Tracer Pack: Mechagodzilla Limited Time Bundle
Navigate to the Operation Monarch in-game tab in Warzone, and click the square button (X on Xbox) to open the packs and purchase them.
Cybernetic Destroyer legendary assault rifle
Mechagodzilla Operator skin
Nanometal Tail Blade melee weapon
Neural Uplink legendary SMG
Mechagodzilla Head charm
Network Uptime watch
Evolving Together emblem
Machine Learning MVP highlight
Rival Protocol highlight intro
Call of Duty Warzone : Godzilla vs. Kong – How to play ?
Operation Monarch is NOW LIVE in #Warzone!

Godzilla and Kong have arrived on Caldera. 🦎🐒🌋

Complete Challenges for rewards, collect Monarch Intel, avoid the Titan Frenzy (or don't), or find a S.C.R.E.A.M. Device to wield a Titan's power!

Patch Notes: https://t.co/fCZowsu1YO pic.twitter.com/YFaV5EvRZi

— Raven Software (@RavenSoftware) May 11, 2022
From now until May 25h, Operation Monarch will be playable, giving Warzone players the chance to take part in a fight between the most iconic monster movie stars in history.
Operation Monarch is a special limited-time playlist that features a 60-player quad match with the Resurgence ruleset, meaning players can respawn as long as their teammates survive the Resurgence counter when players they die. The winners will be the last team standing, while huge monsters lurk in the background.
Call of Duty: Warzone wiki :
Developer(s)

Infinity Ward
Raven Software

Publisher(s)
Activision
Series
Call of Duty
Engine
IW 8.0
Platform(s)
Microsoft Windows
PlayStation 4
Xbox One
PlayStation 5
Xbox Series X/S
Release
Microsoft Windows, PlayStation 4, & Xbox One
March 10, 2020
PlayStation 5 & Xbox Series X/S
2021
Genre(s)
Battle royale, first-person shooter
Mode(s)
Multiplayer
The Latest Games News : Release date , Patch Notes , game events & update , Game Leaks & up comming .