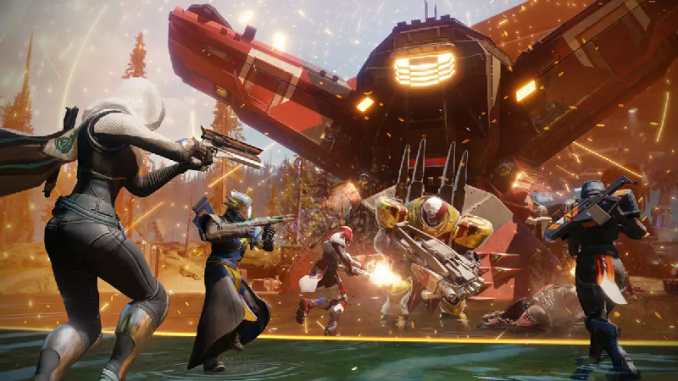 What is the Destiny 2 promo codes ?
With Destiny 2 promo codes you can get some free stuff , emblems, shaders and much more.
Destiny 2 Transmat Codes
Here are a few of the Destiny 2 transmat codes. After redeeming your code, be sure to visit the cryptarch to collect your transmat effect.
R9J-79M-J6C—Redeem for End of the Rainbow transmat effect. (NEW)
Destiny 2 Emblems Codes
Here's a look at all of the working Destiny 2 Emblem codes. Players can claim these Emblems from the Flair Collections within the Collections menu after redeeming.
D97-YCX-7JK—Redeem for Crushed Gamma (New)
L7T-CVV-3RD—Redeem for Heliotrope Warren (New)
XFV-KHP-N97—Redeem for The Visionary
A7L-FYC-44X—Redeem for Flames of Forgotten Truth
JDT-NLC-JKM—Redeem for Ab Aeterno
N3L-XN6-PXF—Redeem for The Reflective Proof
7CP-94V-LFP—Redeem for Lone Focus, Jagged Edge
FJ9-LAM-67F—Redeem for Binding Focus
7F9-767-F74—Redeem for Sign of the Finite
ML3-FD4-ND9—Redeem for Be True
PKH-JL6-L4R—Redeem for Tangled Web
6LJ-GH7-TPA—Redeem Sneer of the Oni
PHV-6LF-9CP—Redeem for Countdown to Convergence
F99-KPX-NCF—Redeem for Shadow's Light
VA7-L7H-PNC—Redeem for Liminal Nadir
YRC-C3D-YNC—Redeem for A Classy Order
7D4-PKR-MD7—Redeem for Sequence Flourish
X9F-GMA-H6D—Redeem for The Unimagined Plane
X4C-FGX-MX3—Redeem for Note of Conquest
JD7-4CM-HJG—Redeem for Illusion of Light
JNX-DMH-XLA—Redeem for Field of Light
3VF-LGC-RLX—Redeem for Insula Thesauraria
RA9-XPH-6KJ—Redeem for Cryonautics
JYN-JAA-Y7D—Redeem forGalilean Excursion
7LV-GTK-T7J—Redeem for Future in Shadow
Destiny 2 Shaders codes :
T67-JXY-PH6—Redeem for the Stag Spirit Emblem (New)
JVG-VNT-GGG—Redeem for a Support for Ukraine Emblem
7MM-VPD-MHP—Redeemfor Double Banshee
RXC-9XJ-4MH—Redeemfor Oracle 99
How to redeem Destiny 2 promo codes ?
Destiny 2 promo codes for May cannot be redeemed in-game, follow 3 steps below to redeem Destiny code :
Go to the official Bungie Code Redemption website
Login to your account, next copy a code from the above list and paste it in the section.
Click on the Redeem button to claim your free reward.
Destiny 2 wiki :
Developer(s)
Bungie
Publisher(s)
Director(s)

Christopher Barrett
Luke Smith
Ryan Ellis

Producer(s)
Patrick O'Kelly
Designer(s)

Del Chafe III
M.E. Chung
Tyson Green
Sage Merrill
Christopher Opdahl
James Tsai

Artist(s)
Writer(s)

Jason Harris
Christine Thompson

Composer(s)

Michael Salvatori
Skye Lewin
C Paul Johnson

Platform(s)

Microsoft Windows
PlayStation 4
Xbox One
Stadia
PlayStation 5
Xbox Series X/S

Release

PS4, Xbox One
September 6, 2017
Microsoft Windows
October 24, 2017
Stadia
November 19, 2019
PS5, Xbox Series X/S
December 8, 2020

Genre(s)
First-person shooter, MMOG
Mode(s)
Multiplayer