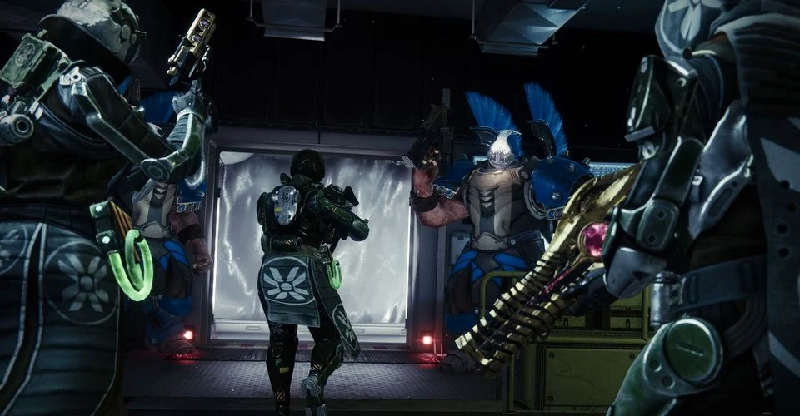 How to Get Opulent Umbral Energy in Destiny 2 Season of the Haunted ?
There are three sources of Opulent Umbral Energy :
The season pass grants Opulent Umbrals at levels two, 52, 70, and 92 for a total of 21 energy.
You will receive seven energy each time you match the nightmares at the end of a Containment activity. To do this, deposit 150 Dread Remnants on the Harvester after killing the boss at contention level 3.
Every time you bind nightmares at the end of Containment, there's a chance you'll receive a Bound Presence. If you do, complete the Sewer quest and open the chest at the end to receive five energy.
How much does the season pass cost in Destiny 2?
The Season of the Haunted season pass costs 1,000 Silver or approx. US$10.
All Destiny 2 Season of the Haunted Season Pass Rewards
| | | |
| --- | --- | --- |
| Tier | Free | Premium |
| 1 | | Tresspasser Exotic Sidearm |
| 2 | Upgrade Modules | Opulent Umbral Energy |
| 3 | Glimmer | Ritual Glimmer Boost |
| 4 | Upgrade Modules | Enhancement Core |
| 5 | Legendary Shards | Small Fireteam XP Boost |
| 6 | Glimmer | Graceful Phantom Shader |
| 7 | Eververse Engram | Small XP Boost |
| 8 | Upgrade Module | Planetary Materials |
| 9 | Bright Dust | Glimmer |
| 10 | Legendary Shards | Swing of the Scythe Finisher |
| 11 | Upgrade Modules | Catalyst Quest Boost Alpha |
| 12 | Glimmer | Crown of Sorrow Efficiency I |
| 13 | Eververse Engram | Armor of the Haunted Umbral Engram |
| 14 | Upgrade Modules | Legendary Shards |
| 15 | Enhancement Core | Enhancement Core |
| 16 | Glimmer | Small XP Boost |
| 17 | Eververse Engram | Glimmer |
| 18 | Upgrade Modules | Egregore Entrance |
| 19 | Bright Dust | Planetary Materials |
| 20 | Exotic Engram | Legendary Shard Dismantle Bonus |
| 21 | Upgrade Modules | Legendary Shards |
| 22 | | Catalyst Quest Boost Omega |
| 23 | Eververse Engram | Glimmer |
| 24 | | Armor of the Haunted Umbral Engram |
| 25 | Legendary Engram | Exotic Engram |
| 26 | Upgrade Modules | Small Fireteam XP Boost |
| 27 | Eververse Engram | Bright Dust |
| 28 | | Season of the Haunted Arms Masterwork Boost |
| 29 | Bright Dust | Planetary Materials |
| 30 | | Pale Steed Sparrow |
| 31 | | Legendary Shards |
| 32 | | Crown of Sorrow Efficiency II |
| 33 | Eververse Engram | Enhancement Core |
| 34 | | Upgrade Modules |
| 35 | Tresspasser Exotic Sidearm | Armor of the Haunted Umbral Engram |
| 36 | | Small XP Boost |
| 37 | Eververse Engram | Glimmer |
| 38 | | Season of the Haunted Legs Masterwork Boost |
| 39 | | Planetary Materials |
| 40 | Bright Dust | Spectral Indigo Shader |
| 41 | | Armor of the Haunted Umbral Engram |
| 42 | | Enhancement Core |
| 43 | Eververse Engram | Armor Scrounger |
| 44 | | Legendary Shards |
| 45 | | Reaper Projection |
| 46 | | Small XP Boost |
| 47 | Eververse Engram | Upgrade Module |
| 48 | | Season of the Haunted Class Masterwork Boost |
| 49 | | Planetary Materials |
| 50 | Bright Dust | Phantasmal Shell |
| 51 | | Firefright Masterwork Bonus |
| 52 | | Opulent Umbral Energy |
| 53 | Eververse Engram | Enhancement Core |
| 54 | | Exotic Engram |
| 55 | Exotic Cipher | Armor of the Haunted Umbral Engram |
| 56 | | Small Fireteam XP Boost |
| 57 | Eververse Engram | Class Arms |
| 58 | | Season of the Haunted Chest Masterwork Bonus |
| 59 | | Planetary Materials |
| 60 | Bright Dust | Class Legs |
| 61 | | Without Remorse Masterwork Bonus |
| 62 | | Glimmer |
| 63 | Eververse Engram | Enhancement Prism |
| 64 | | Arms Universal Ornament |
| 65 | Exotic Engram | Exotic Engram |
| 66 | | Small XP Boost |
| 67 | Eververse Engram | Class Mark/Bond/Cloak |
| 68 | | Season of the Haunted Head Masterwork Bonus |
| 69 | | Planetary Materials |
| 70 | Bright Dust | Opulent Umbral Energy |
| 71 | | Weapon Scrounger |
| 72 | | Enhancement Prism |
| 73 | Eververse Engram | Legs Universal Ornament |
| 74 | | Exotic Engram |
| 75 | | Raid Banner |
| 76 | | Small XP Boost |
| 77 | Eververse Engram | Class Chest |
| 78 | | Bright Dust |
| 79 | | Planetary Materials |
| 80 | Bright Dust | Cabal Loyalty Emote |
| 81 | | Advanced Weapon Scrounger |
| 82 | | Glimmer |
| 83 | Eververse Engram | Class Item Ornament |
| 84 | | Upgrade Modules |
| 85 | | Enhancement Core |
| 86 | | Small Fireteam XP Boost |
| 87 | Eververse Engram | Class Helm |
| 88 | | Exotic Engram |
| 89 | | Planetary Materials |
| 90 | Bright Dust | Enhancement Core |
| 91 | | Class Chest Ornament |
| 92 | | Opulent Umbral Energy |
| 93 | Eververse Engram | Raid Banner |
| 94 | | Enhancement Core |
| 95 | | Planetary MAterials |
| 96 | | Bright Dust |
| 97 | Eververse Engram | Class Helm Ornament |
| 98 | | Exotic Engram |
| 99 | | Shower of Wealth Emote |
| 100 | Bright Dust | One False Step Ornament |
Destiny 2 wiki :
Developer(s)
Bungie
Publisher(s)
Director(s)

Christopher Barrett
Luke Smith
Ryan Ellis

Producer(s)
Patrick O'Kelly
Designer(s)

Del Chafe III
M.E. Chung
Tyson Green
Sage Merrill
Christopher Opdahl
James Tsai

Artist(s)
Writer(s)

Jason Harris
Christine Thompson

Composer(s)

Michael Salvatori
Skye Lewin
C Paul Johnson

Platform(s)

Microsoft Windows
PlayStation 4
Xbox One
Stadia
PlayStation 5
Xbox Series X/S

Release

PS4, Xbox One
September 6, 2017
Microsoft Windows
October 24, 2017
Stadia
November 19, 2019
PS5, Xbox Series X/S
December 8, 2020

Genre(s)
First-person shooter, MMOG
Mode(s)
Multiplayer