Clan is an essential part of the Diablo Immortal endgame. Diablo Immortal features a number of factions that players and clans can join and compete for on their server leaderboards. The title of Immortal Clan is the most coveted prize for those interested in server competition. To obtain the honor title, you must join the Shadows faction and join the Dark Clan. This guide will show you how to join the Shadows, form your Diablo Immortal Dark Clan, and progress through the Rite of Exile to become an Immortal.
How to Join a Dark Clan in Diablo Immortal And Get Akeba's Signet ?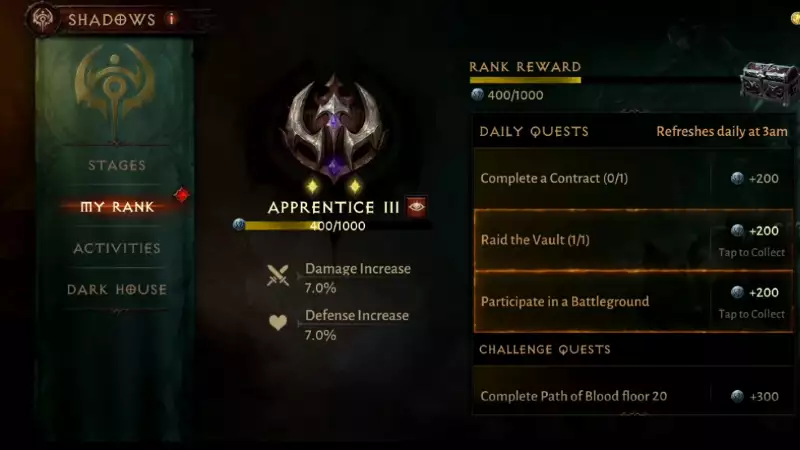 There are three factions in Diablo Immortal: Adventurers, Shadows, and Immortals. Participating in Shadows is the first step to create a dark clan.
To become the Shadows, you must join the Shadow Lottery, a 60-minute event held three times a day at 12:00, 18:00, and 21:00 in the official time zone of the server. Next, go to the West March tavern Mystery Patronage, enter the Shadow Lottery, and wait 60 minutes to see if it's selected.
Once you're successfully invited, you will be selected to fight three bosses in a secret back room of the tavern. Defeat all three, and you will become a member of the Shadow faction. After being accepted you are now a Shadow and can begin assembling your Dark Clan.
Remember to complete the Shadow Lottery again to earn items called Akeba's Signet. This item can help you a lot in the next step.
You will need to recruit members for your clan now that you are a member of the Shadows => You can invite members directly using Akeba's Signet, bypassing the waiting process. It only works if the member level is 42 or higher.
Your Dark Clan must now take part in the Cycle of Strife. This timed event will require Dark Clans to complete various challenges in order to advance on a leaderboard. During each Cycle of Strife cycle, the top ten Dark Clans will compete in an event known as the Rite of Exile. Ten 8v8 battles will be held between the top ten Dark Clans and the Immortal Clan. The Shadow Clans will advance to the final stage of the cycle if they win more than half of these ten battles.
If the Shadow Clans win the Rite of Exile, the Challenge of the Immortal event will be triggered. The Immortal is then bestowed with the ability to transform into a giant. The Immortal and the Dark Clan will go toe-to-toe. If the Shadow Clans win, they will replace the Immortals. Below is the Rite of Exile gameplay from Scrappy Academy
Minimum System Requirements
OS: Windows 7 / Windows 8 / Windows 10 / Windows 11 (64-bit)
Processor: Intel Core i3 or AMD FX-8100
Video: NVIDIA GeForce GTX 460, ATI Radeon HD 6850, or Intel HD Graphics 530
Memory: 4GB RAM
Recommended System Requirements
OS: Windows 7 / Windows 8 / Windows 10 / Windows 11 (64-bit)
Processor: Intel Core i5 or AMD Ryzen 5
Video: NVIDIA GeForce GTX 770 or AMD Radeon RX 470
Memory: 8GB RAM
Diablo Immortal wiki :
Developer(s)

Blizzard Entertainment
NetEase

Publisher(s)
Blizzard Entertainment
Director(s)
Wyatt Cheng
Series
Diablo
Platform(s)
Release
June 2, 2022
Genre(s)

Action role-playing
Massively multiplayer online

Mode(s)
Multiplayer
The Latest Games News : Release date , Patch Notes , game events & update , Game Leaks & up comming