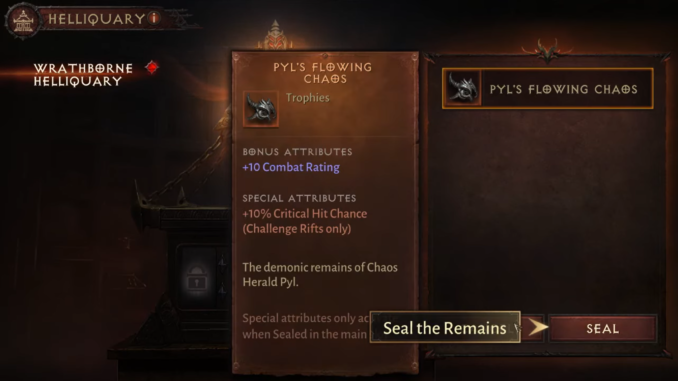 The Demonic Remains questline in Diablo Immortal requires you to complete a Challenge Rift. Veterans of Diablo III will recognize Challenge Rifts because the mechanics are very similar to Greater Rifts in that game. Through a portal in Westmarch's Palace Courtyard, you can Challenge Rifts. The following Diablo Immortal Guide will walk you through the steps required to complete this quest.
Step-By-Step Demonic Remains Guide
Return to Westmarch once you've completed the Library of Zoltun Kulle quest line. Deckard Kane will introduce you to Rayek, Charcy's best friend. As part of the Demonic Remains quest, Rayek will ask you to track down and kill a Chaos Herald. In order to do that, you must enter and complete a Challenge Rift on the third difficulty level.
Now, go to the Challenge Rift Entrance in Westmarch's Palace Courtyard. You have choose either playing alone or with friends. It makes no difference what mode you use. Remember to set the difficulty level to 3.
Like the other Challenge Rifts, you must defeat the Rift Guardian before an on-screen timer runs out. Begin mowing down enemies as soon as you spawn inside the Rift.
When you reach the end of the corridor, you will come across Chaos Herald Pyl. You must defeat him in order to complete the Rift. With the difficulty set to 3, Chaos Herald Pyl cannot deal much damage. This boss battle should be relatively easy for you.
After defeating Chaos Herald Pyl, you will obtain Pyl's Flowing Chaos, which you must return to Rayek. To return to Westmarch, use the portal. Make your way to Rayek, finish his conversations, and he'll ask if you picked up and used the Helliquary (the Helliquary section will be unlocked inside of your menu).
To use the Helliquary, you must first choose which demonic remains to seal. In this case, you will seal with Pyl's Flowing Chaos, which will grant us an additional bonus that can only be used in the Challenge Rifts.
That's everything in Diablo Immortal Guide – Demonic Remains Quest. If you're interested, we also have a lot of Diablo Immortal-related articles. For more information, please follow this link.
Diablo Immortal Wiki
Diablo Immortal
Developer(s)
Publisher(s)
Blizzard Entertainment
Director(s)
Wyatt Cheng
Series
Diablo
Platform(s)
Release
June 2, 2022
Genre(s)

Action role-playing
Massively multiplayer online

Mode(s)
Multiplayer