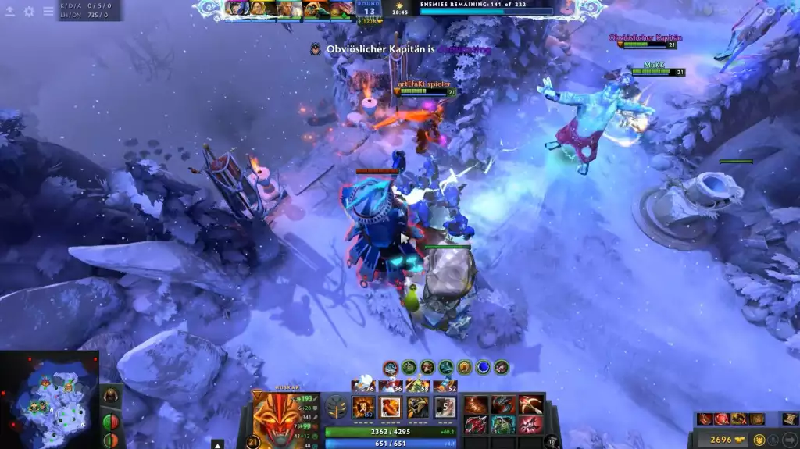 DOTA 2 Frostivus 2022 Christmas Event : Release Date
Currently Valve has not officially announced whether there will be a Frostivus Christmas event in Dota 2 taking place this year. The last time players were able to participate in seasonal festivals was in 2019. In total there were five Frostivus events in Dota 2.
DOTA 2 Frostivus 2022 Rewards :
In past events, players were able to accumulate Frostivus Points and Levels, contributing to a kind of Battle Pass. These can be earned by winning matches, with each level unlocking new items or rewards.
Below is the reward information of previous events .
Consumables
Pile of Snowballs – Throw snowballs at your allies or enemies.
Festive Fireworks – Shoot fireworks into the air.
Summon Penguin – Summons a friendly penguin.
Snowman Noses – Make a snowman.
Treasures
Frostivus Treasure (includes an assortment of Items or Item Sets)
Reward Wheels
Frostivus Reward Wheel – Similar to Rylai's Blessing, players can spin the wheel for a chance to unlock a random item.
Miscellaneous Rewards
Announcer Packs
Animations
Chat Wheel Lines
Consumable Bundles
Couriers
Emoticons
Gingerbread Baby Roshan
Item Sets
Loading Screens
DOTA 2 wiki :
Developer(s)
Valve
Publisher(s)
Valve
Designer(s)
IceFrog
Writer(s)

Marc Laidlaw
Ted Kosmatka
Kris Katz

Composer(s)
Series
Dota
Engine
Source 2
Platform(s)
Release

Windows
July 9, 2013
Linux, OS X
July 18, 2013

Genre(s)
MOBA
Mode(s)
Multiplayer