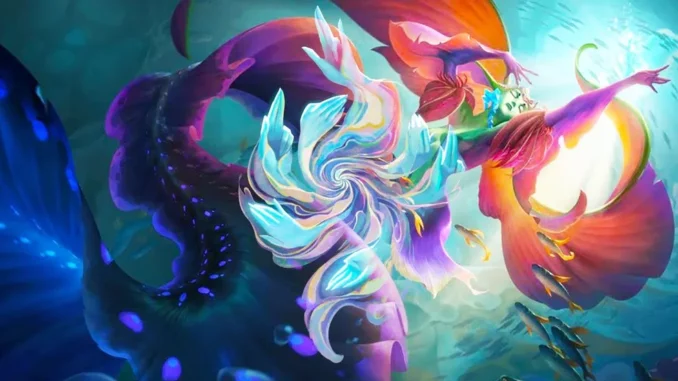 Riot Games has recently unveiled an official teaser for the upcoming Champion Nilah on their Twitter account, continuing the trend of highly mobile champions with aggressive kits. The character introduces herself as "Nilah of the Seventh Layer," and she appears to be fight along with a Water Demon to whip between and slice opponents quickly. Here's all we know so far about LOL Nilah release date, role and abilities.
Evil falls to joyous strength. You will know her name. pic.twitter.com/QRlQZKMrXs

— League of Legends (@LeagueOfLegends) June 17, 2022
LOL Nilah Release Date
We haven't heard anything regarding Nilah's release date up to now. Because Nilah is expected to be the final new champion in 2022, her release date could be pushed back several months, possibly into the fall or winter, to allow for more big content releases.
In the coming weeks, we should learn more about her special skills, basic stats, character lore, as well as how she fits into the stories of other characters and the universe of Runeterra as a whole.
LOL Nilah Role And Abilities
During a livestream, League developer Ryan 'Reav3' Mireles said that Nilah will be a "non-traditional bot lane champion" arriving to the game later this year. According to rumors, she'll be a Melee ADC with some unique skills that will set her apart from other bot lane Champions.
As seen in the teaser, Nilah possesses a variety of skills that allow her to flash towards and around adversaries, implying that she will be able to aggressively pursue wounded enemy champions.
From a lore perspective, Nilah seems to be empowered by a water demon. Her ability to run on water is demonstrated by this monster holding her up by the feet, and she interacts with the water demon in-game. This ability manifests as a watery whip on Summoner's Rift, allowing her to do ranged damage to enemies.
League Of Legends Wiki
League of Legends
Developer(s)
Riot Games
Publisher(s)
Riot Games
Director(s)
Andrei van Roon
Producer(s)
Jeff Jew
Writer(s)
Graham McNeill
Platform(s)
Release

Microsoft Windows
October 27, 2009
OS X
March 1, 2013

Genre(s)
MOBA
Mode(s)
Multiplayer