POTM Antonio Release Date
We are expecting to see a Player of the Month Michail Antonio SBC land in FIFA 22 on Friday, October 1st.
Judging from previous FIFA releases, we can expect the challenges to remain active for a period of four weeks, which would see Antonio go off the servers on Friday, October 28.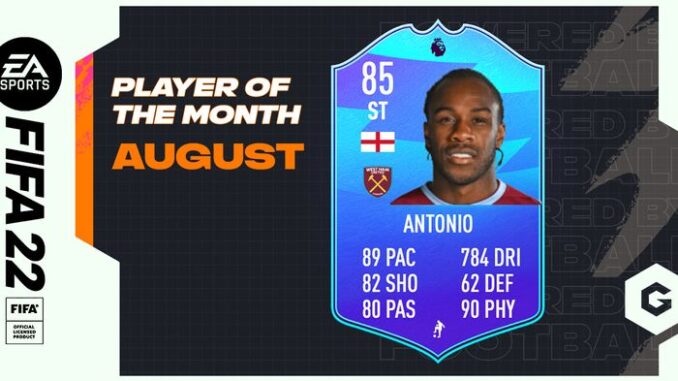 POTM Antonio Requirements Predictions
As the card has yet to be officially released, we're still not sure what EA will ask for in terms of its squad requirements.
We'd recommend investing in some of the 83/84 rated Premier League players that are under 5,000 coins. These include:
Harry Maguire (84 OVR)
Yuri Tielemans (84 OVR)
Lucas Digne (84 OVR)
Jordan Henderson (84 OVR)
Luke Shaw (84 OVR)
POTM Antonio Stats Predictions
Here are our predicted stats for the forward:
88 Pace
83 Dribbling
80 Passing
88 Physicality
83 Shooting
65 Defense
FIFA 22 wiki :
Genre(s)
Sports (association football)
Simulation
Developer(s)
Extended Play Productions (1993–1997)
EA Vancouver (1997–present)
EA Romania (2016–present)
Publisher(s)
EA Sports
Original release
Annually, 1993–present
First release
FIFA International Soccer
15 December 1993
Latest release
FIFA 21
9 October 2020
The Latest Games News : Release date , Patch Notes , game events & update , Game Leaks & up comming .