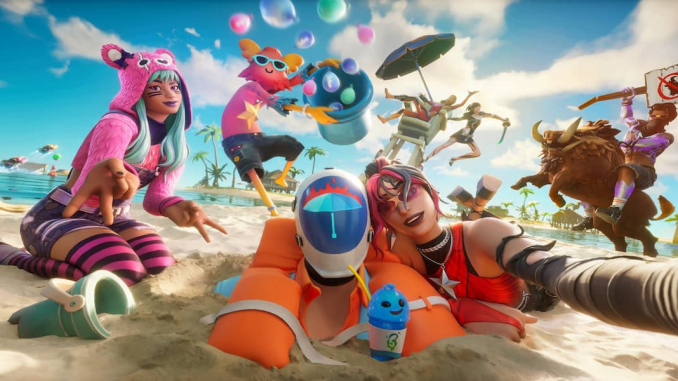 Fortnite patch notes 21.30 update :
With plenty to sink your teeth into, here are the full Fortnite 21.30 patch notes :
1. No Sweat Summer Quests
Following on from Cosmic Summer and 14 Days of Summer in previous years, No Sweat Summer is set to add Quests with 15,000 XP prizes.
Better look at some new skins! pic.twitter.com/dPy5XdME1w

— Shiina (@ShiinaBR) July 18, 2022
2. Ice cream cones
To properly get into the summer spirit, players will now also be able to find icecream cone consumables throughout the map. Icecream cones restore a small amount of health when used.
The Spicy Icecream Cone also recovers speed and health , while the Frozen cone will make everything slippy and let you glide around.
Lil' Whip's Special Serve will replenish both your Shields and health .
🍇 New Consumables Added in v21.30#Fortnite #FortniteLeaks pic.twitter.com/qnMurPWOg9

— iFireMonkey (@iFireMonkey) July 18, 2022
Prime Shotgun
The Prime Shotgun is a semi-auto shotgun that deals increased damage when the weapon is fully loaded, and it is available in five rarities (Uncommon, Rare, Epic, Legendary, and Mythic), dealing 79 – 101 damage-per-second depending on rarity.
The headshot damage ranges from 124.74 to 151.47. There will also be a mythic variant of the Prime Shotgun, dealing up to 96 body damage and 169 headshot damage.
🔫 New Items Added in v21.30#Fortnite #FortniteLeaks pic.twitter.com/3clat8QdIb

— iFireMonkey (@iFireMonkey) July 18, 2022
The Daily Bugle will be renamed to the "Daily Bloomgle" once the Reality Bloom touches it! pic.twitter.com/6wvoyEsNhx

— iFireMonkey (@iFireMonkey) July 18, 2022
Fortnite 21.30 bug fixes
Frame Rate Limit setting is no longer missing when using GeForce Now on PC
'Friend Accepted' notifications will no longer repeatedly show on launch
Grimey Outfit now reacts to eliminations
Fortnite wiki :
Genre(s)
Survival, battle royale, sandbox
Developer(s)
Epic Games
Publisher(s)
Platform(s)
Windows,

macOS,

Nintendo Switch,

PlayStation 4,

PlayStation 5,

Xbox One,

Xbox Series X/S,

iOS,

Android

First release
Fortnite: Save the World
July 25, 2017 (early access)