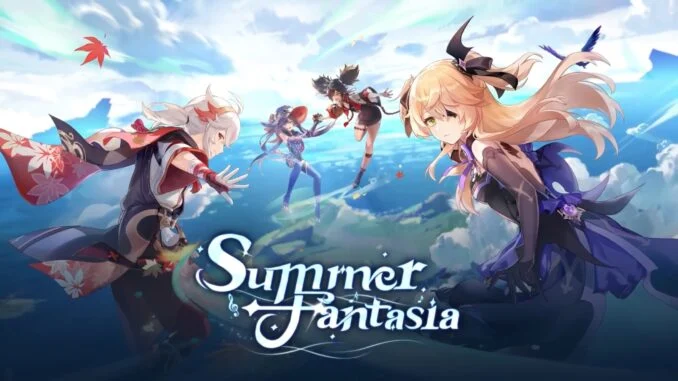 Genshin Impact 2.8 is just around the corner and and players are excitedly expecting the next patch. As Genshin Impact 2.7 is getting closer to its end, more and more leaks are coming out. One of the most recent leaks showed the official artwork for the forthcoming patch, and here are the full details.
Genshin Impact 2.8 official art leaked – Banner reruns
Ubatchar, a well-known leaker, has published the official artwork design for the 2.8 update on his Twitter handle. Along with the new patch name "Summer Fantasia," the arwork also shows four characters, some of which can be rerun with Update 2.8.
— UBatcha (@Ubatcha1) June 16, 2022
The artwork could be an allusion to a rerun of Kaedehara Kazuha, a new Fischl skin, or the return of the Golden Apple Archipelago. In addtion, Doushin Shikanoin will be introduced in the Genshin Impact 2.8 update. His presence has been confirmed on Twitter by Genshin Impact. "Doushin Shikanoin has admirable wit and insight. While he is unfettered and unrestrained in demeanor, one should not dismiss his talents. The Tenryou Commission is incredibly fortunate to have such a man in their ranks."
"Doushin Shikanoin has admirable wit and insight. While he is unfettered and unrestrained in demeanor, one should not dismiss his talents. The Tenryou Commission is incredibly fortunate to have such a man in their ranks." – Kamisato Ayato#GenshinImpact pic.twitter.com/lM0HNfZktr

— Genshin Impact (@GenshinImpact) May 16, 2022
Genshin Impact 2.8 official art leaked – The Golden Apple Archipelago Islands
The Golden Apple Archipelago can be seen in the background of the artwork. Ubatcha was also the leaker who revealed the reappearance of the Golden Apple Archipelago in patch 2.8. Furthermore, the leakers revealed that the islands will provide new games and mechanics for gamers to enjoy. According to rumors, the new islands joining the Golden Apple Archipelago would be known as the "Dream Islands."
[2.8 Beta]

In the new GAA Islands, you can now re-arrange some islands a bit to solve puzzles (or for fun). You can modify the land based on 3 Land options

This will then reflect on the map and below you can see my attempt at showing this (This isn't them all) pic.twitter.com/JaZXtMu1sx

— UBatcha (@Ubatcha1) May 17, 2022
Similar to the original GAA event, the Golden Apple Archipelago rerun will include a number of new mini-games that players will enjoy at the time of release. Some of these games are:
Evermotion Mechanical Painting
Reminiscent Regimen
Surfer Piercer
Genshin Impact Wiki
Genshin Impact

Developer(s)
miHoYo
Publisher(s)
miHoYo[a]
Producer(s)
Cai Haoyu[1]
Composer(s)
Yu-Peng Chen
Engine
Unity
Platform(s)

Android
iOS
Microsoft Windows
PlayStation 4
PlayStation 5
Nintendo Switch

Release

Android, iOS, Windows, PS4
September 28, 2020
PlayStation 5
April 28, 2021
Nintendo Switch
TBA

Genre(s)
Action role-playing
Mode(s)
Single-player, multiplayer