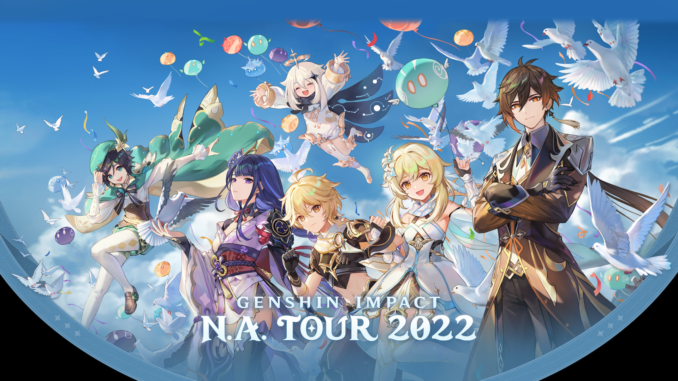 HoYoverse recently announced the upcoming North American Tour 2022 of its popular action RPG Genshin Impact. Between July 1st and 4th, Genshin Impact fans can enjoy a variety of events, interactive sessions, and lots of merchandise at the Anime Expo, Los Angeles Convention Centre. Here's everything you need to know about Genshin Impact's forthcoming NA Tour 2022.
Los Angeles to be the first location for Genshin Impact NA Tour 2022
Genshin Impact N.A. Tour 2022 First Stop – Anime Expo is about to begin!

We will hold a series of events daily at the booth, Genshin Impact stage, and food truck outside! Come and join the fun 😉

For more details: https://t.co/pVypruLEim#GenshinImpact pic.twitter.com/4jaUlPCMTr

— Genshin Impact (@GenshinImpact) June 20, 2022
By the end of 2022. Genshin Impact NA Tour 2022 will visit four cities: Los Angeles, Seattle, New York, and Toronto. The NA Tour will kick off at the Anime Expo in Los Angeles, where officials will put up a stand. From July 1st to 4th, 2022, the booth will be open for four days at Anime Expo.
It is not necessary to purchase additional tickets to participate in the Genshin Impact booth. Fans with a convention pass can queue at the booth or attend associated events for free. They have also added a stage and food truck outside the venue for fans to taste Teyvat's native cuisine.
Interactive events and limited merchandise are available at the Genshin Impact booth
Fans will be able to participate in a variety of activities during the event. The events have been separated into two groups, each with ten interactive challenges. When completed, you will receive a stamp, which can be exchanged for Genshin Impact Limited merchandise. Visitors also have a chance to meet prominent influencers and cosplay artists, as well as win a variety of prizes.
Doing so many things and meeting with so many like-minded people will undoubtedly leave you hungry. HoYoverse has you covered there, too, with a real-life Genshin Impact food truck parked right outside the venue. There are food and drinks from all over Teyvat. Make sure to go and try it out because it could be your only chance to taste something like that.
Furthermore, exclusive Genshin Impact-themed merchandise will be available for purchase. Character stands, badges, t-shirts, bracelets, toys, mugs, and much more may be found. Keep in mind that this merchandise will only be available in limited quantities at the convention's on-site store, so fans may not be able to find it elsewhere on the internet.  Here is a list of all the items that fans can purchase:
Character Stands – 15 USD each
Character Badges – 4 USD each
Protective Case – 18 USD each
T-shirt – 35 USD each
For more details, visit the tour's official website.