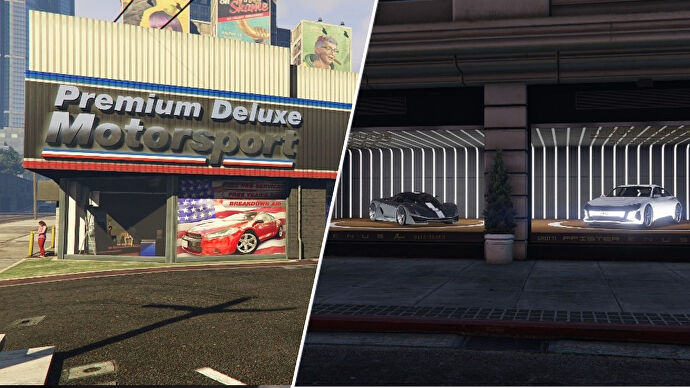 GTA Online Weekly Update (August 4) – Small Update Arrives!
The typical GTA Online weekly update release time has come and gone with no updates to be seen, but now we're on the lookout for a small content update that's already live!
SM772 is now available for $2,115,000

Luxury Autos & Simeon's Showrooms now available

Luxury Autos – Turismo R & Omnis e-GT

Simeon's Showroom – Dubsta2, Picador, Hermes, Gauntlet Hellfire, Penumbra FF

3x GTA$ & RP on
– The Vespucci Job (Remix)#GTAOnline pic.twitter.com/ija1EhCllj

— Tez2 (@TezFunz2) August 4, 2022
New Podium vehicles
Rapid GT Classic
Cypher
Paragon R
Tempesta
Cyclone New Prize Rides
Swinger
Club
Osiris
Retinue
Vagrant
Flash GT
Luxury Autos & Simeon's Showrooms
This week, GTA Online has two new Vehicle Stores for you to visit and become a loyal patron. The first is Luxury Autos, which is located in Rockford Hills, near the hair salon and clothing store.
The current stock at Luxury Autos is:
Second, Simeon's Showrooms is now open in downtown Strawberry! The current stock inside is:
Dubsta2
Hermes
Picador
Gauntlet Hellfire
Penumbra FF
RC Bandito Time Trials
This week's RC Time Trial is La Fuente Blanca. To collect your $100,000 prize, you will need to beat an even time of 01:27.00
Time Trials
This week's regular time trial is Vinewood Hills. To earn the top prize, you'll need to beat the event in under 01:27.00.
Bonus GTA$ and RP Rewards
You can earn extra money and RP in the game by completing certain types of missions.
2x general boost can be found on the following missions:
Bunker Research missions
Bunker Resupply missions
3x RP and GTA$ can be gained from the following missions:
Clothing Unlocks
Sadly, there are no free clothing unlocks this week.
Weekly Discounts
It's important to make sure your money goes as far as possible in GTA Online. That's why you should check out the weekly discounts!
50% off:
40% off:
Hauler Custom
Hermes
Novak
Torero
Viseris
XA-21
35% off:
Half-Track
Penumbra FF
Weaponized Tampa
Prime Gaming Rewards
Prime Gaming rewards are also regularly up for grabs for those with Amazon Prime and Twitch.
GTA$100,000 for all players who connect their Rockstar Games Social Club account with Prime Gaming and play this week.
GTA Online wiki :
Developer(s)
Rockstar North
Publisher(s)
Rockstar Games
Director(s)
Leslie Benzies
Producer(s)
Andy Duthie
Designer(s)
Leslie Benzies
Programmer(s)

Adam Fowler
Daniel Yelland
Robert Trickey

Artist(s)
Aaron Garbut
Series
Grand Theft Auto
Engine
RAGE
Platform(s)

PlayStation 3
Xbox 360
PlayStation 4
Xbox One
Windows
PlayStation 5
Xbox Series X/S

Release
Genre(s)
Action-adventure
Mode(s)
Multiplayer