In patch 5.04, Riot Games has given players the opportunity to change their crosshairs with custom colors, along with the ability to copy a player's crosshair in-game and customize individual crosshair lines. .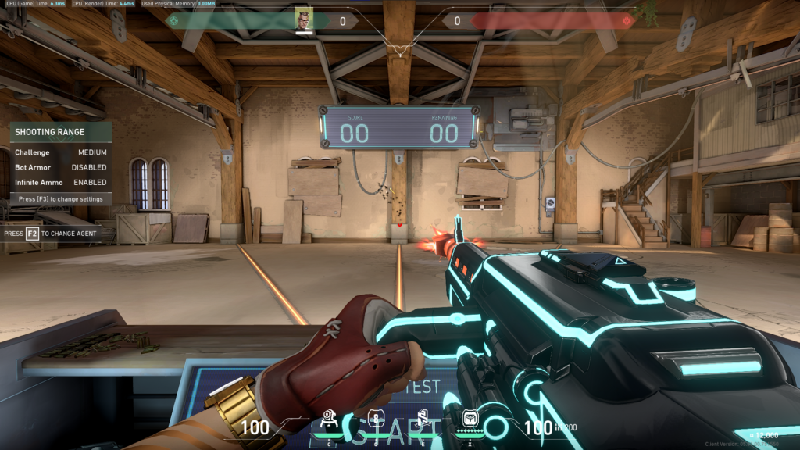 How to Create a Heart Crosshair in Valorant
To make heart crosshair in Valorant, follow the steps below:
Press the "ESC" key when you are in the lobby, then click the gear icon in the upper corner of the screen.
Go to "Settings."
Choose the tab that shows "Crosshair."
Adjust the sliders value that is given below.
Valorant Heart Crosshair Settings
The settings for a heart-shaped crosshair are as follows:
General crosshair settings
| | |
| --- | --- |
| Color | Pink or Red |
| Outlines | On |
| Outline Opacity | 0.1 |
| Outline Thickness | 1 |
| Center Dot | Off |
| Center Dot Opacity | N/A |
| Center Dot Thickness | N/A |
| Override Firing Error Offset With Crosshair Offset | On |
| Override All Primary Crosshairs With my Crosshair Offset | Off |
Inner lines
| | |
| --- | --- |
| Show Inner Lines | On |
| Inner Line Opacity | 0.7 |
| Inner Line Length | 3 |
| Inner Line Thickness | 5 |
| Inner Line Offset | 1 |
| Movement Error | Off |
| Firing Error | Off |
Outer lines
| | |
| --- | --- |
| Show Outer Lines | On |
| Outer Line Opacity | 0.7 |
| Outer Line Length | 5 |
| Outer Line Thickness | 1 |
| Outer Line Offset | 0 |
| Movement Error | Off |
| Firing Error | Off |
Valorant wiki :
Developer(s)
Riot Games
Publisher(s)
Riot Games
Director(s)

David Nottingham
Joe Ziegler

Producer(s)
Designer(s)

Trevor Romleski
Salvatore Garozzo

Programmer(s)

Paul Chamberlain
Dave Heironymus
David Straily

Artist(s)
Moby Francke
Composer(s)
Jesse Harlin
Engine
Unreal Engine 4
Platform(s)
Microsoft Windows
Release
June 2, 2020
Genre(s)
First-person hero shooter
Mode(s)
Multiplayer