The release date and character roster for Marvel vs. Capcom 4 were recently revealed on Reddit. Here's what we know so far.
Marvel vs. Capcom 4 rumor reveals release date & character roster
A new, questionable rumor about Marvel vs. Capcom 4 is circulating, and it makes some bold assertions. At the time being, there hasn't been any news about a new Marvel vs. Capcom game, but the rumor says that one is in the works and will come out in late 2024. While the game would be the seventh mainline installment, it is rumored to be called "Marvel vs. Capcom 4," which immediately elevates its importance.
There is no mention of platforms, but the roster of supposedly 21 Marvel and 21 Capcom characters has been revealed. Here is a list of Marvel's characters:
Black Panther
Captain America
Captain Marvel
Cyclops
Daredevil
Deadpool
Doctor Doom
Hulk
Iron Man
Juggernaut
Loki
Magneto
Mr. Fantastic
Red Skull
Spiderman
Star-Lord
Storm
Thanos.
Thor
Venom
Wolverine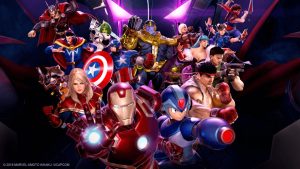 Meanwhile, here are the Capcom characters:
Akira
Arthur
Asura
Chun-Li
Dante
Felicia
Grandmaster Meio
Haggar
Juri
Leon
Luke
Mega Man
Monster Hunter
Morrigan
Nemisis
Phoenix Wright
Ryu
Sigma
Strider Hiryu
V
Zero
According to the rumor, it's unclear whether all of these characters will be included in the base game or if some will be saved for DLC. Of course, some may be cut. It should be noted that Capcom is planning at least two seasons of DLC.
The rumor also claims that the game will have a "modern" and "street" vibe, and that Arc System Works has been approached to assist with development.
Now for the rumor's source and the red flags it raises. All of this information is provided by an anonymous Reddit user who does not specify how they obtained it. In the past, anonymous Reddit and 4chan users have been responsible for some of the biggest leaks, but both have also been responsible for a lot of nonsense. All of this is to say that you should take everything here with a grain of salt. This is just a rumor, and a dubious one at that.