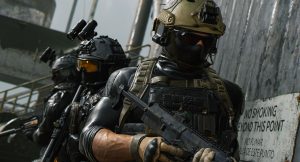 Like many previous updates, MW2 Season 2 contains numerous bugs, one of which is the "fetching online profile" error. If you're having trouble because of it, try the solution we provide below.
MW2 Guide – How to fix fetching online profile error
While it may be difficult to understand what is causing these issues at first, there is a method to this madness. Given the error's name, we can assume that it is caused by a problem with your game connection. This could not be your fault, but there's a good chance it is.
The first thing you should do before attempting any fixes is to check the game's server status. This can be done either through the official Activision support site or by checking downdetector.com to see if anyone else is experiencing the same problem as you. If you notice a large spike on the graph of DownDetector, you're not alone.
There are a few things you can try. The first and simplest method is to unplug your router, wait 30 seconds, and then reconnect it. This refreshs your connection and may yield positive results. Another possible solution is to restart your platform, which will automatically refresh its internet connection. The final thing we can recommend is switching from WiFi to Ethernet if you're currently on the former, as an inconsistent connection can cause problems.
If none of the above work, you may need to wait a while before trying again. We understand how frustrating that is, but we can assure you that it is a connection issue.
About Call of Duty: Modern Warfare II
Call of Duty: Modern Warfare II
Developer(s)
Infinity Ward
Publisher(s)
Activision
Writer(s)

Eric Anderson
Justin Harris
Matthew Haraza Davis

Composer(s)
Sarah Schachner
Series
Call of Duty
Engine
IW 9.0
Platform(s)

PlayStation 4
PlayStation 5
Windows
Xbox One
Xbox Series X/S

Release
October 28, 2022
Genre(s)
First-person shooter
Mode(s)
Single-player, multiplayer