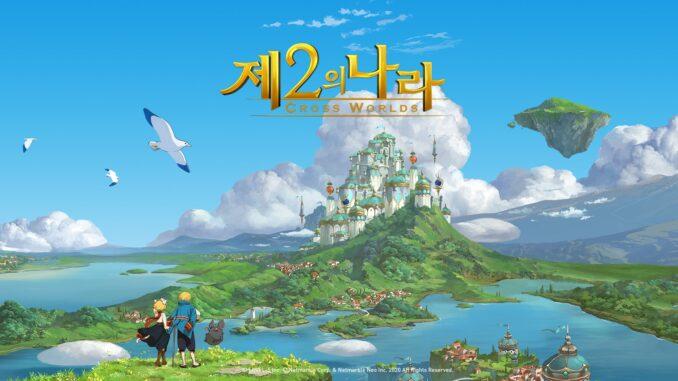 There are some helpful tips you should be aware of before embarking on the journey in Ni no Kuni: Cross Worlds. Today's topic is how to resolve the error Failed To Refresh Data and where to locate the Traveling Merchant.
Ni No Kuni: Cross Worlds Tips
How To Fix Failed Refresh Data ?
While not as common, you may have encountered a no-refresh bug while playing Ni no Kuni: Cross Worlds. Because of the issue, the game will freeze and you will be stuck on the loading screen. It has been suggested that the game is unable to refresh its data due to server issues. That the game's online infrastructure is incapable of handling such a large number of players.
The simplest way to resolve this failed refresh data issue is to redownload and reinstall the game. This is obviously not an official solution, but it works. Reinstalling Ni no Kuni: Cross Worlds has already aided several players, and you can benefit from the fix as well.
How To Find The Traveling Merchant Location :
Finding the Traveling Merchant in Ni no Kuni: Cross Worlds is not a difficult job at all. Just make sure you are level 40 or above.
You must travel to the Conquest Mission guy Sanson, who is located in the Evermore. This guy is easily identifiable on a map. When you find him, simply talk to him, and a pop-up screen will appear.
There is a new button in the bottom left corner. When you click the added button, another pop-up window will appear with a certificate icon in the center. Click the certificate icon, then the Source button in the pop-upper up's left corner. This will reveal the certificate's source. Traveling Merchant is also accessible via the Move button. Simply select the option to reach the Traveling Merchant by pressing the move button.
You can either walk or use the Fast Travel option, which costs 1,750 gold. When you reach the Traveling Merchant, you can buy a variety of useful items for him. When you meet the merchant for the first time, he will give you some free items. He also sells items like enigmatic gold pouches and summons.
Ni no Kuni: Cross Worlds Wiki
Ni no Kuni: Cross Worlds

Game Information
Japanese Name
二ノ国:Cross Worlds
Romaji
Ni no Kuni Cross Worlds
Platform(s)
Android, iOS, PC
Engine
Unreal Engine 4
Developer(s)
Netmarble
Genre
Role-playing
Mode
Single-player, multiplayer
Release date
June 10, 2021 (Japan)May 25, 2022 (Global)