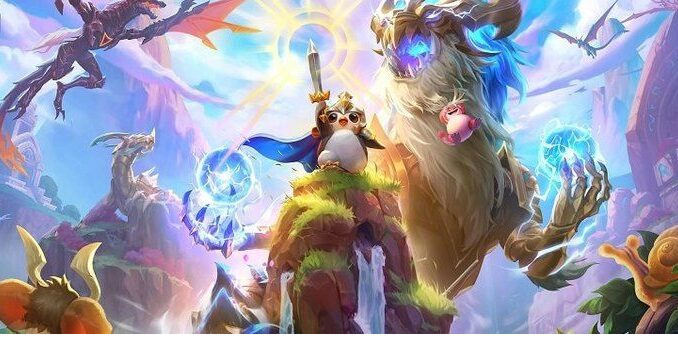 Teamfight Tactics Patch Notes 12.11 release date ?
Teamfight Tactics' update 12.11 has now been officially unveiled, its patch notes revealing its release date which is expected to June 8. This new patch bring updated tooltips, a different Augment stage distribution, alongside tweaks to various augments and items, including March of Progress, Bloodthirster and others.
The new Dragon Realm introduces its own unique magic to Dragoneers and Dragonauts!

Uncover the new Treasure Dragon, Dragon trait, and updated (dragonized) Augments here ⬇️https://t.co/iEdMoaqtrO pic.twitter.com/jsWnOvMsDo

— Teamfight Tactics (@TFT) May 23, 2022
Teamfight Tactics Patch notes 12.11 detail :
TFT 12.11 Systems Changes
(RENAME) Neeko's Help >>> Champion Duplicator with New icon!
Tome of Traits & Champion Duplicators will drop slightly less often from PVE rounds than previous sets.
Every item tooltip has been updated/modernized, including stat icons when appropriate, parity between base and Radiant items, and consistent language.
The Stage 5-6 PVE round will now only drop emblems if the trait is active.
The Stage 5-6 PVE round can now drop uncraftable emblems.
The minimum number of component items dropped from Minions, Krugs, and Wolves is now 5. Including carousel items, this now means -each player will have a minimum of 9 component items before the Treasure Dragon
Gold coins earned from PVE rounds are now automatically collected at the end of combat.
TFT 12.11 Augments Changes
Augment Stage Distribution has changed:

First Augment: 1-4 >>> 2-1
Second Augment: 3-3 >>> 3-2
Third Augment: 4-6 >>> 4-2

You can now reroll the current presented augment choices once per game.
Gold (T2) Augments are now the standard and the most common augment you can expect to see. Silver (T1) will now be seen much less, and Prismatic (T3) about the same as before.
Added the following new outcomes: G/P/P, P/G/P, G/P/S, P/P/G
You can no longer be shown 3 trait-related augment choices within the same augment armory
Crown and Soul augments have been reworked. Instead of granting 2 Emblems or 2 towards the trait, they will now grant 1 Emblem or 1 towards the trait, an item, and a unit
The following augments have been removed:
Archangel's Embrace
Backfoot I / II / III
Battlemage I / II / III
Disintegrator I / II / III
Dominance
Four Score
Golden Gifts I / II
High Five
Keepers I / II
Knife's Edge I / II / III
Phalanx I / II / III
Secret Snax
Titanic Force
Treasure Trove I / II / III
Weakspot II / III
Woodland Charm
Underdogs
Changes to Existing Augments
First Aid Kit

Now has 3 tiers
Heal & Shield Boost: 35% >>> 25/35/50%

Hyper Roll

Renamed to Hustler
Tier: Silver >>> Gold
Gold Req: Under 10 >>> 20

Item Grab Bag II

1 Reforger >>> 2 Reforgers

Jeweled Lotus
Makeshift Armor

Resists: 35/55/75 >>> 30/45/60

March of Progress
Reckless Spending

Damage Amp: 25% >>> 30%
No longer requires the player to buy XP if the player is at max level. The effect will be triggered with just shop refreshes

Stand United III
Tiny Titans
Wise Spending
Sunfire Board

HP Burn: 2% >>> 1%
Duration: 10 >>> 15

The Golden Egg

Hatch Timer: 7 >>> 10 Rounds
NEW: Victorious player combats accelerate the hatch timer by an additional turn
Reduced value of loot tables by ~10g. Updated loot tables for Set 7 (Dragons!)
Replaced the 3x Infinity Force loot option with 1x Infinity Force, 1x Anima Visage, 1x Zhonya's Paradox

Calculated Loss
Cybernetic Shell

Armor: 25/35/50 >>> 20/30/40

Exiles

Max HP Shield: 35/45/70% >>> 25/35/50%
Shield Duration: 8 >>> 10 seconds

Rich Get Richer (Only shows up on 1-4)
NEW: Richer Get Richer+ (Only shows up on 3-2)
Binary Airdrop
Windfall (Only shows up on 1-4)
NEW: Windfall+ (Only shows up on 3-2)
NEW: Windfall++ (Only shows up on 4-2)
Phony Frontline

Tier: Silver >>> Gold
Target Dummy Health: 500 >>> 700

True Twos

MINI REWORK: Gain 2 random 2-star Tier 1 champions and 2 gold.

Three's Company
Component Grab Bag (Only shows up on 1-4)
NEW: Component Grab Bag+ (Only shows up on 3-2/4-2)
TFT 12.11 Champions Changes
Vladimir

Spell Damage: 250/350/450 >>> 250/325/400
Spell Healing: 200/300/400 >>> 200/275/350

Illaoi, Olaf, Qiyana

Now wait until they're in range to cast on their target

Gnar

Now has a fixed travel time rather than a speed for his hop

Tristana
Yone
Corki
Shi Oh Yu

Now prevents movement for the cast duration of the Taunt
Increased cast time + better animations between Taunt to Attack
No longer knocks up units that are immune to stuns

Xayah

Bugfix: Xayah no longer applies her regular Attack damage to her feather targets and twice to her main target

Ao Shin
Shyvana

Initial Spell Damage: 200/300/1000 >>> 250/400/2000

Yasuo

Shield Amount: 175/250/2000 >>> 200/275/2000

Zoe

AS: 0.75 >>> 0.7
Janna Spell Attack Speed Bonus: 30/60/500% >>> 20/40/500%
Kayle Spell Armor & MR Bonus: 30/50/200 >>> 20/40/500
Lux Spell: 450/700/9001 >>> 425/650/9001
TFT 12.11 Traits Changes
Jade

Health Regen: 2/6/10/25% >>> 2/5/8/25%

Shimmerscale

Philosopher's stone now doesn't work with think fast
Needlessly big gem now only counts down while it is equipped to a unit as opposed to always when combat starts
Needlessly big gem now has a timer on the item so you can see when it'll proc
TFT 12.11 Items Changes
Archangel's Staff

Starting AP: 10 >>> 30
AP per interval: 25 >>> 20

Radiant: Urf-Angel's Staff

Starting AP: 10 >>> 30
AP per interval: 30 >>> 25

Bloodthirster

Lifesteal >>> Omnivamp
Omnivamp: 33% >>> 25%

Radiant: Blessed Bloodthirster

Lifesteal >>> Omnivamp
Omnivamp: 60% >>> 40%

Blue Buff
Radiant: Blue Blessing
Bramble Vest
Radiant: Rosethorn Vest

Armor: 70 >>> 100
Thorn Damage: 200/250/300 >>> 125/175/225
REMOVED: Max Health Regen

Chalice of Power
Radiant: Chalice of Charity

Healing on Spells >>> Omnivamp

Deathblade

AD: 50/75/100 >>> 40/70/100

Radiant: Luminous Deathblade

AD: 80/120/160 >>> 60/100/140

(Rework) Dragon's Claw:

Magic Resist: 200 >>> 120
REMOVED: Max Health Damage on enemy spell cast
NEW: Every 2 seconds, the holder regenerates 1.5% of their maximum health for each enemy targeting them.
NEW: If the holder is a Dragon, these effects are increased by 20% (144 MR, 1.8% max health regen)

Radiant: Dragon's Will

Magic Resist: 300 >>> 180
REMOVED: Max Health Damage on enemy spell cast
REMOVED: Radiant Max Health Regen
NEW: Every 1.5 seconds, the holder regenerates 2.5% of their maximum health for each enemy targeting them.
NEW: If the holder is a Dragon, these effects are increased by 20% (216 MR, 3% max health regen)

Edge of Night
Radiant: Brink of Dawn

Attack Speed on activation: 55% >>> 40%

Gargoyle Stoneplate
Radiant: Dvarapala Stoneplate

Max Health regen: 3% >>> 1%

Giant Slayer

Bonus Amp: 20/60% >>> 15/45%
Health Threshold: 1800 >>> 2200

Radiant: Demon Slayer

Bonus Amp: 40/80% >>> 25/70%
Health Threshold: 1400 >>> 2200

Guinsoo's Rageblade

Radiant: Guinsoo's Reckoning
Attack Speed: 40% >>> 25%

Hand of Justice:

Baseline stats: 10 >>> 15
Bonus stats: 33 >>> 30

Hextech Gunblade

Healing on Spells >>> Omnivamp/li>
Omnivamp: 33% >>> 25%

Radiant: Hextech Lifeblade

Healing on Spells >>> Omnivamp/li>
REMOVED: Overheal Shield

Ionic Spark
Radiant: Covalent Spark

Range: 4 >>> 3
Damage: 275% >>> 250%

Last Whisper

Armor Pen: 70% >>> 50%
Procs on: Crits >>> Physical damage

Radiant: Eternal Whisper

Procs on: Crits >>> Physical damage
Morellonomicon
AP: 10 >>> 20

Radiant: More More-ellonomicon

AP: 10 >>> 40
REMOVED: 30 starting Mana
Burn: 4% per second >>> 2% per second

Quicksilver
Radiant: Quickestsilver

Attack Speed: 55% >>> 50%

Rapid Firecannon

Attack Speed: 55% >>> 50%

Radiant: Rapid Lightcannon

Attack Speed: 85% >>> 75%

Redemption

Missing Health Heal: 18% >>> 12%

Radiant: Absolution

RENAMED: Radiant Redemption >>> Absolution
Health: 500 >>> 300
Missing Health Heal: 25% >>> 18%

Spear of Shojin
Radiant: Spear of Hirana
Statikk Shiv
Radiant: Stakkik's Favor

Damage: 115 >>> 110
MR Shred: 70% >>> 50%

Sunfire Cape

Health: 150 >>> 400
Burn per second: 2% >>> 1%
Burn Duration: 8 sec >>> 10 sec
Now refreshes the burn if no new targets are in range

Radiant: Sunlight Cape

Health: 150 >>> 800
Burn: 3% per second >>> 2% per second
REMOVED: Max Health Regen
Now refreshes the burn if no new targets are in range

Titan's Resolve
Radiant: Titan's Vow

AD & AP per stack: 4 >>> 3

Warmog's Armor
Warmog's Pride
Zeke's Herald
Radiant: Zeke's Harmony
Ornn Items
Anima Visage

Max Health % Heal: 6% >>> 5%

Death's Defiance

Damage Reduction: 70% >>> 50%
Omnivamp: 20% >>> 30%

Obsidian Cleaver

Shred Duration: 3 sec >>> 5 sec

Rocket Propelled Fist (Ornn Artifact)

Multiple Rocket Propelled Fists will now attempt to target different units
Thresh will now attempt to target a unit that's not targeted by Rocket Propelled Fist
TFT 12.11 Bug Fixes
Tahm Kench's shield now correctly scales with AP
Nexus golem how has working leaf textures on their shoulders
Starcaller now properly interacts with Tiny Titans
Cluttered Mind now properly grants XP when the player has a full bench
Pandora's Bench has been properly moved from Silver to Gold tier
Hextech Gunblade now properly grants omnivamp instead of spell vamp
Bloodthirster now properly grants omnivamp instead of lifesteal
Last Whisper now properly applies armor shred without critting
True Twos no longer gives 2-cost units instead of 1-cost units
Best Friends will now reliably work on away boards
Lategame Specialist no longer grants gold every time the player buys XP at level 9 if the player has Level Up
Double Up: Resolved an issue where the later assist armory would sometimes only have 2 offerings, now it will always have 3.
Deleted a significant amount of unused assets to reduce patch size

Pardon our mess! This may introduce a few new bugs with visual effects and animations on PBE that will be resolved as we spot 'em
Teamfight Tactics –  Wiki :
Developer(s)
Riot Games
Publisher(s)
Riot Games
Platform(s)

Microsoft Windows
macOS
Android
iOS

Release

Windows, macOS
June 26, 2019
Android, iOS
March 19, 2020

Genre(s)
Auto battler
Mode(s)
Multiplayer