1. Enable or Disable Selecting Multiple Items in a View
---
Scenario/Problem: You don't want users to be able to delete, check out, or check in several files or items at the same time by using the check boxes method .

---
Solution: You can disable (remove) the check boxes in a view and prevent users from selecting multiple items. To do so, expand the Tabular View section in the view creation or edit page by using the plus sign next to the section title and either enable or disable the check boxes option by setting Allow Individual Item Checkboxes to the setting you want, as shown in Figure 1.
FIGURE 1 Enabling the Allow Individual Item Checkboxes options when creating a view.
2. Create Mobile Views
---
Scenario/Problem: Today, many people have mobile phones and other small mobile devices capable of displaying websites. However, the size of a device's screen and its resolution limits how much a user can see.
---
Solution: Creating special views that show information in a more compact way is often a good idea to enable mobile device users to see that information more clearly and to more comfortably navigate in it.
SharePoint attempts to identify whether a device is a mobile device and then switches to a default mobile view that is optimized for that purpose. Nonmobile devices see the view as if it is a regular view. Each mobile view has a special URL that the mobile device is redirected to.
To specify that a view should have a mobile URL, scroll to the Mobile section in the view creation page and expand it by using the plus sign next to the section title. You can create a view and specify it to be the default mobile view for the list (see Figure 2), or you can just leave it as another new view in the list.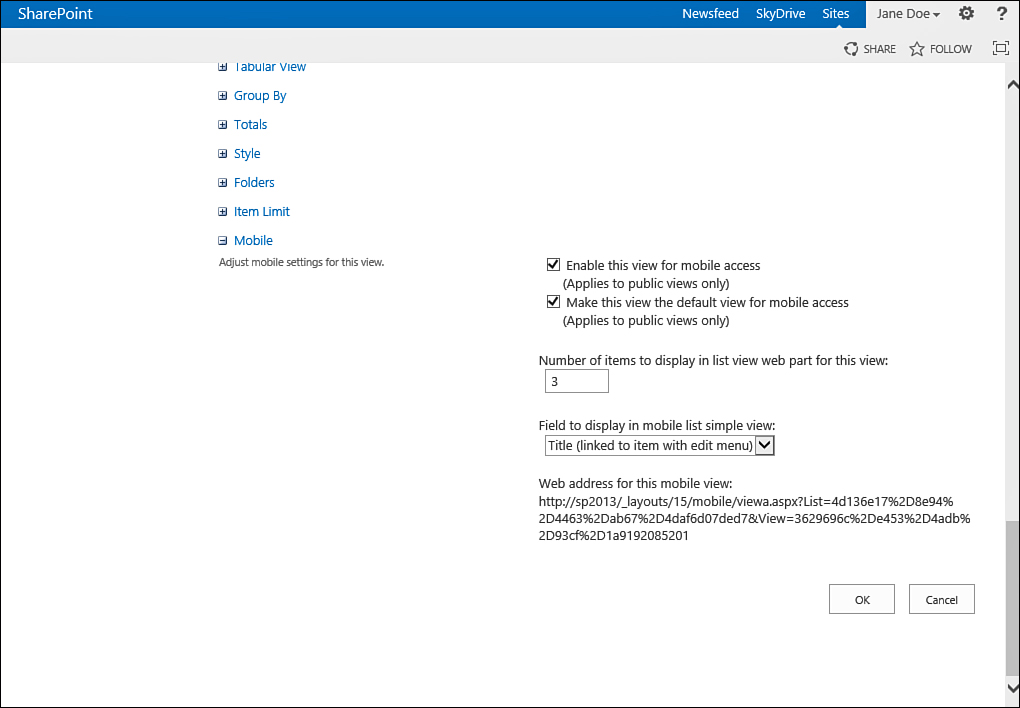 Additional options you can set for the mobile view are how many items to show (because you may want to trim a list for a mobile view) and what column to display as the title in the mobile view.
If you don't have a mobile device yourself, and you want to see what the view looks like after it has been created, you must manually type the URL that SharePoint creates for the mobile view. To find out what that URL is, go into the view modification page and scroll down to the Mobile section. The URL for the mobile view appears there as text (refer to Figure 2).
To learn how to modify a view, see the following section.
---
Tip
To see what a whole site would look like from a mobile device, you can use the URL that appears when editing a mobile view. That URL is the link to the mobile view of the home page of the site.