Atoll was started by the brothers Stéphane and Emmanuel Dubreuil in 1997, with the aim of building, "reasonably priced true high-end audio electronics for budget-conscious audiophiles". An admirable goal and one that started out with amplifiers and now extends to a wide range of electronics for two channel and multichannel systems, all made in Normandy, France.

Atoll ST200 front view
The ST200 is the more expensive of two streamers in the range; the less expensive ST100 has a more plain facia and lower spec parts, but is functionally the same. Unlike the touch sensitive glass panel of the Cyrus Lyric reviewed this month, the ST200 sticks with conventional buttons on its front panel, which give tactile assurance that something has been done, and the TFT screen will confirm it's the right thing. The 90mm (3.5") display is larger than average, and Atoll uses this to show information next to album art when it's working as a network streamer, or input name or volume level when it is not. It is also a high-grade DAC in its own right, with a BurrBrown PCM1792 chipset and inputs in all the popular flavours; there are USB A sockets front and rear for Apple devices or USB sticks. The USB B receiver is a Class 1 Audio type, which means sample rates are limited to 96kHz, but this does mean that you don't need a driver to be installed in the partnering computer. Whether anyone ever connects their computer to a network streamer is the real question; networked audio with its easy app control will always be far more ergonomic than using a connected computer, and in this case can deliver higher bit rates.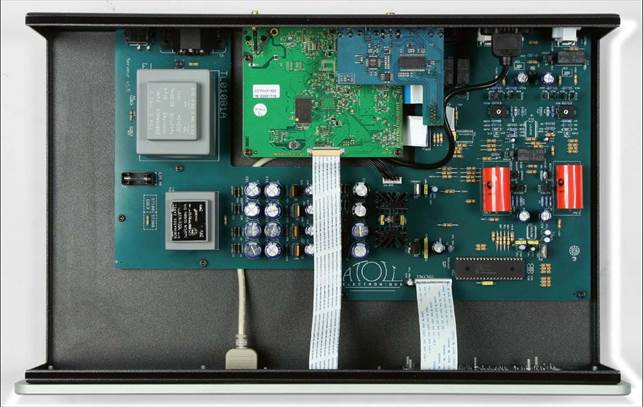 Inside Atoll ST200
The ST200 is also an internet radio, using the vTuner service. This has plenty of stations, but the option to load presets does not appear to be on the downloadable app, but is instead on the handset. The app also stores a list of recent stations, which works in a similar fashion so long as you don't do too much station hopping. I found the interface for radio a little glitchy when used on an iPhone, but got used to it quite quickly. It puts the BBC at the top of a list of UK stations, which makes it quick and easy to find either live feeds or previous shows. Where things get odd is in the labelling of on-demand material, because that changes every week, but you soon get the hang of it.
The ST200 also has volume controlled output via RCA phono sockets. This can be bypassed if you have a preamplifier; all you have to do is press the bypass button for a few seconds. However, the array of inputs, digital and one analogue, mean this streamer/DAC is sufficiently equipped for preamp duties in many systems. The volume control is analogue despite its digital display and the output stage is Class A. It also has digital outputs for a DAC upgrade and a 3.5mm headphone jack.

Atoll ST200 rear view
The ST200 can be run in a wired or wireless network, with the former requiring no passwords to get up and running, because you are essentially choosing a server. This is considerably easier with the free iOS 6 or Android app than with handset and front panel, but this is always the way with streamers. The Android app proved a little unstable on my less than spectacular Samsung smartphone, the iOS version being much steadier on a vintage iPhone. It's not as well sorted as some apps, but you can persuade it to do most of what's needed without resorting to medieval torture. It would be useful to have quicker access to the input change mode rather than a zone key on every page, but this is a minor niggle in what is generally a serviceable interface.
The Atoll is a great sounding streamer with a natural, even-handed balance that delivers well scaled and involving music. It pulls out lots of character from whatever is played and gives the emotional side of a performance free rein. Melanie de Biasio is not one to hold back on the feelings, but she does it in a controlled fashion that lends her greater power. On the Atoll, it was possible to hear the way that reverb was used in the recording but not so much as to undermine the atmosphere that it lends to the material on her album No Deal [Play It Again Sam].