More important is the Atoll's timing ability; this is what reels you in and makes you want to listen. It's the equal to the Cyrus Lyric in this regard, but the Atoll has a rounder tonal balance and a textured, detailed midrange than the Cyrus' line output, which is a little bright by comparison. The Atoll delves deep into the quiet parts of the recording and scoops out low level notes and sounds, elements that give the music more depth and substance when added to the whole. Leonard Cohen's voice on 'The Jungle Line' [River: The Joni Letters, Verve] has real presence and sounds deep and rich next to Herbie Hancock's piano, itself a solid, dark, rigid, and beautiful instrument that stands four square in the room. This fine result was achieved with the aid of an ATC P1 power amplifier, Townshend cables, and PMC fact.8 loudspeakers.

Atoll ST200 black edition
The result was so strong that I decided to see how close it was to the Naim NDS I use as a reference, a comparison that showed the Atoll in a positive light. It's not as well focussed or real, and timing is weaker than the Naim, but the difference was not as great as you might expect given the extra cost involved. The Atoll is more expansive in imaging terms, which is quite an appealing quality even if it's not quite as accurate.
Feeding the digital signal from the NDS into the Atoll's coax input produces a fine result as well. Again, it's tonally natural, but the timing qualities of the source are obvious and there's a tension between musicians on certain tracks that's quite uncanny. It's extremely coherent and very engaging as a result; the Benjamin Taubkin album (reviewed in the music section) really hangs together well and, even though it's a largeish ensemble, there's a strong sense of interplay between the musicians. Big Brother and the Holding company, on the other hand, sounds excessively compressed by comparison; the latter is patently not a good transfer, but the openness of the Taubkin makes matters worse.

Atoll ST200 back view
I also hooked up my Macbook to the USB input and used Audirvana Plus to spin a few tunes. This revealed the strange absence of 88.2kHz as an accepted sampling frequency, but also revealed that the timing qualities heard with other sources remained with this one. This time Weather Report's 'Birdland' [Heavy Weather, Columbia] provided the cues and proved once again that if you had Jaco Pastorius in your band it was hard to go wrong (that only happened with his solo albums!). This was a DSD version played over PCM (DoP) and while it always seems a bit small it sounds excellent. More complex material was not quite so successful, however, and it wasn't long before I reverted to the ST200's main suit, network streaming. This played the same track in a considerably more cohesive and convincing manner. It also revealed that server quality is paramount with such set ups, the CAD CAT delivering a distinctly superior result to the alternatives I had on hand.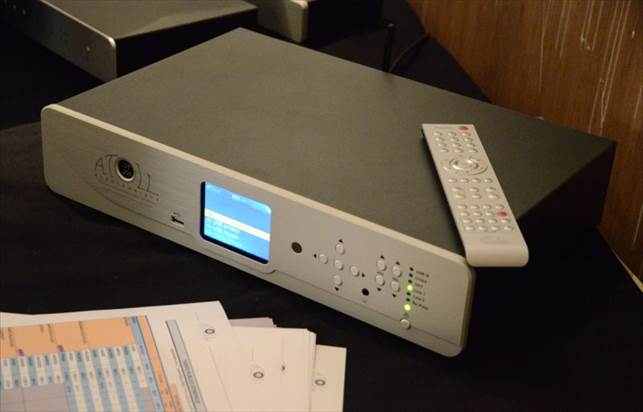 Atoll ST200 and remote
At this stage I gave the net radio a spin and was surprised to find that the Atoll doesn't switch over to this source of its own accord, if an auxiliary input had previously been in operation. It works well with the low bit rates of online stations; FIP from France is very listenable at 128kbps not least because the programming is so strong, and Radio 3's Late Junction worked remarkably well considering it was coming through at only 48kbps. One glitch with the app here is that the Late Junction shows it lists are incorrectly dated and differently dated depending on where you read them. This is because the available shows change from week to week, but so long as you realise that the app is always displaying the last three broadcast shows then this is not an issue.
I have to say that this streamer has marked an auspicious start for Atoll chez Kennedy. It manages to turn digital files into remarkably undigital sounding music thanks to a decent streaming engine and a pretty respectable DAC. This combined with what seems a very reasonable price puts it into contention with the better variants on the streaming theme. The app interface is not the slickest around, but with a bit of familiarisation you can get it to do what you want without too much effort. I suspect it would be even better on a tablet. So not merely a ring shaped coral reef, but a French contender in the affordable high end stakes, Atoll would seem to be a name to remember.
Technical Specifications
·         Outputs: analogue, coax, optical
·         Inputs: analogue x2, USB A x2, USB B, coax, optical
·         DAC: BurrBrown (PCM1792) 24/192
·         App platforms: iOS, Android
·         Formats: WAV, FLAC, ALAC, AIFF, MP3
·         Gapless playback
·         Internet radio via vTuner
·         Size (WxHxD): 440x90x255mm
·         Weight: 6.2kg