Sound quality
Connected to a Musical Fidelity CLiC and a pair of Neat Momentum 4is, the Pro-Jects do a reasonable job of persuading you to give the benefit of the doubt about any foibles in their ergonomics. This is a lively and energetic duo that generally imparts a welcome sense of life to most music that they are asked to play.
Part of this liveliness stems from the considerable bass heft that this pairing seems to have. The Pro-Jects are able to generate an impressively visceral low end when asked to so that with appropriately burly speakers are felt as much as heard. This considerable low end grunt is in turn possessed of impressive agility and speed which gives the Pro-Ject's a liveliness that is hard not to like. As a pairing they are usually able to get the head nodding along to the beat.
The rest of the frequency response is accomplished too. The high resolution FLAC of Mark Knopfler's Understated Privateering manages to sound rich, full and believable. Knopfler's guitar has an appealingly natural and relaxed presentation. The decay of notes and the sense of fingers moving on strings is effortless – unforced and absolutely packed full of detail. Vocals have the same relaxed excellence to them and the effect is commendably similar to the way that the Phono RS goes about its business.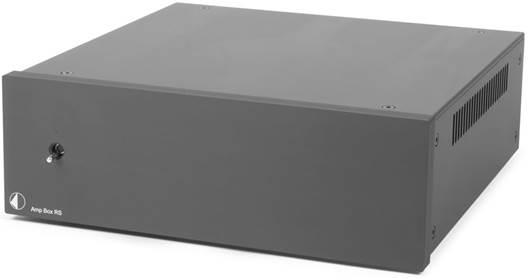 Removing the Pre RS from the system and connecting the CLiC directly to the Amp Box RS seems to keep this behavior in place
What is harder to pin down in all of this is anything identifiably to do with the tube buffer or values in the preamp. Nothing in the RS's presentation is so obviously the result of a vacuum tube that you'd automatically assume there were any of them present in the system. For me personally, this is a good thing – I like a great deal of value equipment and I like a great deal of solid-state equipment, but I've rarely been as enthused about hybrids. For anyone looking for a 'value amp with power' this probably isn't it, but neither should anyone fear it coming across as warm or soft.
A lively and energetic duo that imparts a welcome sense of life to the music it plays…
The only significant criticism I have of the Pre Box RS and Amp Box RS is that the soundstage is somewhat limited. The placement of musicians and instruments is good and smaller scale work like the Knopfler album are generally convincing. Switch to the rather larger The Cinematic Orchestra Presents In Motion Vol 1, the spellbinding Manhatta is left lacking some of the air and space that a full orchestra needs to really shine.
Removing the Pre RS from the system and connecting the CLiC directly to the Amp Box RS seems to keep this behavior in place, whereas connecting the CLiC and the Pre RS to Cambridge Audio's 851A acting as a power amp via a fixed input seemed to bypass it. This suggests that this slightly constrained performance is down to the power amp. This is nothing that probably couldn't be basically nullified with sympathetic speaker choices. If you're seeking a seriously big sound then pairing it to efficient floor standers such as Q Acoustics' excellent 2050is should do the trick, and will generate levels loud enough to lift the roof even with this modestly powered duo.
The experiment did show that the Pre really is a very neutral bit of kit. This is a preamp that puts almost nothing of itself into the overall performance and represents one of the least expensive examples of a usably transparent preamplifier that I have encountered. The power amp is the more audibly characterful of the two designs, but is still far from what you might call colored. As a pairing, they have enough deviation from absolute neutrality to entertain, but without tipping over into becoming willfully inaccurate.
As an opening move into a keenly contested area by Pro-Ject, there is much to like about these two products. They are not quite as all conquering as the phenomenal Phono RS, but they still do an awful not right. The slightly limited soundstage shows they're not totally blameless, and the very sensitive volume control and peculiar input selection are also minor irritants. But still this pert partnership does a lot more right than it does wrong.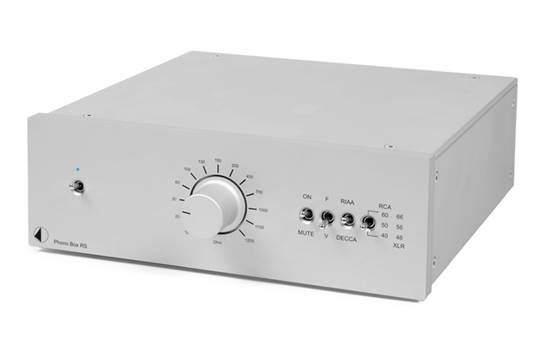 They are not quite as all conquering as the phenomenal Phono RS, but they still do an awful not right
Conclusion
If you are looking for a well built, powerful and compact pre and power amplifier package with enough watts on tap to work with a wide variety of speakers, this dinky dynamic duo is well worth seeking out.
How it compares
$1,800 preamp/ power amplifier combinations are not that common so the Pro-Ject duo doesn't face a great many two-box competitors, but Musical Fidelity's M1HPA ($750) and M1PWR ($1,200) is there to keep things honest. This British designed combo gives a marginally cleaner and more detailed sound, but lacks some of the romance of the Pro-Ject duo.
If you're not impressed by that lovely compact half-width packaging, then there are some very strong full width, full size integrated simplifiers around. For example, during the review, the RS boxes were sat side by side with the Cambridge Audio 851A which is one of the strongest performing amplifiers at the price point.
The Cambridge is a slightly more refined performer and offers some set up options that the simpler RS boxes don't. The Pro-Jects counter with an extra balanced input and a sonic liveliness that does lend more uptempo music a certain energy. Ironically both units have flawed volume controls. The Cambridge system can make the amp feel weirdly underpowered while the Pro-Ject has something of a hair trigger.
Connections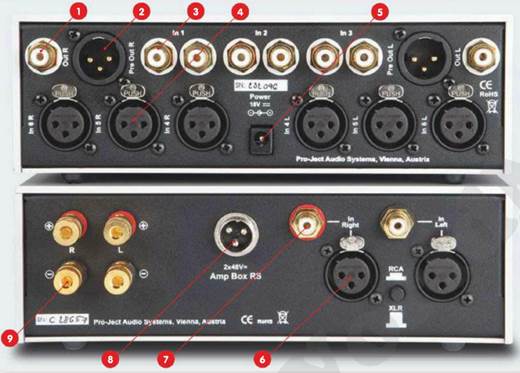 Connections
RCA preamp outputs
XLR preamp outputs
RCA phono inputs
XLR phono inputs
DC power input
XLR phono inputs
RCA phono inputs
DC power input
Binding posts
In sight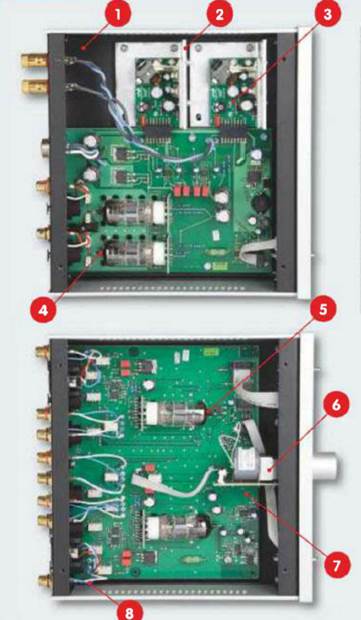 In sight
Pressed steel chassis
Power module heat sinking
Hyper UcD digital power amp module
ECC88 tube buffer; 1 of 2
ECC88 tube buffer; 1 of 2
ALPS Blue volume potentiometer
Main audio board
RCA socketry signal wiring
Specifications
§  Product: Pro-Ject Pre Box RS and Amp Box RS
§  Origin: Czech Republic
§  Type: preamplifier and power amplifier
§  Dimensions: (W x H x D) 206 x 72 x 200mm (210 with sockets)
§  Weight: 1.95 kg without power supply
§  Features: Line-level inputs 3 pairs XLR and 3 pair RCA/ phono sockets
§  Outputs: 1 pre-out (XLR), 1xrec-Out (RCA)
§  Distributor: Henley Designs
Our verdict
§  Sound quality: 4.5/5
§  Value for money: 5/5stars
§  Build quality: 5 /5
§  Features: 4/5
§  Like: Great build; good connectivity; fine sound
§  Dislike: Slightly restricted soundstage
§  We say: A welcome addition to the ranks of affordable pre/power amps offering clever packaging and excellent sound per pound
§  Overall: 4.5/5