Xtrememac Soma Stand – Majestic Pyramid
Knowing XtremeMac, it has always been designing intriguing form factors. And then the XtremeMac Soma Stand appears, showing off a little bit of old school fashion. So for all you speaker dock lovers out there, let's give this one a spin.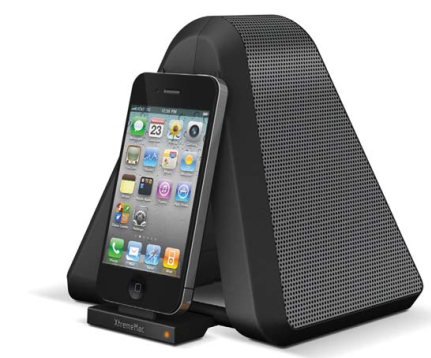 Xtrememac Soma Stand
Minimalistic Design
XtremeMac takes the same approach with its Soma Stand following Apple's minimalistic design. The speakers for this device opens up and spreads out like most docks but in a very unique fashion as it expands out into a rounded pyramid shape with a pop-out front dock and rear-mounted controls. When an iPad is docked into it, I can barely see the Soma Stand at all, which is definitely a nice touch in my books. For Apple's smaller cousins (iPhone and iPod Touch), the pyramid's shape provides them with a majestic feel when they are docked in, showcasing how a great working design should be.
Mediocre Audio
From the shape, I can tell that the unit doesn't use huge speakers but the audio performance is respectable. It is not the best audio around but still enough to get me by. Turn it up to high and everything sounds distorted, too low and I can barely hear a thing. Thankfully, the sound level is loud enough when I am sitting near the speakers but it falls short when tasked to fill the empty sound space of a small room.
Xtrememac Soma Stand
Dimensions: 130 x 160 x 60 mm
Weight: 756 g
Power Source: AC and disposable battery
Speaker Configurations: Stereo
V: 9/10
F: 7/10
P: 7/10
D: 9/10
U: 7/10
Verdict: Great form factor that catches attention.
Total Score: 7.8/10
Eacan E-511C – Classy Balance Act
Bored of those dusty old computer speakers? Perhaps it is time to upgrade then. When it comes to PC speakers, there are just too many shapes and sizes out there. In fact, I have right here next to me the Eacan E-511C on my desk. Let's see if these speakers will be enough to satisfy a regular user.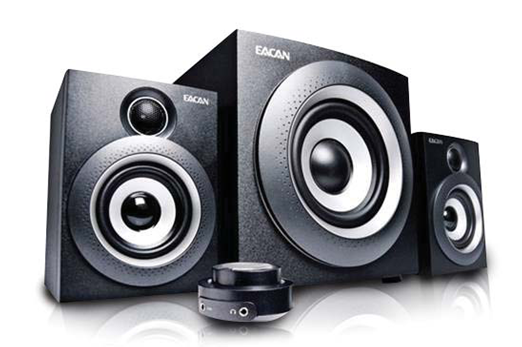 Eacan E-511C
More Space
The E-511C is a 2.1 speaker system that is designed not to be stingy on space. Clad in an all-black wooden enclosure, its size looks intimidating but, at the same time, exudes a form of finesse with its piano-black finish. Unless your desk is only dedicated to your computer, I recommend a bigger table. Additionally, the speakers come equipped with a USB port and SD slot to read music files from your flash drives.
Nice Music
After several hours of movies and music, I like the sound quality from the E-511C. The treble and bass are balanced nicely but if need be, there are dials on the woofer to adjust them based on user preference. There is also this distinctive thump on the bass side and even with the volume crank up high, the quality doesn't diminish a lot. However, the highs at loud volumes hurt my ears more than usual. Probably it's just me but I have to re-adjust the treble to reduce the annoyance. To each their own I guess.
Eacan E-511c
Dimensions: 116 x 162 x 128 mm
Loudspeaker Type: 5-inch magnetically shielded
External Structure: Wooden
Frequency Response: 270Hz – 20KHz
V: 7/10
F: 7/10
P: 8/10
D: 8/10
U: 8/10
Verdict: Quite a decent speaker for those who are looking for an upgrade from their old ones.
Total Score: 7.6/10