What are Roblox promo codes?
These are codes that you can use to get free cosmetic items for your avatar! You can equip them to your character in the Roblox Avatar area. You will keep these items permanently, so don't worry about them disappearing. However, make sure to redeem the codes as soon as possible as they will expire after a certain time.
Unfortunately, we don't know when new codes are coming to Roblox, so these are just as amazing to you as they are to me! If there's new code, we'll usually include it at the top of the page, so it's the first thing you see.
How-to Redeem Codes in Blox Fruits :
Open the game, look for the blue Twitter button on the screen (it's pretty small on PC, look to the left side of the screen!), Go ahead and hit that button and you'll get the following popup: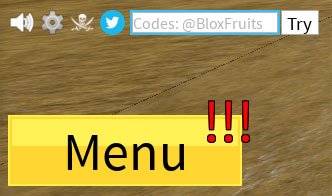 Click on "Codes: @BloxFruits" and enter one of the codes from list below . Once you have entered it correctly, you will only have to press the Try button and you will receive the reward!
Blox Fruits Codes (Active) :
Here list 12 available codes :
1BILLION – Redeem code for two hours of 2x Experience (NEW)
SUB2NOOBMASTER123 – Redeem code for 15 Minutes of 2x Experience
STRAWHATMAINE – Redeem code for 15 Minutes of 2x Experience
BIGNEWS – Redeem code for an in-game title
FUDD10 – Redeem code for $1
Sub2Daigrock – Redeem code for 15 Minutes of 2x Experience
SUB2UNCLEKIZARU – Redeem code for a Stat Refund
Axiore – Redeem code for 20 Minutes of 2x Experience
ShutDownFix2 – Redeem code for 2x Experience
THEGREATACE – Redeem code for 20 Minutes of 2x Experience
Sub2OfficialNoobie – Redeem code for 20 Minutes of 2x Experience
TantaiGaming – Redeem code for 15 Minutes of 2x Experience