The Motorola SURFboard SB6141 router has No WiFi, 1 N/A ETH-ports and 0 USB-ports.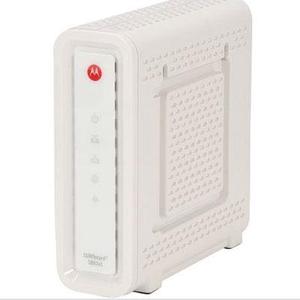 How to hard reset (factory reset) SURFboard SB6141 :
You can hard reset your SURFboard SB6141 with ways bellow
1. When the router is on, press the button reset and hold for 30 seconds.
2. While holding down the button reset, turn off the power of the router and hold down the button reset for 30 seconds
3. While holding down the button reset, turn on the power to the unit again and hold for another 30 seconds
SURFboard SB6141 default Login & Password, factory settings :
Default Gateway IP: 192.168.100.1
Default subnet mask: 255.255.255.0
Default DNS server: 192.168.100.1
SURFboard SB6141 router specifications :
System specs
CPU: n/a
RAM: 32 MiB
Flash: 8 MiB
Custom firmwares: None
Connectivity
WiFi: No ()
WiFi bands
n/a
WiFi throughput: n/a
WAN
None
ETH
1 x N/A port
USB-ports: 0
Motorola SB6141 review (quick overview)
Here is the quick comparison of how the Motorola SB6141 compares to
other routers on our site
Average
23/100
Editor
66/100
WiFi
2/100
Hardware
3/100
Current price
$10.62
For a full list of routers and how they compare to the SURFboard SB6141, check the
Router Buying Guide which will help you buy the most
price-competitive router.