The RM68 is the premier Assault Rifle in Battlefield 2042 Season 4, and here are the best attachments for it.
Battlefield 2042 Guide – Best RM68 attachments in Season 4
A few new weapons were added to Battlefield 2042 for Season 4, but none of them are as potent as the assault rifle RM68. With this new AR, you don't need any attachments to go out and completely wipe out the opposing team.
No matter how well this assault rifle performs on its own, additional attachments can only improve its effectiveness. Below, you will find all the best attachments for RM68.
Ammunition: Standard Issue / Extended Mag
Barrel: Shortened Barrel
Sight: Fusion Holo / Optional
Underbarrel: BCG Light Grip
The Shortened Barrel and the BCG Light Grip work together to ensure the RM68's accuracy. The Shortened Barrel improves fire rate and recoil control at the expense of weapon accuracy, and the BCG Light Grip will compensate for the accuracy lapse.
The Fusion Holo sight and the Standard Issue Extended Mag are the other two attachments. Close combat rounds and high-powered are always options, but standard issue will provide the best bang for your buck. Then, the sight is entirely up to personal preference.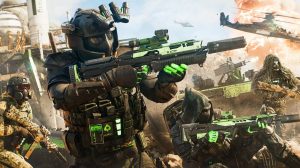 Compared to other assault rifles in the game, this build is pretty standard, but it has a special integral suppressor that gives it an edge. This will take up our muzzle slot and give us more control over recoil, which is the main thing that makes it different from other loadouts.
About Battlefield 2042
Battlefield 2042 is a first-person shooter released in 2021 by Electronic Arts and developed by DICE. It is the twelfth main installment in the Battlefield series, and it was released on November 19, 2021, for the PlayStation 4, PlayStation 5, Windows, Xbox One, and Xbox Series X/S. It is the first game in the series to support cross-platform play.