Microsoft recently released a new Microsoft Edge based on Chromium for Windows 10 and other platforms (January 15). The new Microsoft Edge looks natural and works more or less like Google Chrome.
Follow 4 steps bellow to Reinstalling the Edge browser in Windows 10 does not cause data loss :
Step 1 : Download the latest version of the Edge setup file from this here .
Step 2 : The best part about reinstalling Edge is that you don't need to uninstall the installed Edge browser. According to Microsoft, you only need to close the Edge browser if it is running. So close the Edge browser.
Step 3 : double clicking on the setup file – > Run it . The installation file will download all you need to install the browser on your PC and install Edge.
Run the downloaded setup file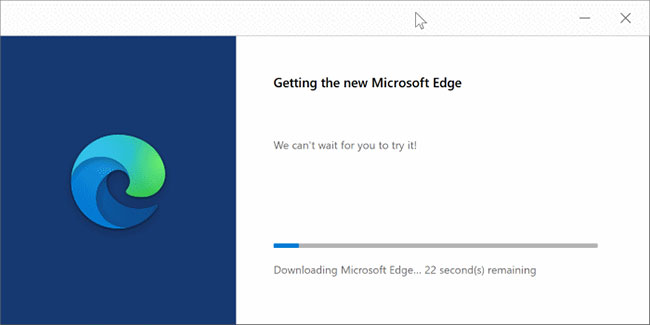 In a few minutes, reinstalling Edge will complete
Step 4 : You can now launch the Edge browser and check to see if your issue is resolved.
Warning :
This method only works on Windows 10 and earlier versions. This method is not applicable on other platforms. Additionally, this method may not work if Edge has been uninstalled from the computer.
Although Edge doesn't erase data when you reinstall on Windows 10, you should still back up important data like passwords and favorites before reinstalling just in case.
You can also use this method to manually update your Edge browser if Edge doesn't automatically update.