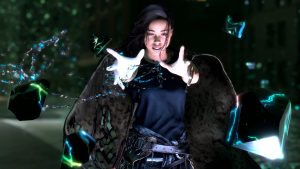 The consulting group Black Girl Gamers has responded to player criticism about the game Forspoken and its Black female protagonist.
Black Girl Gamers respond to Forspoken criticism, stressing inclusion at all levels
Even though there have been many valid complaints about Forspoken, it's hard to criticize it in a nuanced way without sounding like the crowds of people who trash the game just because the main character is a Black woman. Now, two months later, one of the game's consultants is speaking out.
Aside from frame-rate issues, one of the most serious criticisms was the main character's dialogue. Many people accused Frey of sounding like Joss Whedon or Marvel. These descriptors are frequently used to describe spunky characters or as a substitute for "cringe." However, this was not dissimilar to early coverage of Forspoken by journalists at publications such as Kotaku and Axios. People with experience working on popular games such as TellTale's The Walking Dead and Uncharted were among the early development and writing talent. Having said that, the team lacked Black writers. Square Enix realized at some point that they needed a Black women's perspective to tell this story. As a result, they hired consultants to investigate Frey and the other women in the story.
Black Girl Gamers statement
BGG Forspoken Statement

We are pleased to announce that Black Girl Gamers was hired as a paid consultant on Forspoken, which included having the opportunity to play a pre-release build of the game-

[Thread] (1/10) pic.twitter.com/iaU5UtYOtj

— Black Girl Gamers (@blackgirlgamers) March 20, 2023
As people finished the game, many noticed that the "special thanks" section of Forspoken included the CEO of Black Girl Gamers (BGG), Jay-Ann Lopez. BGG brings together Black women who are interested in games from all over the world to talk about and play games, organize charity events, and make connections in the gaming industry. Almost two months after Forspoken came out, BGG made a statement about their role in making it.
We are pleased to announce that Black Girl Gamers was hired as a paid consultant on Forspoken, which included having the opportunity to play a pre-release build of the game and provide feedback on the overall experience– from the gameplay experience to the portrayal of Frey as a female protagonist of Black descent.

As with any consultation project, and due to the timing of our consultation being initiated during the latter stages of the game's development, not all of the suggestions we shared pertaining to colorism and texturism were implemented in the final game. Due to the nature of our contract, we cannot disclose specific suggestions, however, we were pleased to see that some of our input was reflected in the final version of the game. As a trusted voice in gaming, diversity, and inclusivity, we were brought in. We had an opportunity to weigh in on the game – especially given that it is one of the first games to feature a fantasy female protagonist of Black descent. The importance was key to us and our community and this was communicated during our consultation.

With that said, our consultant really enjoyed the gameplay. It is an entertaining experience for those who love open-world, fast-paced parkour combat with fantasy magic. Forspoken centers itself on the representation of women of all different experiences, and due to that – the game has unfairly received extreme and unjust criticism about its quality. Forspoken has the potential to be a great franchise and we hope to see a continuing trend of more representation in Fantasy games. However, for the fantasy genre in general, there needs to be greater awareness and proactivity about the importance of hiring a team that consists of Black writers, developers, and consultants; additionally, paying those individuals and content creators their worth.

It is important for organizations to partner with authentic voices in the Black community when promoting all games. The services that we provide can help organizations connect with underrepresented and diverse audiences to garner genuine reactions around activations and also help to ensure that the organization is up to standard when it comes to fair and equal pay.
I'm not sure what else to say about studios and other creative teams. BGG said it all, and much more respectfully than seems necessary at this point. The demand for a diverse team at all levels of production, from development to marketing, is not unreasonable, especially for a company like Square Enix. Given their Final Fantasy controversies, one would expect them to go above and beyond in other games.
AAA games have the resources to maintain standards
Love to hear that! Glad you too were a part of it!

— Black Girl Gamers (@blackgirlgamers) March 20, 2023
Not only the writer's team should have been worried. Tom Keegan, who was in charge of motion capture and voice-over, said that Frey had a "very hip-hoppy kind of walk." This is not only racist, but also eerily similar to how other people in entertainment describe (non-threatening) Black characters, particularly boys. Miles Morales was described as having "the exaggerated swagger of a Black teen" in a Gamespot review of Marvel's Spider-Man in 2020. Another grievance against Miles was the 2022 What If…? comic run, which was full of upbeat microaggressions like "By Odin's fade."
While the lead actress (and the model for Frey) Ella Balinska is a Black woman, the entire burden of representation cannot be placed on her—or any one person, for that matter. Most medium- to large-sized studios can and should do better. This approach to representation, in which people are brought in late in the development process, is insufficient. It dissatisfies the audience you want to reflect and fuels online hate- the kind of hate that thrives on the ability to speak in dog whistles. There aren't many games in which a Black woman is the protagonist and every aspect of her character is created from the beginning. This whole debacle has been embarrassing.