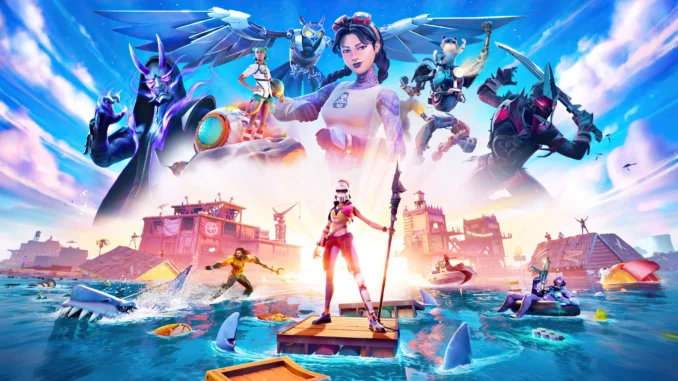 Another Star Wars collaboration could be on the way to Fortnite. Fortnite is known for collaborating with well-known franchises in the form of seasonal themes and item shop collaborations, and is highly regarded by the community. At the beginning of each season, the community can see their favorite cartoon and movie characters enter the loop.
The new Season 3 has already begun, and Fortnite has added new elements to the game. Loopers are very excited to wait for a few more characters from the the Star War series following the arrival of Anakin Skywalker and Obi-Wan Kenobi.
Fortnite Leaks – The original Star Wars trilogy could be coming in the game
Leaks have been flying around lately, giving us the most anticipated Star Wars skin ideas that will soon be added to the game. A well-known leaker, 4Chan, has shared another leak about Star Wars collaborations. According to the Fortnite leaks, fans could see the arrival of the Star Wars original trilogy characters: Luke Skywalker, Han Solo, and Leia Organa later this year or early 2023.
RUMOR: Han Solo, Luke Skywalker, and Leia Organa are coming to the game later this year or in 2023!

This was posted on 4chan by most likely the same person who also leaked a 2nd Naruto collab for this month! pic.twitter.com/ZwA3c4FUUW

— Shiina (@ShiinaBR) June 15, 2022
With Kenobi and Vader as the characters in the game, it makes sense for Luke Skywalker, the main character in the series, to arrive at Fortnite soon. However, he is joined by his sister, General Leia Organa, the princess of Alderaan. Leia Organa has a spirit of resistance and her own skills. Han Solo may also appear with her, as Harrison Ford's character model is currently used as Indiana Jones in the game.
Aside from these, fans wonder if Chewbacca and droids like R2-D2 and C3PO will be included in the upcoming collaboration. Although Epic Games has not confirmed this, we may expect these three characters to be in the game.
Fornite Wiki
Fortnite
Genre(s)
Survival, battle royale, sandbox
Developer(s)
Epic Games
Publisher(s)
Platform(s)
Windows, macOS, Nintendo Switch, PlayStation 4, PlayStation 5, Xbox One, Xbox Series X/S, iOS, Android
First release
Fortnite: Save the World
July 25, 2017 (early access)