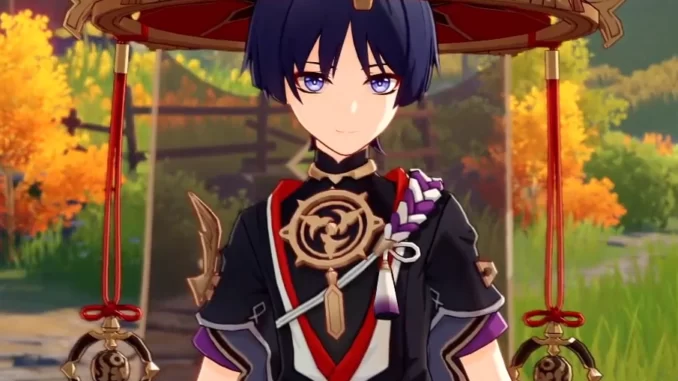 Genshin Impact : Scaramouche Release Date
Scaramouche is expected to be released much later than Shenhe and Yunjin, which are both scheduled for 2.4. He may eventually be playable when the Sumeru region is added to the game.
According to Ubatcha, a well-known leaker, Scaramouche will most likely join in Version 3.2 around the end of November.
[Questionable]

I wasn't aware back then but it's a lot more than just "meeting" a new harbinger.

Scaramouches upcoming playable release around 3.2 has already been mentioned by Uncle DD and the QRTd tweet mentions meeting a harbinger which we haven't seen in game yet (1/2) https://t.co/aFTxqOigvs

— UBatcha (@Ubatcha1) June 11, 2022
Scaramouche will be introduced as the 6th Fatui Harbinger
Scaramouche is the sixth of the Fatui's Eleven Harbingers, a nefarious group bent on wreaking havoc across Teyvat. This evil organization is constantly attempting to sabotage the Traveler's efforts, with Scaramouche at the forefront of each scheme. We already have Childe, the 11th Harbinger as a playable character, and the 6th one may be joining us soon as well.
Scaramouche to get its own boss domain in Genshin Impact
Scaramouche will most likely be a 5-star character with a Catalyst weapon. With the addition of Scaramouche, we now have two male Catalyst users, the first of which is Shikanoin Heizou. The most intriguing aspect of Scaramouche is that, despite appearing multiple times in the game's storyline, players still do not know his elemental type. All we know is that his Elemental Skill allows him to fire a power beam that deals AoE elemental damage.
The description for the recently added Husk of Opulent Dreams artifact set has revealed additional information about Scaramouche. He was supposed to be the Teyvat's Electro Archon and the Electro Gnosis carrier. But things have changed since then, and more information has yet to be revealed.
[Semi-reliable – Alleged!DD] If the Covid situation in Shanghai doesn't affect HYV, the weekly boss in 3.1 will be Scaramouche.

(Image 1: Post was made and quickly edited; Image 2: Original post quoted/summarized by another user in the thread.) pic.twitter.com/C2Oa0rW8yn

— SaveYourPrimos 💎🙌 (162/160 tall/dendro/handsome) (@SaveYourPrimos) April 12, 2022
According to leaks, he will receive his own boss domain in 3.2 before joining the Traveler's party. Whatever the case may be, based on the hype surrounding him and his mysterious personality, he will undoubtedly make a significant impact in the community.
Multiple leaks have already hinted that the new major update will introduce the mysterious region of Sumeru with its Dendro Archon: Lesser Lord Kusanali.
From UBatcha: Collection of Leaks for Sumeru and Patch 3.x+ from Genshin_Impact_Leaks
Genshin Impact wiki :
Developer(s)
miHoYo
Publisher(s)
miHoYo
Producer(s)
Hugh Tsai[1]
Composer(s)
Yu-Peng Chen
Engine
Unity
Platform(s)

Android
iOS
Microsoft Windows
PlayStation 4
PlayStation 5

Release

Android, iOS, Windows, PS4
September 28, 2020
PlayStation 5
April 28, 2021
Nintendo Switch
TBA

Genre(s)
Action role-playing
Mode(s)
Single-player, multiplayer