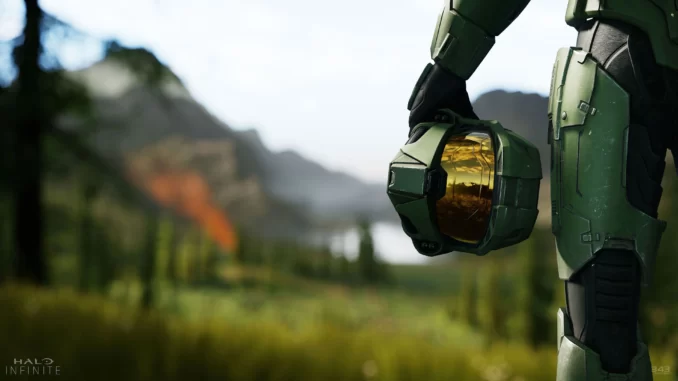 Halo Infinite just added a new cosmetic to commemorate Juneteenth, a federal holiday that commemorates the abolition of slavery in the United States and the nation's continued struggle for racial equality. However, since its release, this cosmetic has sparked a storm of debate, criticism, and outrage among players. Here's what happened with Halo Infinite's Juneteenth.
Halo Infinite's Juneteenth Controversial Cosmetic
Juneteeeh cosmetics features a color pallet named Bonobo, which has sparked considerable debate. A Bonobo is a sort of large ape, especially given the long and shameful history of ape metaphors being used as demeaning slurs against Black people. This was terrible, given that Juneteenth marks freedom from slavery.
Players clearly noticed this and raised it to the developers' consideration. Shortly after the nameplate was discovered, 343 changed it to "Freedom," then changed it again to the current name. According to Community Manager John Junyszek, the palette's original name was presumably a moniker for an internal toolset. The Halo Infinite Team didn't mean to use this name for this type of content and it was a mistake.
Thank you for bringing this to our attention, Sean. We strive to create diverse and inclusive gaming communities. While the original name refers to an internal toolset, it was not intended to be applied to this content and we recognize the harm it may have caused. (1/2)

— John Junyszek (@Unyshek) June 14, 2022
To further clarify Junysek's reference to an internal development toolset, Halo streamer @MintBlitz shared a screenshot from a previous ViDoc — a term for "video documentary" used by studios such as 343 and former Halo creator Bungie — that appears to include a program called Bonobo.
Since I saw 343 accidentally named the Halo Infinite Juneteenth emblem as Bonobo.

Here is literally the program that was in an old Bungie Vidoc. pic.twitter.com/ACzW3JBNj9

— Mint Blitz (@MintBlitz) June 15, 2022
Even if the name is unintentional, or even a reference to in-house software, it's very sad to see something like this in 2022, especially during a date celebrating a victory over racism. Studios need to take further action to prevent this from happening again in the future.
Halo Infinite Wiki
Halo Infinite
Developer(s)
343 Industries
Publisher(s)
Xbox Game Studios
Director(s)

Joseph Staten
Paul Crocker
Tom French

Producer(s)

Pierre Hintze
Greg Stone
Damon Conn

Designer(s)
Jerry Hook
Programmer(s)
David Berger
Artist(s)

Nicolas Bouvier
Justin Dinges
Donnie Taylor

Writer(s)

Dan Chosich
Paul Crocker
Jeff Easterling
Aaron Linde

Composer(s)

Gareth Coker
Joel Corelitz
Curtis Schweitzer
Alex Bhore

Series
Halo
Platform(s)

Microsoft Windows
Xbox One
Xbox Series X/S

Release
December 8, 2021
Genre(s)
First-person shooter
Mode(s)
Single-player, multiplayer