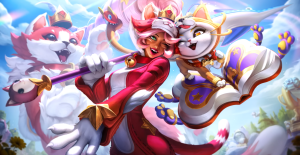 What can you expect for League of Legends April Fools 2023? Continue reading to learn what we know so far.
League of Legends April Fools 2023 – New mode
Despite the lack of an official announcement at this time, we do know that League of Legends will introduce a new game mode called Tomato, which was discovered by players in PBE files.
Something weird is going on in blind pick mode starting at midnight… pic.twitter.com/1DMe57qGA3

— League of Legends (@LeagueOfLegends) March 30, 2023
The League of Legends Twitter account also provides us with the first look at this new mode. Although we don't have many details at the moment, it appears that players can collect hats, attack Scuttle Crabs, and encounter a slew of random cute enemies scattered throughout the map. We will update this page once we have more information about what is coming to League of Legends.
League of Legends April Fools 2023 – New skins
In addition to a new game mode, new skins for League of Legends will be released on April 1st. In the past, April 1st skins had a specific theme and would have a few characters that went together. One year, the theme was Space Groove, and familiar characters like Nasus were transported to a galaxy far, far away.
This year's theme appears to be dog and cat. Kindred, Nidalee, Kled, and Yuumi will all be getting new skins.
Meet your fur-ever friends! 😻🐶 pic.twitter.com/K6XvvYol6o

— League of Legends (@LeagueOfLegends) March 21, 2023
Yuumi and Nidalee, two of the League's few cat-themed champions, have joined team cat. Both are dressed in cat-like pajamas and their abilities are heavily focused on fish, which is commonly associated with cat appetites. Nidalee's transformation entails her transforming into a large pink cat rather than a cougar, and then riding in her recall on a broken-down Pretty Kitty Rengar ride.
Meanwhile, Kindred and Kled have joined team dog, and their "pets," now transformed into large dogs, will be fighting by their sides. Lamb is given a pair of purple dog-themed pajamas to support Wolf, who has turned into his own ghost dog, whereas Kled prefers to simply wear a dog trainer-based outfit to ride atop Skaarl, who has turned into a bigger slobbering mess.
The new April Fools' Day skins for League will be available on April 5, a few days after the holiday, alongside Patch 13.7.
That is all we know for now about League of Legends April Fools 2023.