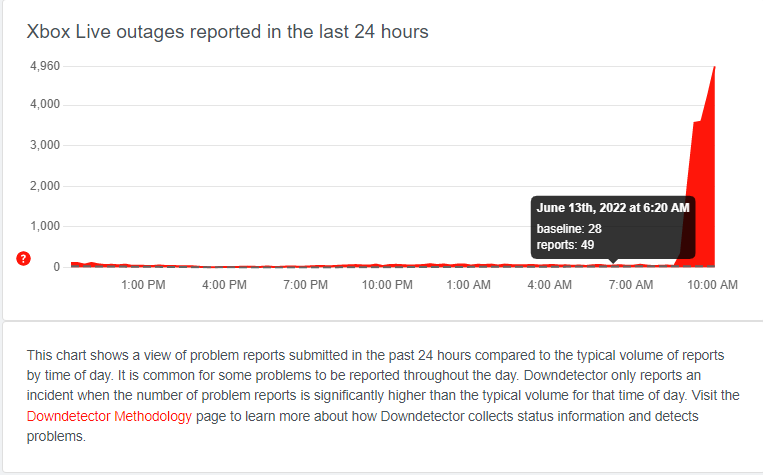 Xbox Live is currently down ?
According to Downdetector, reports started spiking shortly after 2:15 AM, and presently there are 4378 reports(Most reported problems : 76% is Server Connection, 11% is Login and 13% about Game Play) .
The latest messages and updates from Microsoft can be found below:
Microsoft Support Page Message Posted 8:45pm BST: "We're aware that some users may not be able to sign in or launch games at the moment. Please stay tuned for updates here, or check our status page."
Support Page Message Concerning Cloud Gaming Services: "You may have trouble starting cloud games or be unexpectedly disconnected from a game after it begins. We Are Working On A Fix."
Support Page Message Concerning Core Online Xbox Services: "You may have problems playing your digital games right now."
Xbox live down…? pic.twitter.com/ryD2Ow2dvz

— Tripic(A Dirt Licker) (@winterTripic) May 6, 2022
#XboxLive seems to be having a problem..cant launch games 😪

— Loops (@Rattlehead73x) May 6, 2022
Reports of outages are pouring in from the US, the cause of the outage is currently unknown, but it appears that only Xbox Live services are experiencing an issue at this time.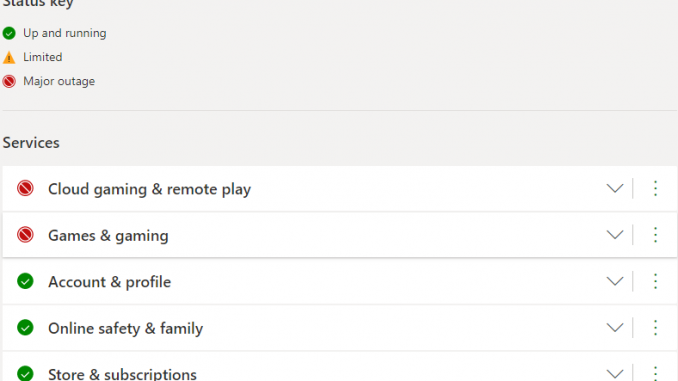 Microsoft has now updated the Xbox Live Status page to reflect the outage occurring for "Cloud gaming & remote play" and "games & gaming."
The official Xbox Support Twitter account has now weighed in as well, adding credence to the outage reports.
We're aware that some users may be unable to launch games on Xbox consoles and through Cloud gaming, and our teams are investigating. We'll update here and on our status page when we have more information to share. https://t.co/kQKp1LYR4o

— Xbox Support (@XboxSupport) May 6, 2022
Some of the issues that gamers could be facing:
Unable to purchase subscriptions or accessories.
Unable to purchase proprietary games, Game Pass games, as well as backward compatible games.
Unable to access existing account balance to make purchases.
Facing trouble using a credit card to make purchases right now.
In-game purchases could be failing.