Once you are accustomed to back-lit keyboard, returning to normal keyboard which is not illuminated feels backward. Apple introduced back lighting technology with 17in PowerBook G4 in 2003. Then, the manufacturer has retained that feature through MacBook Pro in 2006 brought it on MacBook Air in 2003. Though, Apple has never sold a separate back-lit keyboard for iMax, Mac mini, Mac Pro or MacBook. There's no problem – a Mac accessory manufacturer, Moshi, responded to that demand with Luna, a USB plastic black keyboard having keys back-lit and  a translucent acrylic-made frame with glowing edges.

Luna – illuminate your workspace
18.6in Luna is a big-sized keyboard, wider than Apple's conventional keyboard (featuring number keypad) by 1in. Made of glossy black plastic and black anti-glare keys, the keyboard looks beautiful but easily gets fingerprints due to plastic-made coat and acrylic-made frame. However, we didn't see grease stuck on keys – and as black-colored, they don't seem dirty like Apple's usual white-colored keys.
Back-lighting is controlled by F5 and F6 keys (like on Apple's laptop) but there're only 4 steps from off to full-lighting. Keys are seeable in dark room and the glowing edges make the keyboard stand out of space.
We felt scissor-switch keys fast and Mac's function keys designed for Mission Control and iTunes worked smoothly. The 9-degree tilt level was not freely adjusted for typing but we didn't encounter any difficulty keeping our wrist in position. But, Luna has some weak points. Fn key lies in an odd position, among modifier key rows on the right of Space bar. Instead of a row of Command, Option and Control keys, Fn key is placed between Option and Control. (On Apple, landline keyboard, it lies in a mess of 6 keys above arrow buttons and on Apple's laptop it is on the keyboard's bottom-left corner). Backlash key, beneath Delete key, gets wider for some reasons and our fingers continued running into it every time when we tried to press Delete key. Caps Lock light is situated on the top-right corner (and it disappeared when not used) instead of lying Caps Lock button. This was such a small hindrance. Plus, Luna has no extra USB port because it can only absorb enough power form Mac to light up the keyboard. This won't be a problem if you use Magic Trackpad or Bluetooth mouse, but in case you use a wireless USB mouse with dongle, you will need to find another way to plug it in.
Key features
If you can't live without backlighting, you will prefer the nice and well-designed Luna keyboard. Though, for $99.95 it charges double as much as Apple's landline keyboard costing only $49. Besides, with such money, you can afford Das Keyboard Model S Professional Mechanical Keyboard.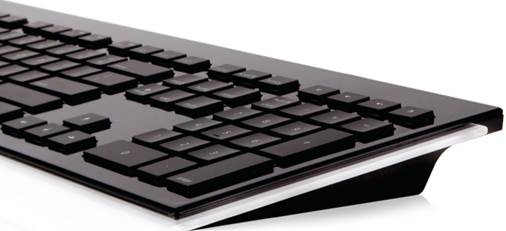 If you can't live without backlighting, you will prefer the nice and well-designed Luna keyboard.
Info
·         Manufacturer: Moshi
·         Website: www.moshimonde.com
·         Requirement: USB connector
Verdict
Pros
·         Back-lit keys
·         Number pad
·         9-degree tilt level
·         Mac's function keys
·         Windows/Linux support
Cons
·         No USB port
·         Fn key lies in an odd position
·         Some keys are only for PC
·         The keyboard easily gets fingerprints
Ratings: 3.5/5