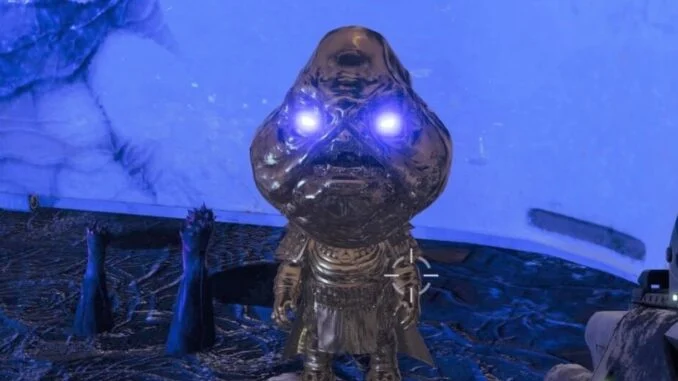 After farming Nightmares in the Derelict Leviathan public event, a new Sever mission will be available to continue the storyline. This sever, like the previous one, has a Calus Bobblehead. There are currently 7 to collect, and you'll need all of them to win the Season of the Haunted Seal title. Here's where you can find the Calus Bobblehead in Sever Forgiveness.
Sever Forgiveness Calus Bobblehead
The Bobblehead in Sever Forginess is a little harder to find than in the previous server. This one can be found near the end of the mission, after you place the final beacon but before the boss fight. You must jump to the platform with orange lights when you reach the large tube-like room with the Egregore Spores at the end. You'll notice a large, round container on the right near the end of the platform, and the bobblehead will be on top of it, so climb up and collect it.
Season of the Haunted will be available until August 23rd, giving you plenty of time to collect all of the Calus Bobbleheads. Remember that in order to accomplish the #1 Fan Triumph, you must place the Calus Bobbleheads in their correct locations within the H.E.L.M. At each location, there is a brief description of which Calus Bobblehead is referring to. It can save you a lot of time.
Destiny 2 Wiki
Destiny 2
Developer(s)
Bungie
Publisher(s)
Director(s)

Christopher Barrett
Luke Smith
Ryan Ellis

Producer(s)
Patrick O'Kelly
Designer(s)

Del Chafe III
M.E. Chung
Tyson Green
Sage Merrill
Christopher Opdahl
James Tsai

Artist(s)
Writer(s)

Jason Harris
Christine Thompson

Composer(s)

Michael Salvatori
Skye Lewin
C Paul Johnson

Platform(s)

Microsoft Windows
PlayStation 4
Xbox One
Stadia
PlayStation 5
Xbox Series X/S

Release

PS4, Xbox One
September 6, 2017
Microsoft Windows
October 24, 2017
Stadia
November 19, 2019
PS5, Xbox Series X/S
December 8, 2020

Genre(s)
First-person shooter, MMOG
Mode(s)
Multiplayer