What is the Xur location in Destiny 2 ?
Weekly  Exotic item merchant, Xur, hangs out at random locations around the world of Destiny. In Destiny 2, he can spawn all over the map, as well as inside the Tower.
Xur location this week | May 13 – 17 :
This week, you can find Xur in the EDZ, standing on a bluff overlooking the Winding Cove.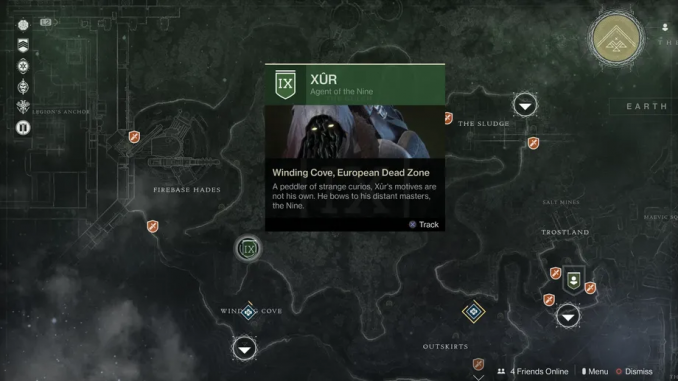 Cerberus+1 Kinetic Auto Rifle
Hawkmoon Kinetic Hand Cannon
Dead Man's Tale Kinetic Scout Rifle
Graviton Forfeit Hunter Helmet
Synthoceps Titan Gauntlets
Nezarec's Sin
As of Season of the Risen and The Witch Queen, Xur sells a random roll of both Hawkmoon and Dead Man's Tale each week.
Here are the special Exotic weapons he's selling:
Dead Man's Tale, Kinetic scout rifle (Cranial Spike): 125,000 Glimmer, 200 Legendary Shards, Exotic Cipher, Ascendant Shard
Hawkmoon, Kinetic hand cannon (Paracausal Shot): 125,000 Glimmer, 200 Legendary Shards, Exotic Cipher, Ascendant Shard
Xur's Legendary inventory this week consists of the following:
The Last Dance, Arc sidearm
Bite of the Fox, Kinetic sniper rifle
Sojourner's Tale, Solar shotgun
Shattered Cipher, Void machine gun
Farewell, Kinetic sidearm
Gridskipper, Void pulse rifle
Sorrow's Verse, Arc auto rifle
Kairos Function armor set
Destiny 2 wiki :
Developer(s)
Bungie
Publisher(s)
Director(s)

Christopher Barrett
Luke Smith
Ryan Ellis

Producer(s)
Patrick O'Kelly
Designer(s)

Del Chafe III
M.E. Chung
Tyson Green
Sage Merrill
Christopher Opdahl
James Tsai

Artist(s)
Writer(s)

Jason Harris
Christine Thompson

Composer(s)

Michael Salvatori
Skye Lewin
C Paul Johnson

Platform(s)

Microsoft Windows
PlayStation 4
Xbox One
Stadia
PlayStation 5
Xbox Series X/S

Release

PS4, Xbox One
September 6, 2017
Microsoft Windows
October 24, 2017
Stadia
November 19, 2019
PS5, Xbox Series X/S
December 8, 2020

Genre(s)
First-person shooter, MMOG
Mode(s)
Multiplayer