Fortnite Chapter 3 Season 2: Server Downtime
Fortnite Chapter 3 Season 2 will kick off on Sunday, March 20. Server downtime will start at 7am. m. GMT (12AM PT / 3AM ET) with matchmaking disabled 30 minutes prior.
Fortnite Chapter 3 Season 2: Resistance
The new season of Fortnite is called "Resistance", which is quite timely given the invasion of Ukraine by Russian forces.
Doctor Strange joins the colorful cast of Battle Pass characters, as does Miles Morales's uncle, Prowler, who is seemingly the season's 'secret' skin.
Details are still emerging but it looks like after the addition of sliding in Chapter 3 Season 1 there will be even more mobility options in this new season with Parkour element being added with climbing now possible.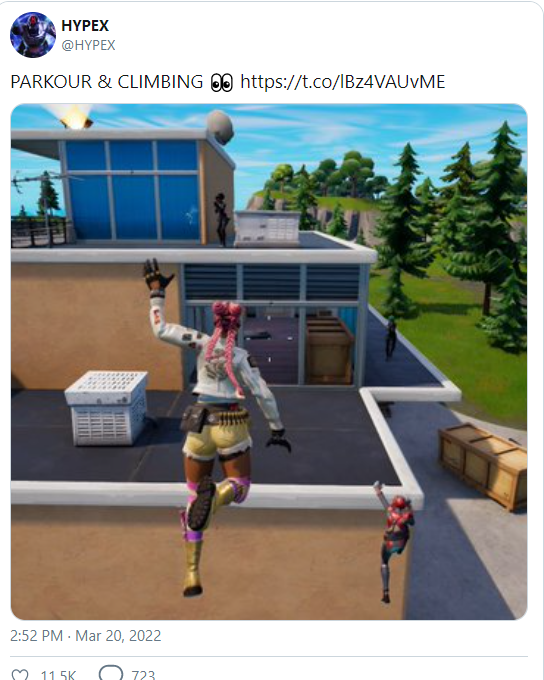 Fortnite Chapter 3 Season 2: Map
Here's where the earthquake cracks will appear (the red lines), it's most likely multiple drillers or one going through the map looking for something, they enter Tilted for a short time but then they stop next to The Devoured landmark, and they also pop out of those 3 X's pic.twitter.com/G8oDQ52UEN

— HYPEX (@HYPEX) February 23, 2022
Fortnite Chapter 3 Season 2: Patch Notes
BUG FIXES
Battle Royale
Bushrangers leaves shed excessively after sliding
Back Blings "floating" on some outfits
Tree Leaf textures looking low-res
Switch And Mobile
Auto Building/Shooting if you hold the build button and double-tap the edit button
Save The World
Wolves and Raptors are missing their combat passive abilities
Hero ability control bindings have been shifted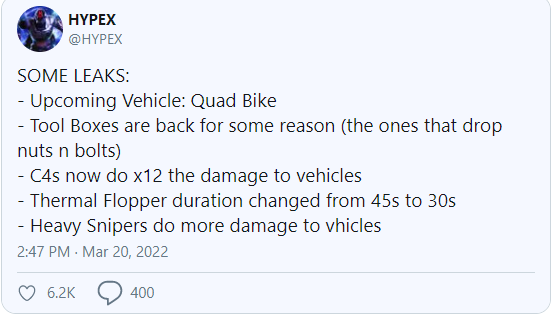 Fortnite Chapter 3 Season 2: Story Trailer
Fortnite Chapter 3 Season 2 – will see Dr. Strange and Prowler join the Resistance and take on IO in a war for good. All signs point to this being one of the most action-packed seasons yet! Take a look at the trailer below.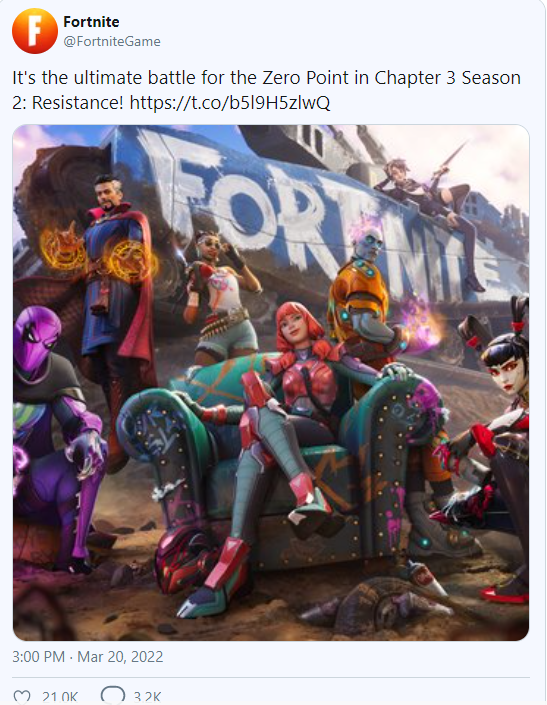 Fortnite Chapter 3 Season 2: Leaks
SECRET SKIN (Prowler) All Rewards! #Fortnite

— Fortnite Leaks & News (@FortniteBRFeed) March 20, 2022
These aren't the only Marvel characters coming to Fortnite in the next few months, either. Mary Jane Watson was recently leaked, despite Zendaya's movie MJ being in the game already.
New sets (3 encrypted):

– "Mary Jane Watson"
– "TentPetty"
– "WildChair"
– "ShadowChoice"

— Shiina (@ShiinaBR) March 20, 2022
Fortnite wiki :
Genre(s)
Survival, battle royale, sandbox
Developer(s)
Epic Games
Publisher(s)
Platform(s)
Windows,

macOS,

Nintendo Switch,

PlayStation 4,

PlayStation 5,

Xbox One,

Xbox Series X/S,

iOS,

Android

First release
Fortnite: Save the World
July 25, 2017 (early access)