Fortnite Chapter 5 is just around the corner, and new leaks have revealed even more information about the upcoming content.
With just three weeks left until the release of Chapter 5, the Fortnite community is buzzing with excitement. Epic Games has managed to maintain the game's popularity by consistently introducing new content, and Chapter 5 is no exception. The transition from the OG Season to Chapter 5 is expected to be marked by a grand live event, ushering in a new era of Fortnite.
Racing Mode and Open-World Adventure
The racing mode, previously leaked months ago, is finally making its way to Fortnite. Players can gear up for high-speed thrills as they navigate through the dynamic landscapes of the island. Additionally, the open-world mode promises an immersive gaming experience, allowing players to explore Fortnite in a way they've never done before.
Map Leaks and Gameplay Features
One of the most intriguing leaks is the revelation of the Fortnite Chapter 5 map. The leaked information not only provides insights into the layout of the map but also hints at exciting gameplay features. According to reputable leakers such as Ako, Shiina, and Wenso, players can expect two new game modes – the long-anticipated racing mode and an innovative open-world mode.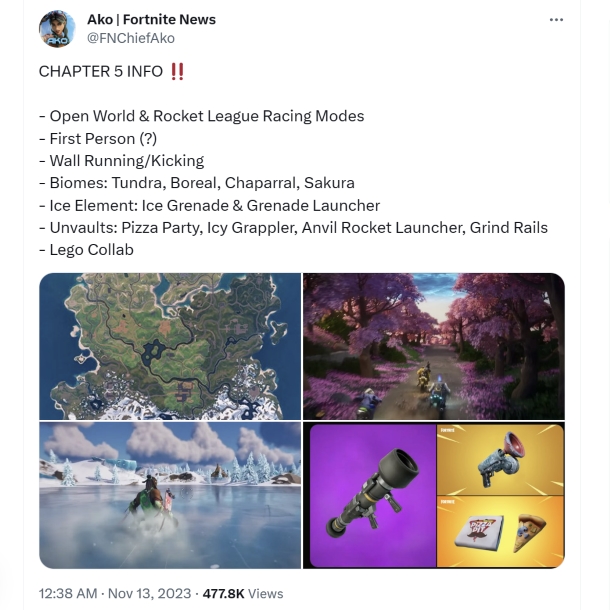 Collaboration with Lego
In a surprising turn of events, Fortnite Chapter 5 is rumored to feature a collaboration with Lego. This collaboration, in the works for a considerable time, is expected to come to fruition during the first season of Chapter 5, adding a playful and creative element to the Fortnite universe.
Exciting Gameplay Additions
The leaks also shed light on some enticing gameplay additions:
Movement Mechanics: Wall running and kicking mechanics are expected to add a new dimension to the Fortnite experience, enhancing both mobility and combat strategies.
New Biomes: The island is set to undergo a transformation with the introduction of new biomes, including the icy tundra and the serene sakura fields.
New Weapons: Prepare for battle with the introduction of the Ice Grenade and Grenade Launcher. Additionally, the unvaulting of the Icy Grappler, Anvil Rocket Launcher, and Pizza Party promises diverse and thrilling combat scenarios.
While these leaks provide an exciting glimpse into what Chapter 5 has in store, it's essential to acknowledge that they are potential spoilers. Epic Games has not officially confirmed these features, and there's a possibility that they might be altered or removed by the time the new chapter is released.
As we approach the early December launch of Fortnite Chapter 5, the community eagerly awaits further leaks and, eventually, the official confirmation of these exciting additions. Stay tuned for more updates as the countdown to Chapter 5 continues!
Related: