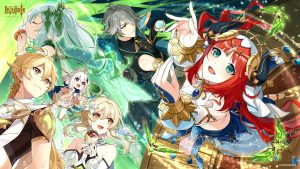 While information on Genshin Impact 3.6 is limited, recent leaks have given us a glimpse of some intriguing new artifacts and enemies.
Genshin Impact 3.6 possible release date
If Hoyoverses stick to their six-week update cycle, patch 3.6 should be available on April 12, 2023, with Phase I banners available at the same time and Phase II banners available around May 2, 2023.
Genshin Impact 3.6 reveals upcoming characters
HoyoVerse, the developer of Genshin Impact, is about to release version 3.5, but it has already revealed the new characters that will be included in version 3.6.
Baizhu is revealed to be the first new character. Baizhu was first introduced as an NPC in version 1.0, and he has now been added to the playable roster. He's the owner of Bubu Pharmacy, and his tagline is "Beyond Morality." He is associated with the Dendro element and the Lagenaria constellation.
◆ Baizhu
◆ Beyond Mortality
◆ Owner of Bubu Pharmacy
◆ Dendro
◆ Lagenaria#GenshinImpact #HoYoverse #Baizhu pic.twitter.com/VZJYnkPnw1

— Genshin Impact (@GenshinImpact) February 24, 2023
Next up is Kaveh, a well-known Sumeru architect whose tagline is "Empyrean Reflection." He is a Dendro character with the constellation Paradisaea.
◆ Kaveh
◆ Empyrean Reflection
◆ Renowned Sumeru Architect
◆ Dendro
◆ Paradisaea#GenshinImpact #HoYoverse #Kaveh pic.twitter.com/lzEzKSW59o

— Genshin Impact (@GenshinImpact) February 24, 2023
A recent leak revealed the sequence of upcoming banners in version 3.6. It will feature four new five-star characters, including the much-anticipated Baizhu. In addition, Nahida, Nilou, and Ganyu will appear in the update and have their banners re-run.
私が順序は不定と言った通り最終的には以下になる⬇️
As I said, the order is indefinite, in the end it will be below:

3.6ガチャ:
前半:ナヒーダ+ニィロウ
後半:白朮+甘雨+カーヴェ

3.6 banners:
1st: Nahida+Nilou
2st: Baizhu+Ganyu+Kaveh

Via vississ&Tao pic.twitter.com/reuVuEiqxC

— HL (@77__oat) March 14, 2023
Genshin Impact 3.6 Baizhu character overview
Abilities
Universal Diagnosis (Elemental Skill): Baizhu controls a Gossamer Sprite that cruises around and attacks opponents nearby, dealing Dendro Damage. The Sprite will return after three attacks or if there are no opponents nearby, healing all nearby party members based on Baizhu's Max HP.
Healing Holism (Elemental Burst):  Baizhu enters the Pulsing Edict state, creating a Seamless Shield. While in this state, Baizhu will generate a new Seamless Shield every 2.5 seconds. The Seamless Shield will heal your active character based on Baizhu's Max HP and attack opponents by unleashing Spiritveins, dealing Dendro Damage under the following circumstances:
When a character is under the protection of a Seamless Shield and a new Seamless Shield is generated.
When the Seamless Shield's effects expire, or when it is shattered.
Passives
Herbal Nourishment: When Baizhu is in the party, interacting with certain collectible items will heal your active character for 2.5 percent of Baizhu's Max HP.
Five Fortunes Forever: Baizhu gains different effects according to the current HP of your active character.
When their HP is less than 50 percent, Baizhu gains a 20 percent Healing Bonus.
When their HP is equal to or more than 50 percent, Baizhu gains a 25 percent Dendro Damage Bonus.
All Things Are of the Earth: Characters who are healed by Seamless Shields will gain the Year of Verdant Favor effect.
Verdant Favor effect: Every 1,000 Max HP that Baizhu possesses below 50,000 will increase the Burning, Bloom, Hyperbloom, and Burgeon reaction damage dealt by these characters by 2 percent, while the Aggravate and Spread reaction damage dealt by these characters will be increased by 0.8 percent. This effect lasts for six seconds.
Constellations
Constellation 1 (Even the Slightest Groan): One charge is added to Universal Diagnosis.
Constellation 2 (Skilled of Hand):Baizhu will unleash a Gossamer Sprite: Splice when your active character attacks a nearby opponent.
Gossamer Sprite: Splice will launch one attack before returning, dealing 300 percent of Baizhu's attack as Dendro Damage and healing for 20 percent of the normal healing of Universal Diagnosis' Gossamer Sprite.
This type of damage is classified as Elemental Skill damage. This effect can be activated every six seconds.
Constellation 3 (All Aspects Stabilized):Increases the Healing Holism Level by three. The maximum upgrade level is 15.
Constellation 4 (Ancient Perception): Baizhu will increase all nearby party members' Elemental Mastery by 80 for 15 seconds after using Healing Holism.
Constellation 5 (Hidden Shifting Signs): Increases the Universal Diagnosis Level by three. The highest upgrade level is 15.
Constellation 6 (Aura Flow): Increases the damage dealt by Healing Holism's Spiritveins by 6% of Baizhu's maximum health. Furthermore, when Gossamer Sprite or Gossamer Sprite: Splice hits an opponent, there is a 100% chance of generating one of Healing Holism's Seamless Shields. This effect can only be triggered once by a Gossamer Sprite or Gossamer Sprite: Splice.
Event details
The 3.6 update will include a wide variety of new minigames, as revealed by Genshin Intel, a prominent leaker. The main event in Version 3.6, dubbed "A Parade of Providence," will feature multi-stage mini-games offered by all of the Darshans in the Sumeru Academia. Domain challenges and a new rhythm game will be included, as well as brand-new mini-game concepts such as a building challenge within the Serenitea Pot and a "lateral thinking riddle."
A Parade of Providence: Each Darshan hosts a 3-stage minigame:
H: lateral thinking riddle
S: domains + buff/debuff potions
A: rhythm game
R: some rotating circle puzzle
K: teapot game w/ limited resources
V: Ayesha's Chaos Prospector

Awards 820 primos, furnitures, and Faruzan.

— Genshin Intel (@Genshin_Intel) March 26, 2023
The event's details also included the available rewards, which included a whopping 820 Primogems in total as well as new furnishings as a reward for fully completing all of its mini-game challenges. By completing the event, players will also be able to obtain a free four-star character, Anemo Bow user Faruzan.
New artifacts will appear in the 3.6 update
Two new artifact sets will be introduced in the beta phase of the update, according to a recent leak. They will be aimed at Dehya, a new Pyro user who has already been confirmed for Version 3.5.
The new set includes some fantastic bonuses, such as a 10% increase in Elemental Skill and Elemental Burst DMG, as well as 5 stacks of DMG bonus after taking damage. With a 15% Hydro DMG bonus and a maximum of 5 stacks of Nymph's Croix, which can increase ATK and Hydro DMG, Nymph's Dream may become Childe's new best-in-slot pick. It'll be interesting to see how these new sets affect gameplay and character builds.
Genshin Impact 3.6 leaks suggest new enemies
It has been revealed by Babey that the 3.6 patch will add a number of new enemies to the game, including Anemo and Hydro versions of the classic Hilichurl Rangers.
[Enemy in 3.6]
*this name is not official name and this is a long time data*

– Anemo Hilichurl Ranger
– Hydro Hilichurl Ranger
– Abyss [? ? ?] *have 4 aura elements and have shield
– Hydro Consecrated
– Dendro Consecrated
– Apep (trounce domain)
Source: 妮可少年

— babey🍀 (@babeykun9) January 29, 2023
Furthermore, the leak implies the addition of new Consecrated enemies with Hydro and Dendro forms. These new enemies are likely to provide a new challenge to players and keep the gameplay exciting.
A new Weekly Boss is expected to appear in the Version 3.6 update. This boss is a Dendro Dragon that players will encounter in Sumeru. Early indications for this boss  indicate that it will function similarly to the Rhodeia of Loch, also known as the Oceanid found in Liyue. This creature is thought to have a similar ability that allows it to summon minions that players must defeat in order to defeat the boss itself.
Leaks on social media suggest a new world boss will be added in the upcoming Genshin Impact 3.6 update. The developers have been tight-lipped about what will change in the upcoming update. However, the new boss is rumored to have a Cryo Shield and a +200% Elemental Resistance upon entering battle.
Furthermore, Cryo attacks that hit the character will drain 80 stamina, with an additional 25 stamina drain if it triggers again within 3 seconds, affecting the entire party. The new boss's English name is rumored to be Iniquitous Baptist.
The tentative lineup for version 3.6's Spiral Abyss has been leaked by Genshin Impact leaker Nico Shounen. There are both old and new enemies on Floor 11, like the Hydro Mimics and Fatui Skirmishers, as well as the Hilichurl Rogues, which were added in version 3.6. The boss rotation on Floor 12 changes, with the Aeonblight Drake, the Sumeru desert's Algorithm World Boss, and three forms of the Maguu Kenki appearing in the later stages of the top floor. The new version of the Spiral Abyss is expected to be released alongside version 3.6 next month.
3.6 beta Spiral Abyss v4 via Nico Shounen from Genshin_Impact_Leaks
Domain Leaks
It has recently been revealed that two new "Adventure" domains with Primogem rewards will be introduced in Version 3.6.
The Fragrant Inland Sea will appear in the southeast region of the new desert offering 40 Primogems, a flower from the "Desert Pavilion Chronicle" artifact set, and a collection of Sumeru's Talent books. The Sin-Cleansing Spring in the northwest will offer similar rewards, substituting a feather from the same set for the Desert Pavilion Chronicle flower.
2 new domains pic.twitter.com/pdzRGhTPS0

— timing! (@timing1337) March 20, 2023
New Sumeru Location
Another leak has revealed a new area of Sumeru. It could be included in the upcoming 3.6 updates. According to the information that has been leaked, the Dendro nation is larger than both Mondstadt and Liyue combined.
3.6 Sumeru area in the overall map(hint, it's huge) from Genshin_Impact_Leaks
As always, players should take rumors and leaks with a grain of salt, but if the rumors about Genshin Impact 3.6 are true, it looks like it will be a fantastic update that further expands the already massive game.
Related: