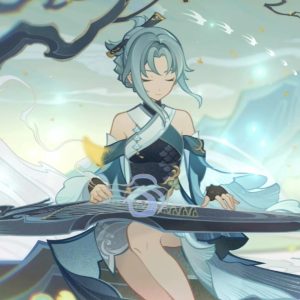 Genshin Impact fans have something to look forward to in early 2024, as a recent leak has revealed the potential character banners for version 4.4
Genshin Impact Version 4.4 Character Banners Leak: Madame Ping, Ganyu, Shenhe, and Xiao
A recent leak, courtesy of Uncle Chicken, has unveiled the characters set to grace the banners in Genshin Impact version 4.4, anticipated to launch in early 2024. The roster is sure to excite fans, as it includes the enigmatic Madame Ping, the vigilant Xiao, the celestial Ganyu, and the formidable Shenhe.
Madame Ping, a familiar NPC found in Liyue Harbor, is set to undergo a transformation, becoming a playable character that can be obtained from the standard banner. Information about her rarity, weapon type, and abilities remains somewhat elusive, but early leaks suggest a unique form reminiscent of a Koi fish. It's important to approach these leaks with a degree of caution, given the speculative nature of the Madame Ping details, until officially confirmed by the game developers.
The other three characters featured in the 4.4 banners, namely Ganyu, Shenhe, and Xiao, have already made their debut in Genshin Impact. In version 4.4, players will have the opportunity to obtain these characters through rerun banners, further expanding their character roster and unleashing new possibilities in their adventures.
While the leak offers a tantalizing glimpse into what Version 4.4 may hold, it's essential to remember that official announcements from the developers at miHoYo are the ultimate source of truth. Until then, Genshin Impact adventurers can eagerly anticipate what lies ahead in the next installment of this remarkable journey through Teyvat's enchanting landscapes and captivating stories.
Related: