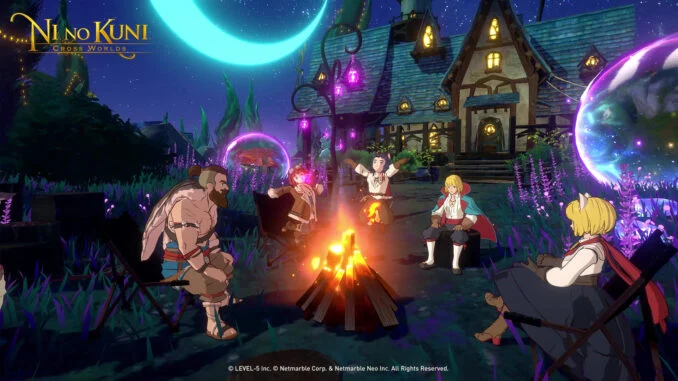 In Ni no Kuni: Cross Worlds, Tetro Puzzle is one of numerous ways to enhance your characters. By collecting and assembling puzzle pieces, you can get specific statistics as a reward. We'll go over all you need to know about Ni no Kuni: Cross Worlds Tetro Puzzle in this guide.
What are Tetro Puzzles ?
There are 16 Tetro puzzles in the game, each with its own star rating ranging from 1 to 6. The greater the Tetro Puzzle's star rating, the better the stats you can obtain after finishing the puzzle.
After completing the main quest, Tetro Puzzles will be unlocked. To access Tetro Puzzles, enter the menu and select "Power-Up", then click on Tetro Menu to see the puzzles.
Most Tetro puzzles are initially locked. The first puzzle requires thousands of coins and a specific character level to unlock, while the other puzzles require specific pagess such as Face, House and Pierced Heart. These pages can be found by going to the Record menu and selecting Monster Soul Gems. From this menu, click Specialties. Every page requires you to obtain the necessary stars in the various Specialties.
Once the puzzle has been unlocked, all that remains is to fill out the board with puzzle pieces until the pieces fit together to form the needed shape.
Tetro Puzzle Guide – Collecting pieces
To obtain puzzle parts in Ni no Kuni, you must farm Vintage Trunks. Vintage Trunks can be dropped by monsters in each zone. You can also acquire them from the Shop for 900 diamonds by purchasing The Tetro Puzzle Treasure Chest Bundle, which will give you 10 random pieces when opened.
The different colors and shapes of the puzzle pieces show the unique stats it brings to you. And each puzzle piece gives CP by default. Keep in mind that each Tetro puzzle has a variety of colors. That is, it can only be filled with pieces of that particular color.
Another greate feature of Tetro Puzzles is that the various puzzle boards will reward you with unique stats as a bonus. So, if you want to increase a specific stat for your character, check through the puzzles and puzzle pieces to see which puzzles and puzzle pieces provide that specific stat.
Puzzle pieces can also be upgraded to raise the stat increase that they give. To do that, click on the "Combine" tab in the Tetro Puzzle menu. In this tab, you will need to put 5 puzzle pieces of the same star rating and combine them. You will then receive a random puzzle piece of a higher star value.
You can also upgrade puzzle pieces to increase the statistical boost they give. To do this, click the Combine tab in the Tetro puzzle menu. In this tab, you need to place and combine 5 puzzle pieces with the same star rating. Then you will receive a random puzzle piece with a high star rating.
Tetro Puzzle Guide – Putting pieces together
The process of completing Tetro Puzzles is relatively straightforward after you've unlocked a Tetro Puzzle and have the needed puzzle parts. All you have to do is drag the puzzle pieces from the right-hand tab onto the puzzle board. You can rotate each piece as you wish, which will help you fit it onto the board.
If you prefer a more visual Tetro Puzzle Guide, we recommend watching the YouTube video created by Zlaine Channel, which is embedded below. Zlaine has covered every tips, instruction for Tetro Puzze, as well as an incredible calculator that can help you solve the puzzle board.
Ni no Kuni: Cross Worlds Wiki
Ni no Kuni: Cross Worlds

Game Information
Japanese Name
二ノ国:Cross Worlds
Romaji
Ni no Kuni Cross Worlds
Platform(s)
Android, iOS, PC
Engine
Unreal Engine 4
Developer(s)
Netmarble
Genre
Role-playing
Mode
Single-player, multiplayer
Release date
June 10, 2021 (Japan)May 25, 2022 (Global)