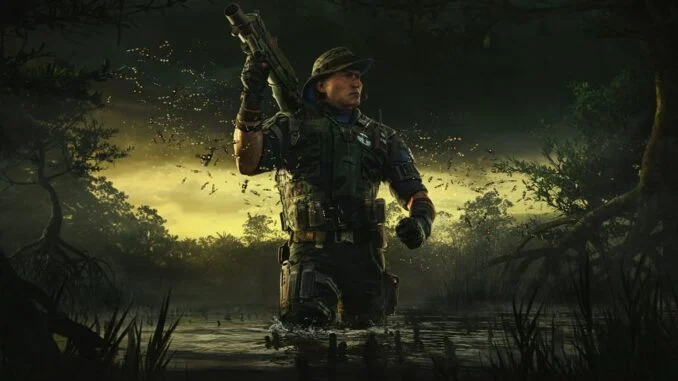 Rainbow Six Siege New Season Release Date & time on PC, PS and Xbox platform
Ubisoft has confirmed that the new season of Rainbow Six Siege: Operation Brutal Swarm has a release date set for Tuesday, September 6, 2022.
PlayStation: 7 AM PT / 10 AM ET / 3 PM GMT
PC: 6 AM PT 9 ET / 2 PM GMT
Xbox: 8 AM PT / 11 PM ET / 4 PM GMT
When will Rainbow Six Siege launch Operation Brutal Swarm?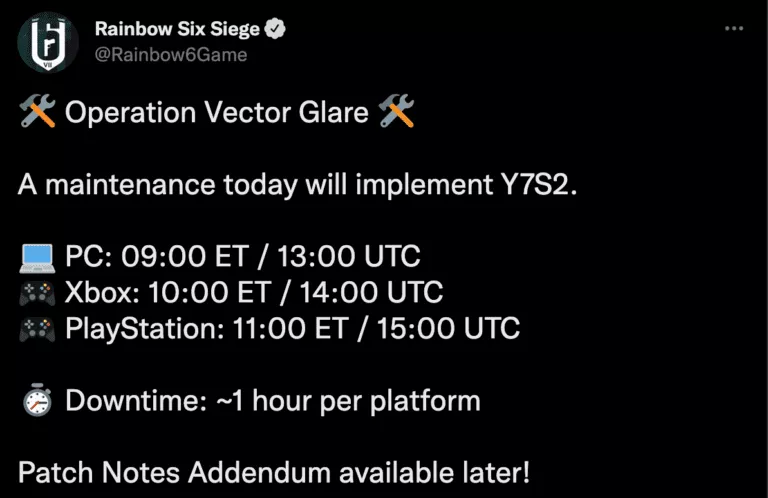 Rainbow Six Siege Brutal Swarm patch notes details :
NEW GADGET: IMPACT EMP GRENADE
This season we're adding the Impact EMP Grenade, a new throwable gadget that explodes on impact to deactivate nearby electronic devices for a short period of time. You'll be able to find it as 3rd gadget option for these Operators:
Blackbeard
Montagne
Dokkaebi
Nokk
Gridlock
Sledge
Lion
Osa
WEAPON RECOIL
NEW RECOIL SYSTEM (PC)
We overhauled the recoil system with the aim of making weapon recoil more meaningful. In this new system:
Vertical recoil has been reviewed on all weapons and adjusted to match the weapon's expected power level.
Vertical and horizontal recoil intensity increases during sustained fire bursts. The longer the burst, the stronger the recoil.
Limits on weapons with strong recoil have mostly stayed the same.
LMGs and weapons with high capacity magazines now have a 4th stage of recoil that's harder to control.
Weapons have more attachment options. This feature will be available for both Console and PC.
RECOIL CHANGES (CONSOLE)
Recoil on console now works differently compared to PC.
In the past, console recoil was adjusted based on PC values and modified for console. With this approach, console recoil values can be adjusted separately from PC allowing us to focus on the needs of console more accurately.
PLAYER PROTECTION
REPUTATION PENALTY: ABUSIVE TEXT CHAT
Last season we introduced Reputation Penalties by adding a penalty for abusive friendly fire, and this season we are introducing a new penalty for abusive text chat. While active, this penalty mutes repeat offenders by default to prevent hateful and abusive content in text chat. Muted players can still send and receive messages in text chat, however their messages will only be seen by players who choose to unmute them.
The abusive text chat penalty will become active later on in Season 3 rather than during the season release. When released:
All players will have a grace period so they can adapt to the new system.
After the grace period is over, players who've sent too many hateful or abusive text chats will get an active penalty for 30 matches.
REPORT CHEATERS IN MATCH REPLAY
We've added a new way to report cheaters in Match Replay. Now you can report a player if you weren't able to during a match or if you discover someone cheating while watching footage from your last matches.
NEW PERMANENT MAP: STADIUM 2021
After a workshop and discussions with the pro teams, Stadium 2021 is being added to the map pool. However, you'll be seeing this map under a different name: Stadium Bravo.
Stadium Bravo is a combination of Border and Coastline. The well-balanced sites and features are color coded and contain less clutter, making it feel different, and yet familiar.
GIFT A BATTLE PASS
Starting this season, Rainbow Six Siege players will be able to purchase the Battle Pass for their friends to join in the fun! The same Battle Pass you buy for yourself can now be purchased and given to friends via Ubisoft Connect, be it the Premium Battle Pass at 1200 R6 Credits or the Premium Battle Pass Bundle at 2670 R6 Credits. Owners get to enjoy a 10% discount on all Store purchases, such as weapon skins or Bundles, for the duration of that Battle Pass.
Players need to be friends through Ubisoft Connect for over 90 days and be using the same platform to gift a Battle Pass to each other. Examples include PC players gifting to other PC friends, while Sony PS4 players can only give to PS4 and PS5 friends. There is no region lock on the other hand, so there is no better time to work on your team skills no matter the distance.
PLAYER COMFORT
MAP BAN CHANGES
We've changed the Map Ban Phase to now display 5 maps instead of 3. This will increase map diversity while also maintaining player agency for removing certain maps from the pool.
TACTICAL MAP CHANGES
We've updated the Tactical Map to provide more crucial information to Attackers and help them make more informed decisions during the Preparation Phase.
Attackers can now see a list of available Defender objective locations.
The floor map and objective locations will be displayed when they are discovered by the Attacking team.
OPERATORS PRICE DECREASE
As with every season, Operation Brutal Swarm brings a price decrease for specific Operators. Amaru and Goyo are dropping to 10,000 Renown or 240 R6 Credits, Zero is changing to 15,000 Renown or 360 R6 Credits, and Osa will now cost 20,000 Renown or 480 R6 Credits. Now is the perfect time to add Operators to your roster and test them out.
SEASONAL WEAPON SKIN
Operation Brutal Swarm arrives with rugged new additions for your weapon skin collection. Acquiring the Torrid Jungle Bundle will unlock the Weathered Partner weapon skin and attachment skin, as well as the Smelly Durian charm. The weapon skin is released at Operation Brutal Swarm's launch and is available for purchase throughout the season. Once unlocked, it remains in your inventory indefinitely and can be applied to all available weapons.
OPERATOR BALANCING
BUCK
CAPITAO
FINKA
Removed Frag Grenades
Added Smoke Grenades
FUZE
Reduced the drilling time of Cluster Charge to 2s (was 3s)
Increased the visibility of pellet trails
Added Smoke Grenades
GLAZ
IANA
KALI
Increased the number of charges for LV Explosive Lance to 4 (was 3)
CSRX 300:

Reduced vertical and horizontal recoil.
Camera recovery time has been increased to ensure a smother sight movement.
MAVERICK
Removed Frag Grenades
Added Stun Grenades
THATCHER
TWEAKS & IMPROVEMENTS
GAME BALANCING
Hard Breach Charge
Reduced the activation time to 4s (was 5s)
Frag Grenade
Reduced the radius at which minimum damage is taken to 3.6m (was 5m)
Reduced the radius at which maximum damage is taken to 2m (was 2.5m)
Attachments Changes
Weapon Sights:
Maximum magnification changes:
Capitao Para: +2.0
Blackbeard MK17: +2.0
Iana G36: +1.5
Frost C1: +1.5
Pulse UMP: +1.5
Goyo Vector .45 ACP: +1.5
Ace AK-12: -2.0 +1.5
Iana ARX: -1.5
Mute MP5K: -1.5
Nomad ARX: -2.5 +1.5
Sledge L85A2: -2.5
Kaid AUG: -1.5
Finka 6P41: -2.5 +2.0
Zofia LMG-E: -2.5
Wamai MP5: -1.5
Added the following magnification levels below a weapon's maximum magnification:
Alibi ACS12: +1.5
Amaru G8A1: +1.5
Dokkaebi BOSG: +1.5 +2.0
Finka Spear: +1.5x
Fuze AK-12: +1.5
Fuze 6P41: +2.0
Gridlock F90: +1.5
Goyo TCSG: +1.5
Hibana Type: +2.0
IQ AUG: +1.5 +2.0
Jackal C7E: +1.5
Kaid TCSG: +1.5
Lion V308: +1.5
Maestro ACS12: +1.5
Nomad AK74: +2.0
Osa 556: +1.5
Rook MP5: +1.5
Thermite 556: +1.5
Thatcher AR33: +2.0
Thatcher L85A2: +1.5
Vigil BOSG: +1.5 +2.0
Zofia M762: +1.5
Flash Hider:
Removed from: 417, OTs-03, CAMRS, SR-25, Mk14
Added to: C1 9mm
Extended Barrel:
Added to: 9x19VSN, AUG A3, Commando 9, MP5K, FMG9, MPX, PDW9, T-5, SPSMG 9, 552 Commando, G36C, Spear.308, Bearing-9, K1A, MP7, F90, UZK50GI, MP5, F2
Muzzle Brake:
Added to: 6P41, AUG A2, G8A1, M249, Bearing-9, M249 SAW, SMG-11, SPSMG9, C1 9mm
Compensator:
Added to: 6P41, M249 SAW, FMG9, SPSMG9, MP5, P90, C1 9mm, M12
Suppressor:
Vertical Grip:
Added to: OTs-03, ARX, C1 9mm, T-5
Angled Grip:
Added to: L85A1, R4C, 417, OTs-03, 6P41, SR25, M249, LMG-E, Spear .308, ARX, F90, M249 SAW, MP5, 416-C, Vector .45 ACP, T-5, SMG-11
Laser:
Added to: OTs-03, G8A1, GSH-18, C75-Auto
PLAYER COMFORT
HUD Updates
Updated compass icons for eliminated and downed players
Fixed color inconsistencies of objective icons and inventory panel
Fixed color inconsistency of gadgets
Report System
Players who have disconnected from the session can now be reported.
Can now report players directly from Match Replay
Map Rotations
Added Stadium Bravo Map to Ranked, Unranked, Quick Match, TDM and Newcomer
Removed Bartlett from Custom Game
Changed Newcomer bombsites according to latest Ranked data.
Team Deathmatch
Action phase time increased to 7:30 min from 5 min.
Operator pick phase time decreased to 20 seconds from 30
Kill limit increased to 90 from 75.
Increased reward amounts in the playlist