While your secondary weapon may not be the deciding factor in Modern Warfare 2 Ranked Play, having the best one can improve your chances of winning.
Modern Warfare 2 Guide – Best secondary weapon in Ranked Play
You've likely seen numerous players using a combat knife in Search and Destroy, but it's also required in Hardpoint and Control. The reason we use a melee weapon instead of a pistol is to increase our mobility. Whether you want quick routes in Search and Destroy or must be the first to reach the Hardpoint, the combat knife is essential.
Without it, you'll notice that you're slower to reach your goals, which can be disastrous. You must be able to switch quickly between a speed boost and your primary weapon. Having said that, the X12 can still be a great secondary option in some cases.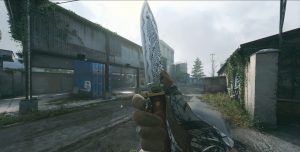 In Call of Duty: Modern Warfare 2, snipers should almost always have the X12 with a quickdraw grip as a backup weapon. You don't need to prioritize quick routes, and the backup weapon can save your life in an emergency. However, in comparison to other weapons, the pistol has far too many disadvantages.
That brings us to the end of our guide to the best secondary weapon to use in Modern Warfare 2 Ranked Play. Keep in mind that this is merely a suggestion and that the ultimate choice is yours. You are free to use either of the two methods above, depending on your preferences.
About Call of Duty: Modern Warfare II
Call of Duty: Modern Warfare II
Developer(s)
Infinity Ward
Publisher(s)
Activision
Writer(s)

Eric Anderson
Justin Harris
Matthew Haraza Davis

Composer(s)
Sarah Schachner
Series
Call of Duty
Engine
IW 9.0
Platform(s)

PlayStation 4
PlayStation 5
Windows
Xbox One
Xbox Series X/S

Release
October 28, 2022
Genre(s)
First-person shooter
Mode(s)
Single-player, multiplayer